One Thing You Can Declutter When You Think You've Decluttered Everything
We independently select these products—if you buy from one of our links, we may earn a commission. All prices were accurate at the time of publishing.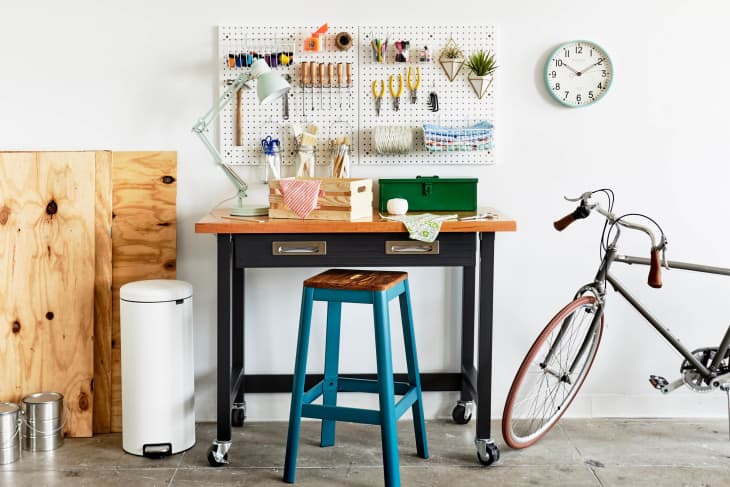 If you asked me what I have left to declutter in my house, I won't quite break into a cold sweat, but my stomach might start knotting up. I know well the freedom and lifted weight that comes from getting rid of the excess that weighs me down. But the things I need to declutter are so fraught with complicated feelings that I have a few bins of them labeled with the embarrassing tag "Mom go through."
Follow Topics for more like this
Follow for more stories like this
Those bins are filled with things like sentimental mementos from childhood and my own children's miscellaneous school papers, artwork, and favorite baby clothes. I also have some piles of things I'm convinced I can sell: laundry baskets full of outgrown clothing and a few sets of extra curtains.
If you're not bogged down by similar types of items that are hard to get rid of, you are probably a natural declutterer. And anybody who's good at decluttering is most likely looking for the next thing to thin out and send on its way. But there's one category of things you may not have tackled yet. Honestly, it's a great low-lift decluttering project for any type of declutterer to cross off their list: Declutter your utility collections.
These collections —found frequently in garages, storage units, sheds, and utility closets — tend to persist even in homes that are regularly thinned out. One reason is that they're out of sight and may not weigh on you because you don't see them often. They also may be hard to get rid of because they consist of items you feel like you might need. But it's time to evaluate whether you want to use your valuable storage for potential possible future needs, or make space for the life you're living right now.
One more important and often overlooked reason to minimize this type of utility clutter is the fire hazard it poses. Many chemicals used for gardening or cleaning, as well as items like paint and gasoline, are combustible. Storing them in a space that isn't cooled during the heat of the summer could spell disaster and offers a solid reason to get rid of things.
Here are some items that tend to collect in your utility spaces that you can consider clearing out:
Gardening tools, home repair tools, and other miscellaneous tools. They take up space, they're not the easiest to store, and many times, we have more than we actually need. Gather your tools together and put back the ones that are functional and that you actually use. Donate the rest.
In addition to tools, gardening supplies can quickly take over any storage space. From specialty fertilizers to pest control products and the extra plant pots you like to keep on hand, gardening collections can grow out of hand. Again, gather everything in one spot, categorize your items, offload duplicates, and only keep what you actually use. Bonus: Seeing what you have and putting it away organized will ensure you're able to use what you have.
Paint doesn't last forever and those paint cans take up a lot of space! Unopened latex paint can last a decade, but opened cans don't last much longer than a couple years. Pull out everything you have and consider what paint might actually be useful. Label it clearly and store it. To properly dispose of the rest, either find a place to donate it, or mix it with sand or kitty litter to turn it into a solid before discarding it with your trash. Oil paints need to be disposed of according to your local toxic waste guidelines.
There's a reason it's not in your living space. Generic, useful items like neutral baskets and containers can be kept if you have the space for them, but more stylistic pieces can be donated with little thought. If your taste has changed, it probably won't revert back to something you used to like and if you never liked something in the first place, now's your chance to say goodbye!
Specialty Heavy Duty Cleaners
It takes up a lot of space to store special cleaners that you only use for very specific occurrences. And they're often harsh chemicals that may even be combustion hazards. Take inventory of what you have and decide what you actually need to keep. As always, check for proper disposal instructions.