The Surprisingly Simple and Effective Way to Banish the Clutter You've Been So Afraid to Part With (Until Now)
We independently select these products—if you buy from one of our links, we may earn a commission. All prices were accurate at the time of publishing.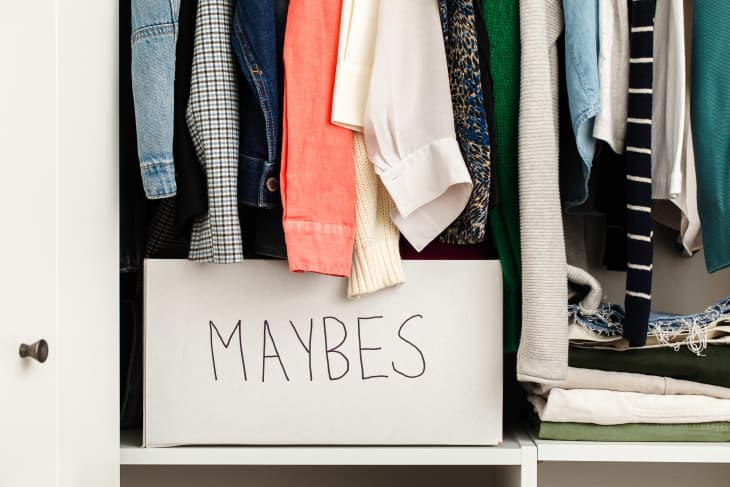 Apartment Therapy's Decluttering Cure is a free two-week decluttering program that'll help you achieve a tidier home. Sign up here and get all 14 assignments delivered to your inbox.
Decisions, decisions. There's been a lot of that throughout this decluttering process. We've tackled specific clutter projects and deciphered where things needed to go. We created three outboxes, in particular, where we designated what we plan to toss, recycle, and come back to later. 
At this point in the Cure, each of the boxes is probably filled to the brim (congratulations!) so it's time to take action and decide what to do with all of the items you were on the fence about. That's right, today, we're going to address our "maybe" box once and for all.
Day 12: Practice the box and banish method
Have you heard of the box and banish method? It's simple but surprisingly effective. You take a box and place it in an unused corner then fill it with items you come across that you aren't so sure whether to keep or toss. It's a low-pressure way to collect things over time so that you can make a sweeping decision about them later on. 
The good news: If you've been following along with this Decluttering Cure, you've already done exactly this with your "maybe" box. Now that the box is filled, we're going to let it sit. Close the box up and put it away, like in the back of your closet or storage area. Then, set a reminder on your phone or calendar to come back to this box in exactly six weeks. The next step is an important one. As you go about your daily life, you might notice that you put something in the "maybe" box that you either need or want to use. If that's the case, go grab it, and don't put it back in the box. 
When the six weeks have passed, you're going to get rid of everything in the box. That's right, we're going to completely banish it. Like it or not, if you've lived without these items for six weeks and haven't thought about them once, then they most likely don't serve you anymore. You've already taken out the must-have items that didn't belong there, so what's left are just objects weighing you down instead of enriching your life. 
Tomorrow, we tackle the other two boxes: donate and sell!
What's going in your "maybe" box to sit for six weeks? Tell us in the comments.
More ways to participate in the Decluttering Cure:
The Cure Program is a tradition here at Apartment Therapy — it happens every January, April, and September. Click here to learn more about the year-round program and when to sign up.