Demi Lovato's Home Is Literally a Funhouse (in a Good Way!)
We independently select these products—if you buy from one of our links, we may earn a commission. All prices were accurate at the time of publishing.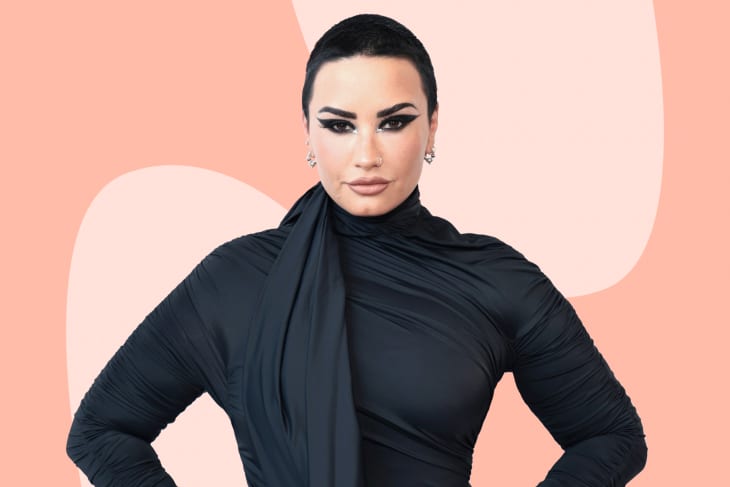 Her 8,500 square foot Los Angeles home has a total of six bedrooms and seven bathrooms, which AD described as a "trippy, modern farmhouse." The eye-catching studio room features a hypnotizing, rainbow ceiling with a dangling rain cloud atop a sea of colorful couches. Apparently, this room is the birthplace of Lovato's recent album and is a reflection of their personality.
"Designing this house was a process that paralleled that personal journey," wrote Sydney Gore, the digital design editor at AD. "This time around, Lovato wanted every inch of the space to fully embody her personality — and the sense of fluidity that continues to shape her identity."
Lovato purchased the California home in 2020, and it's clear that this served as a safe space for the majority of quarantine and throughout their album-making process. And the best part isn't even the studio room. According to Lovato, a "bonus" addition in the home was the theater and backyard swimming pool.
In collaboration with the founders of Argyle Design, Lovato's home is a maximalist masterpiece that resulted in a "spectrum of distinct vibes," which is on brand for Lovato's bubbly, unique personality. The duo at Argyle Design wasn't the only notable expert hired to lean into the inspiration for her home; the director of communications at the Museum of Contemporary Art in Los Angeles, Eva Seta, assisted Lovato in curating artwork from emerging artists to create a "queer environment" in their home.
"There's a lot of female empowerment as well, so keeping pieces that are representative of the female figure was very important to me," Lovato told AD. "We live in a world that shuts you out of honoring female bodies, so I want it to be in your face in my house."
It's safe to say that Lovato's personality is shining throughout every room in their home.