I Found an Easy Trick for Scoring Luxe Designer Decor for Way Less
We
independently
select these products—if you buy from one of our links, we may earn a commission. All prices were accurate at the time of publishing.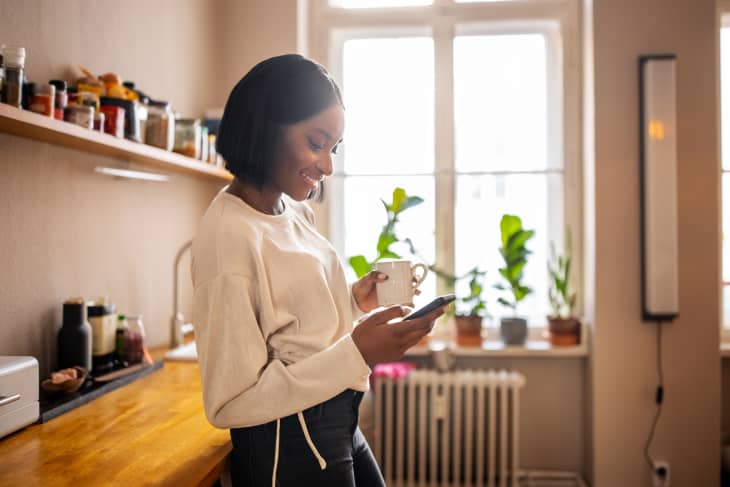 Most people have a "bucket list" of items they would simply love to add to their home if budget wasn't a factor. My list includes a vast array of bizarre vintage lamps, custom handmade rugs and textiles, and every last Josef Frank wallpaper ever produced. More than half of my bucket list consists of fine textiles because it can be nearly impossible to find exceptional design and quality fabrics or wall coverings at a budget rate. In my experience, you just have to save and buy the good stuff. At least that's what I used to think, until I figured out how to get a heads-up on high-end designer goods at a discount.
It's simple and actually requires just a bit of work on your end: All you need to do is find and follow local or local-ish interior designers on social media. Yes, it basically is that simple! Look for designers who are showcasing furniture from your favorite shops or your favorite decorative textiles in their design projects, and then give them a follow, because you never know what they might be trying to offload after they complete a project. Sometimes they overbuy fabric, wallpaper, or paint, and then can't return it; sometimes, a client changes their mind and they have decor pieces that are no longer being used. In those instances, you might be able to snag a deal on some seriously luxe stuff if you keep your eyes open and your timing is right.
One easy way to find local designers is by searching hashtags. For instance, I live in Chicago so I search Chicago + interior designers (#chicagointeriordesigners or #chicagointeriordesign are both great hashtags, I've found). You can also do a quick web search for local interior designers or check out regional magazines to see who's been featured.
Here's how I know this method pays off: Last year, a local designer posted a photo of a chair covered in one of my bucket list designer fabrics to her Instagram Stories so I commented with "I love this fabric so much — it's on my bucket list!" She responded, informing me she had otw yards leftover from a project and I could have them at $20/yard if I was interested. Considering the fabric retails for $200 a yard, I responded with a resounding "YES!" She ended up being a great resource to have, because she also offers discounted rates on goods that you purchase through her even if you don't hire her for an entire project.
More recently, another designer I follow on Instagram moved studios and was selling gorgeous light fixtures and furniture at a fraction of the retail value. The team posted the furniture in Stories, and within a few hours everything was spoken for. While I didn't want anything from that sale, I was happy to find she's another designer who sells discounted goods via social media, and I added her to my list of people to check in on frequently.
The designers are a great place to start, but once you start following them you'll want to keep an eye out for any local upholsterers, window covering designers, and wallpaper installers they tag in posts. These skilled tradespeople are likely using some of your favorite products and will occasionally have extra yardage or odd offcuts here and there that they might be willing to sell — so they're worth a follow, too!
I love using furniture and materials that come my way secondhand, and not just because they're much more affordable. I feel good about keeping those items out of a landfill, and I love the creativity that is born out of starting with materials and working backwards to find a way to put them to use.