8 Designers Share Their Coolest Finds From Across the Globe
We independently select these products—if you buy from one of our links, we may earn a commission. All prices were accurate at the time of publishing.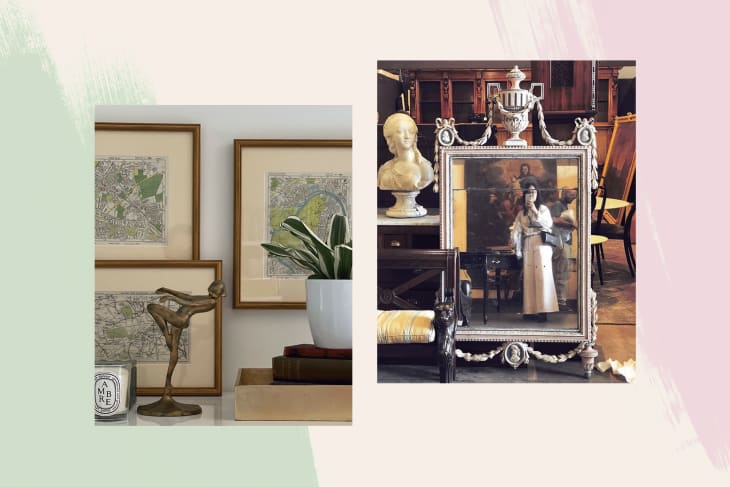 Interior designers know it's super-important to keep your eyes peeled for home finds while traveling abroad. Visiting a new country is the perfect opportunity to pick up a piece of decor that tells a story, highlights a special crafting technique or artisan, or just can serve as a reminder of a memorable trip. It's also a chance to invest in a piece that might not be readily available stateside or easily purchased back home. What have interior designers absolutely loved picking up on their travels? I asked eight decorating pros to share their best finds below to give you a little inspo on what to look for on your next adventure.
A Piedmontese mirror
"Mercanteinfiera in Parma is an incredible place to shop for antiques. I once purchased the most gorgeous Piedmontese mirror by Bonzanigo with mounted cameos. It's finely carved and hand-painted in blue, pink, and white. It was a bit of a logistical challenge getting it here safely, but it has found a home in the entry of my house, and it brings me such joy every time I see it!" —Designer Young Huh, founder of Young Huh Interior Design in New York City, New York
Dip dyed yarn art
"I was working on a living room project in Rwanda while I was living there, and it was the final install/style/reveal day when I realized I needed a huge piece of artwork last minute! I had been eyeing this artist's [Winnie of Laini Studio] Instagram for a while, and luckily, somehow her studio was only a couple blocks from my client's house. When I went in, she had all of these gorgeous dip died yarn pieces, pottery, and hand-loomed pillows. I was in heaven! I bought the green one right away for my client. Then I went back a week later to buy the tan and blue ones for myself!" —Designer Teri Clar, founder of NAFASI Interiors in Charleston, South Carolina
A ceramic grasshopper
"When I travel, finding a souvenir that captures the memories of my trip to bring back with me is always on my mind. Since I'm discerning about what I bring into the interiors of my home, I usually stay away from anything too kitschy. If it's something unique, memorable, and dare I say a tad whimsical, I'm game. The ceramic grasshopper atop this credenza was a find in the streets of Lisbon. Sure, no one else would know that this grasshopper hails from Portugal. Whenever I see it though, it reminds me of the long scenic walk to this boutique and the great seafood dinner my husband and I shared that night in a small town square. A collection of things is often a collection of memories, and what is better than that?!" —Designer Clara Jung, principal at Banner Day Interiors in San Francisco, California
Japanese watercolor prints
"Traveling to different places is always an opportunity to find unique and vernacular mementos to bring home. When abroad, I always ask the questions, 'Is this made here?' or 'Can I find this in the States?' If the item is unique to the locale and different enough to warrant the schlep home, I am interested! Recently, on a trip to Paris, I was walking along the banks of the Seine, checking out all the vendors who had set up shops in makeshift huts. A collection of Japanese watercolor prints caught my eye, and after a bit of negotiating, I scored five of them for 25 Euro each. This series is now framed and ready to hang in my client's living room." —Designer Kristina Phillips, founder of Kristina Phillips Interior Design in Ridgewood, New Jersey
Vintage London train route prints
"I am a carry-on-only gal, so whatever treasures I find when traveling must fit into my suitcase. I love antiquing and visiting galleries, especially in Europe. One of my favorite finds while traveling in England is this collection of antique prints of London train routes from the 1890s. I lived in London in my twenties, and each of these places mean something very special to me. They are grouped together with some antique books I found in a tiny shop in Wales. I'm transported back to the UK every time I see these!" —Designer Rande Leaman, founder of Rande Leaman Interior Design in Los Angeles, California

Mexican textiles
"My most recent trip was to San Miguel De Allende, Mexico. While there, my group and I were immersed in the culture and went shopping at the open-air market. At this open-air market, they sell everything from artwork and textiles to jewelry, pottery, and even more. The culture in San Miguel is so colorful and full of life. The artisans that make these things have amazing attention to detail, and you can truly see that in everything they make. I can't wait to start using some of the things I brought back in my designs." —Designer Gray Walker, founder of Gray Walker Interiors in Charlotte, North Carolina
Lion brass door knockers
"One of my absolute favorite finds was when I was doing a show for Travel Channel's 'Hotel Impossible' located in Greece. I was walking through the cobblestone streets, going in and out of these little shops sourcing for the show, and I came across this little vintage shop that had these lion brass door knockers that were nestled in a little basket. Me being a Leo and loving all things gold, I immediately scooped them up. I wasn't sure what I was going to do with them. Months later, I decided to open up a brick and mortar design office, and I designed these really cool barn doors that Shaun Killman from SK Design Build fabricated for me. I was trying to figure out how to reuse the vintage door knockers, and we decided to actually cast them in resin mold and then paint them in gold leaf to make them a part of a more modern door setting that would separate my office into the conference room. To this day, these are my favorite design finds from my travels abroad." —Designer Blanche Garcia, founder of B-garcia Designs in Montclair, New Jersey

A Turkish Rug
"Turkey has wonderful rugs. We incorporated a blue geometric Turkish rug in a client's dining room. The subtle tones and geometric shapes relate to artwork the client acquired and really helped pull the room together — a true find!" —Designer Sherry Hope-Kennedy, founder of Studio SHK in San Francisco, California