Before and After: A Stylish Desk Rescued for the "Price of Two Coffees"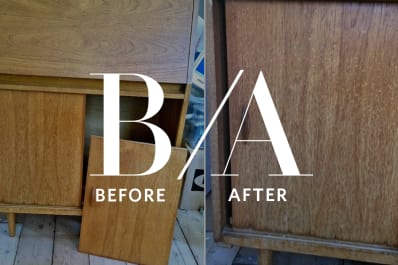 (Image credit: Submitted by Ilsa)
Ilsa spotted this mid-century modern beauty in a charity shop and knew she could make it sing. After some initial fear that she couldn't push through all of the wear and tear that poor Bruno the desk had suffered through over the years, she was able to sand and strip away the grime and stains and reveal a glowing and beautiful piece of furniture. Three cheers for Ilsa for her good eye and all of her hard work!
(Image credit: Submitted by Ilsa)
From Ilsa: I came upon this all forgotten, chemical spill- and damp-damaged writing desk at my local charity shop at a throw-away price. The shop assistant didn't know what a bureau was so he called it a "Bruno". I liked that. Bruno it is. So for the price of two coffees I got something to experiment with and hopefully rescue from the landfill.
(Image credit: Submitted by Ilsa)
This was my first time attempting to fully refinish a piece of furniture. When I started I wasn't all that sure I would be able to eliminate all the weird stains and ring marks this desk had but I loved its modern lines, cute original legs and handles. I promised Bruno to give it my best shot.
(Image credit: Submitted by Ilsa)
I started with a chemical paint stripper, followed by lots of gentle sanding, some wood filler and a couple of coats of gel stain to bring out its beautiful color. I think it has worked well and Bruno now has a new home with us.
(Image credit: Submitted by Ilsa)
Even though it is a lot of work, I wouldn't hesitate to rescue another piece of furniture because it is very satisfying to see the transformation.
Thank you so much, Ilsa!
Need a workspace revamp and looking for more desk inspiration? We've got you covered!