5 Dice Games For Adults You and Your Friends Will Love
We independently select these products—if you buy from one of our links, we may earn a commission. All prices were accurate at the time of publishing.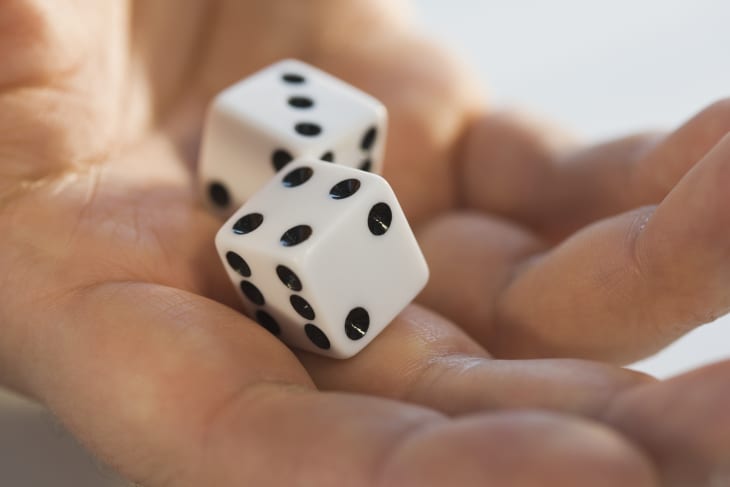 Who says you need elaborate boards and intricate pieces to have a good time? With just a pair of dice, perhaps a charcuterie board and some fun cocktails, and, of course, a few good friends, you can host a memorable gathering in your home — or even make it a monthly tradition.
These five dice games will help you throw an inexpensive and easy get together that will give you and your pals something to laugh over besides the latest trending TikTok, while also bringing out your competitive streak. And, I promise, these fun party games are all simple to learn — so you can focus on catching up rather than keeping track of rules.
Follow Topics for more like this
Follow for more stories like this
Bunco is a fun group dice game where the objective is to be the first person or team to reach 21 points. And you don't need to have much on hand for this quick game of accumulating wins (or buncos!). Ideally, you'll have multiples of four playing; you'll seat each four at a different table, with one table designated the head table. Your tables will change throughout the game but, at the moment, your teammate is the person you're sitting across from. The other two — those are your opponents. 
3 dice
Score card
At least four players
Roll all three dice. You'll earn points if you roll the number that is the same as the round. For round one, that's one. Round two, two. And so on. 
Keep rolling as long as you're moving clockwise around the table and the number of the round keeps being rolled. The round ends if it's round one and you've rolled a two, three, and five, for example, or if one team reaches 21 points or rolls three ones, for example, which would be a Bunco!
At the end of each round, the winners move to the next table. The game ends at round 6, with the team with the most points winning.
As the name indicates, in this game, the object is to avoid rolling a 7. Doing so will end your turn and give your opponent(s) a chance to get to the highest score first. And that's it! This one is blissfully simple and easily played with as many people as you have around.
2 dice
Score card
At least two players
Set a winning score you're trying to reach (let's say it's 200). Roll the dice, write down your running throw score, and stop once you've thrown a 7.
Then, it's the next player's turn — until they throw a 7. One note: if you throw two fives or any doubles, you'll score double the number (or, in the case of two fives, you'll score ten points).
Continue tallying up your score with each turn and the first player to 200 (or whatever you set as your set score) wins.
Similar to Bunco, Slam is a three-dice game that keeps moving as long as you're rolling a specific number — but in this one you want to get out of the game. The goal is to get to 15 points and get out of the game — but not to go over. If they go over 15 on a turn, then that turn doesn't count. 
3 dice
Score card
At least four players
The first player rolls one die, and whatever number they roll becomes the "slam."
Player one then rolls all of the dice, hoping to get at least one slam and records their score as they go. For every slam, they score a point, and they keep rolling until they get three without a slam.
Each player then takes turns rolling the dice, hoping they get at least one slam. Two slams in a turn gets 5 points, while three slams in a turn is an instant 15. The last person standing, aka the last player that hasn't reached 15, loses.
At least two players and three dice: that's all you need for Going to Town. And luckily, the game play is equally simple. That means kids (and adults) of all ages will be able to pick up the rules — and even get competitive about them — quickly!
3 dice
At least two players
Decide on how many rounds you want to play (let's say 10 for example's sake).
Take turns rolling all three dice. For each round, each player's turn consists of rolling all three dice, keeping the highest number.
Then, the player rolls two dice, again keeping the highest number.
The player finally rolls just one die, keeping that number. The final tally is their score for that turn. Then, it passes to the next player.
At the end of 10 rounds, or however many you decide to play, the player with the highest score wins.
In Run For It, players use six dice to try to get straights (or runs, as they're called here). The goal is to get the biggest straight from each roll — and you're literally rolling the dice each time to see if you can top your last one! Each run must begin with a 1, so look out for rolls with no ones, which means your turn is immediately over.
6 dice
At least two players
The first player rolls all 6 dice and looks for runs that begin with the number 1. Each number that is part of a run scores 5 points. So if you roll a 1, 2, 3, 5, 5, and 6, you'd have a run of 1, 2, 3, and score 15 points. But you can only have one run per turn, so 1, 1, 2, 2, 3, and 3 can only count for 15. Meanwhile, if you roll 1, 3, 3, 5, 5, and 6, you don't get any points, but you can keep the 1 and roll again to try for another run.
If you get a small run (say, 1, 2, 3) and want to re-roll to get a bigger run, go for it — but you may end up with no run at all, at which point you get zero points.
If you don't roll a 1 but you do roll three of a kind of any number, you can try again for a run.
Once you have a run you want to stick with, record your points and allow the next player to go. The first to 100 wins.