The TikTok Grocery Hack That Saved Me $12 in the Cheese Aisle
We independently select these products—if you buy from one of our links, we may earn a commission. All prices were accurate at the time of publishing.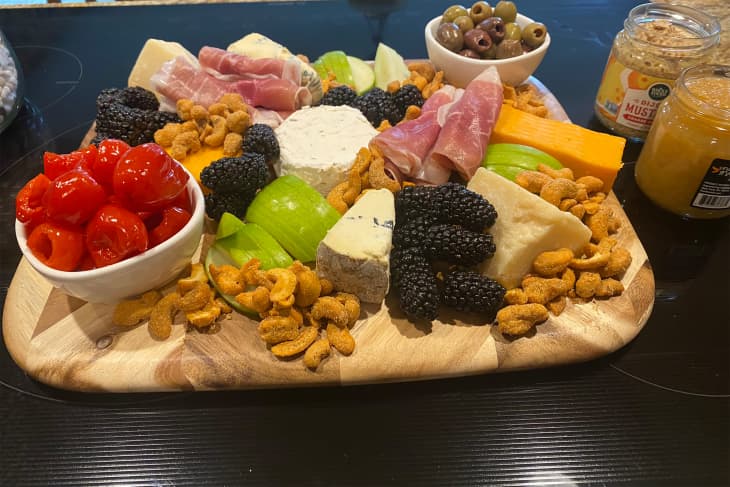 Some people celebrate Shark Week. My family celebrates Charc Week. If you take your charcuterie game as seriously as we do, you know that it costs to 'cut. While an in-season fruit can be a fairly affordable find, I'm always searching for budget-friendly options when it comes to meats and cheeses. So when I came across this cheese-focused TikTok tip, I had to try it out for myself. 
According to creator @datingindisney, Whole Foods locations typically wrap and sell the ends and pieces of larger blocks at a discount. In the cheese section, you may discover the assorted cheeses stored in a basket or bin at the end of the main refrigerated cheese display. With sophisticated brands and high-quality selections, I figured I could easily snag a few pieces to round out a charcuterie board on a budget. 
To prepare for a recent family gathering, I put the Whole Foods discount cheese offerings to the test. For this get-together, I wanted to curate a grazing-style board, with consistent and complementary flavors. Armed with my go-to charcuterie board building guide, my goal was to secure cheeses representing soft, hard, and crumbly variations. 
Typically, I stick to this three-cheese selection for my boards, often adding a fourth marinated or flavored option. Depending on the variation, it's not unusual for the total cost for three or four quality cheeses to exceed $20 to $30. That grocery bill adds up when you account for meats, fruits, and other accouterments! Despite this, at the end of countless parties, I end up tossing whatever's left uneaten — often a quarter of the block — which tells me I can get away with less than the standard block provides. 
At my local Whole Foods, I quickly located the discount cheese bin, and the options weren't bad at all! With a few pointers from the cheesemonger, I landed on the hard Barbers Sweet Red Grass Fed Cheddar, the soft Champignon Cambozola Black Label (fancy!), and the crumbly Mitica Parmigiano Reggiano. To achieve a cohesive grazing-style board, I wanted two samples of each variety so they repeated on the board. 
After totaling my three cheese selections (with two bargain pieces per type), this is how the math shook out.
Champignon Cambozola Black Label
8-ounce block: $8.82 
My total: 2 pieces, $2.52 + $2.31 = $4.83
Savings: $3.99
Mitica Parmigiano Reggiano 
8-ounce block: $10.50
My total: 2 pieces, $2.52 + $3.36 = $5.88
Savings: $4.62
Barbers Sweet Red Grass Fed Cheddar
8-ounce block: $9.00
My total: 2 pieces, $2.55 + $2.38 = $4.93
Savings: $4.07
Folks, you simply can't argue with that math! Instead of spending $28 on all that cheese, I pocketed nearly half of that. With those savings, I budgeted a Cypress Grove Purple Haze Chevre at $7.99 to round out my offerings with the lavender and fennel pollen flavored goat cheese (delicious!). For a sophisticated charcuterie board, I can confirm that this TikTok hack is guaranteed to save you some cheddar (and feed you some, too).