Did you #ShowUsYourSeedlings? Here are our favorites!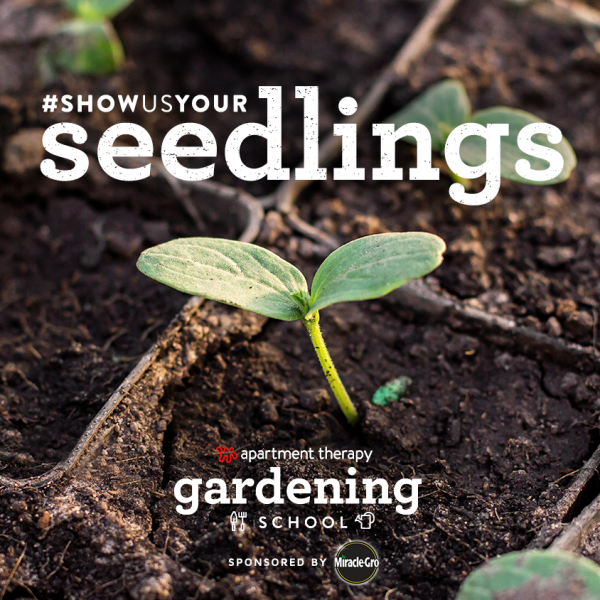 (Image credit: Apartment Therapy)
With help from the folks at Miracle-Gro, we've been digging through the endless inspiration and ideas generated by Apartment Therapy's Gardening School. Led by modern homesteader and wise instructor Linda Ly, each lesson is designed to give even the blackest thumbs the confidence to plan, prep and plant their own garden. But the biggest lesson has been that gardening isn't really about the end result – it's about the entire experience.
Our Gardening School encouraged people of all expertise, from beginners to experts to get growing and enjoy every part of the process. We've been so inspired by how you, the readers, were open enough to #showusyourseedlings in the beginning, prep, nurturing and growth stages. Here are our favorites.
The Prep
Garden prep is about much more than shopping (although you guys clearly had a lot of fun with that part of your process). You made supply lists, planned your gardens, picked your plants and gathered everything you needed. You even color-coordinated your tools! So stylish.
(Image credit: ariellynpietro)
(Image credit: eyesoftheworld)
(Image credit: dhomelovers)
(Image credit: @ariellynpietro)
The Seedlings
It's been so encouraging to see you guys start plants from seed, prep the soil and plant those starts and seedlings in the ground. It really feels like spring when you see things start to grow!
(Image credit: betty21401)
(Image credit: @jeanamarieking)
(Image credit: hungrybee)
(Image credit: @lydia_cronk)
(Image credit: @surewill)
The Waiting Game
The beauty of Instagram is seeing everyone's gardens in the full spectrum of stages. As you watered and cared for your fledgling gardens, we got to see containers sprouting with vegetables, herbs and flowers.
(Image credit: hungrybee)
(Image credit: @cleverbloom)
(Image credit: aestheticvisuals)
(Image credit: outdoorsy88)
The Finished Product
This is where it all comes to life: the gardens you so thoughtfully timed, planned and planted went from dreams to reality. You did it. Congratulations! And keep going and growing!
(Image credit: @eyesoftheworld18)
(Image credit: @carriewiniker)
(Image credit: @the3rsblog)
(Image credit: @rumismuse)
Thanks to Miracle-Gro for making the Apartment Therapy Gardening School possible. For anyone starting a container garden, they have a couple of recommendations for the best potting mix and plant food:
1. Miracle-Gro Potting Mix: It works for indoor or outdoor plants, has premium plant food built into the mix and keeps plants fed for up to 6 months.
2. Miracle-Gro Water Soluble Plant Food: Just mix it into your watering can (per the instructions) and give it to your plants every 1-2 weeks to keep them happy.