I Added a Disco Ball to My Bathroom and Kitchen, and It's Made Me So Happy — and Could Lift Your Spirits, Too
We independently select these products—if you buy from one of our links, we may earn a commission. All prices were accurate at the time of publishing.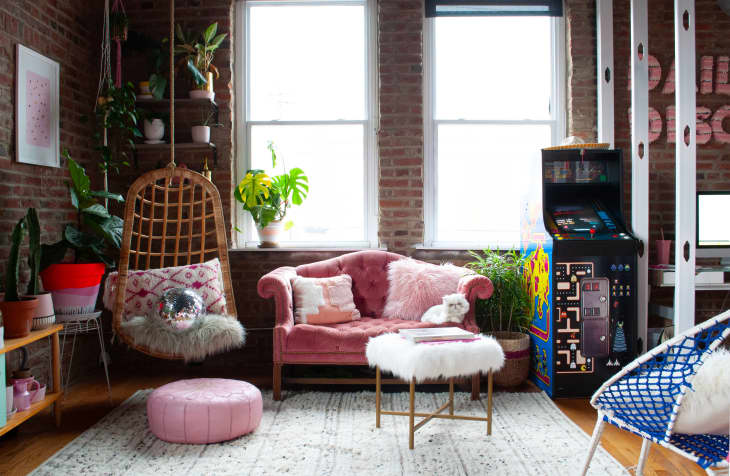 There's a drugstore in Greenpoint, Brooklyn, that has a disco ball hanging from the ceiling. It's not a completely random occurrence; the space used to be a roller rink, and the giant disco ball stayed when it eventually became a pharmacy. Unfortunately, the pharmacy closed during the pandemic, but if you mention the "disco ball drugstore" to anyone in North Brooklyn, there's a pretty good chance they'll know what you're talking about. Not far away, there's an apartment I walk past often, where you can see a sizable pink-toned disco ball hanging from the ceiling. I can't help but imagine what kind of parties have been held there. 
Follow Topics for more like this
Follow for more stories like this
Disco balls are inherently fun. They make me think of parties, dancing, and times when people could be together. I bought my first disco ball over a year ago when my roommates and I hosted a '70s-themed party in our too-small-for-parties apartment before the pandemic. When we moved, I couldn't help but think the disco ball should find a home in our new space. It was my roommate's mother who actually came up with the idea of putting it in the bathroom (see below), and we went with it. Since then, our bath feels more luxurious and perhaps even a bit flashier than it should, but it's one of those small elements that make me smile whenever I see it. It might be quite some time before anyone else enters our bathroom and is met with a disco ball surprise, but for now, just knowing it's there is enough for me. 
Since the pandemic has inspired many of us to craft, whether or not we're naturally inclined, I wondered if I could incorporate disco ball decor into my space in another way: by making my own ball basically from scratch. Thankfully, it's not hard to find disco ball tiles online, so I ordered a set of 1,500 of them, found a glass fishbowl-style bowl to use as a planter (called a bubble bowl at craft stores), and got to gluing. What I ended up with was a sparkling home for greenery that catches the light so beautifully, it's hard to take my eyes off of it. Thankfully, the DIY itself was simpler than I imagined. The planter I chose was relatively small, just over four inches in diameter, making it a doable project that took me close to two hours — just enough time to listen to Clairo's album "Immunity" in full, chat with my mother, and place a call to my cell phone provider's customer service line.
My new disco ball planter, now home to a leafy Philodendron, sits on my kitchen table, but it would look beautiful on a bookshelf, windowsill, or anywhere that catches the light. Want to make your own? Follow these fairly easy steps, and your decor will be that much groovier for it; I promise you'll smile every time you see it.
First, acquire the appropriate tools. For me, that included a set of self-adhesive disco ball tiles and a glass bubble bowl to use as a planter. In theory, you could glue the tiles to any pot or planter, ceramic or otherwise, although I found the glass was more forgiving if I didn't place a tile perfectly and better at reflecting light. After all, isn't the sparkly light-reflective element what we're going for?
Then flip the planter upside down and start gluing the tiles around in rows, from top to bottom. You might have to space them a bit farther apart than you'd like at first, but as you get to the widest and most visible part of the planter (if you're using one with a rounded shape), you'll be able to place the tiles directly next to each other, achieving that authentic disco ball look.
Once you're about three-quarters of the way done, you can flip the planter right side up and finish gluing down the tiles, making sure to place them as close together as possible. After you've covered your planter completely, place your plant inside and find a sunny spot where the tiles will catch the light and offer that magical disco ball-like look.