Disco Pumpkins Are the Halloween DIY You'll Want to Make by the Dozen
We
independently
select these products—if you buy from one of our links, we may earn a commission. All prices were accurate at the time of publishing.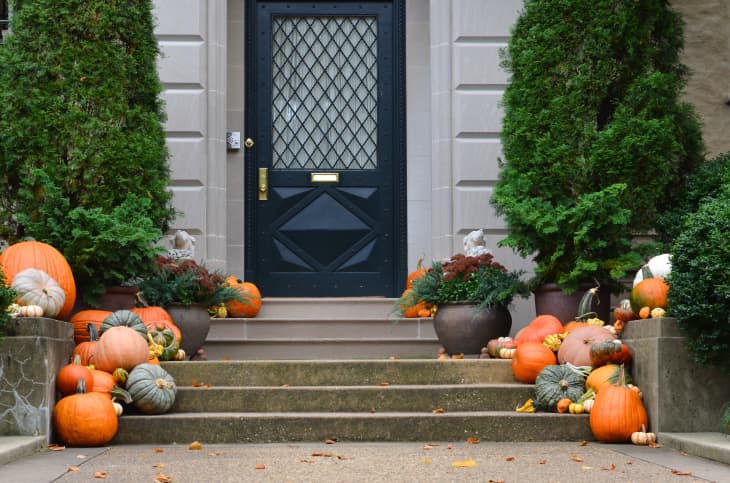 Plain picture frames? Planters? Trays? They all look better disco-fied. That's why, when I recently popped into a local thrift store and found a slew of faux pumpkins priced at less than $1 each, I immediately knew what I needed to do: Disco them up, of course.
Three pumpkins later and I can't stop — nor do I want to. These party-ready pumpkins look so stylish as decor pieces, and I love the way they create shimmering spots of light all around them. Want to make your own? Great news: It's absurdly easy, and you'll only need three supplies: self-adhesive mirror tiles, silver spray paint, and faux pumpkins.
Here are the best tips I learned for making disco pumpkins after working through a bit of trial and error.
A silver base coat goes a long way to hide imperfections.
My first try at a disco pumpkin, I was so eager to get started that I jumped right into sticking my mirrored tiles to the plastic surface. It turned out OK, but not great — that's because you could see glimpses of beige in the gaps between the tiles. Learn from my mistake and don't skip the base coat.
For my later pumpkins, I sprayed a couple coats of a metallic silver spray paint before starting in on the mirrored tiles. The step did the trick, making any gaps or imperfections much harder to spot. I recommend removing the stems before painting to get fuller all-over coverage.
Go horizontal, not vertical.
Your natural inclination will probably be to lay the mirrored tiles vertically, starting at the top of the pumpkin and working down toward the bottom. Ignore this impulse! If you line up your tiles vertically, you're going to create lots of gaps where the natural curvature of the pumpkin interferes with the spacing between columns. (I know because I did it.) You can still make this work, but it will take an extra step.
I filled in the gaps in by snipping tiles down to size and carefully pressing them into the spaces where they fit, but this takes a lot of time. It was time I deemed worth spending until I figured out that I could avoid all this extra work by simply laying tiles horizontally, so they circle around the sides of the pumpkin. This reduces the instances of gapping and eliminates the step of cutting tiles to fit, making the process much simpler.
Keep glue around just in case.
Adhesive-backed mirror tiles have a lot of stick to them, but if you're laying and then moving the tiles, you might find that they need a little help. A strong-hold glue like E6000 will get the job done.
Shop secondhand for the best deals.
Faux pumpkins are easy to find from a variety of sources, from home centers to dollar stores. But for the best bargains, take a page from my book and visit your local thrift store to see if there are any pumpkins available. Because you'll be both painting and mirroring them, you don't need to feel limited by the color or design of any that are available. The biggest factors will be shape and size — if you like both of those elements, you have a great candidate in hand.