How Carl and Ellie's Living Room Chairs In Pixar's "Up" Tell Their Love Story
We independently select these products—if you buy from one of our links, we may earn a commission. All prices were accurate at the time of publishing.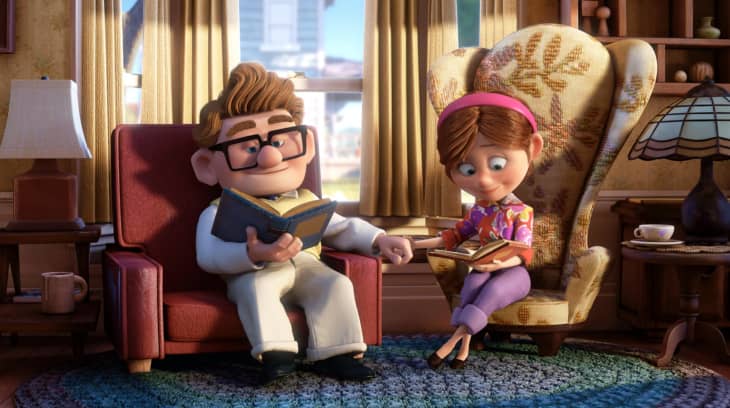 When you see the iconic Luxo Lamp hopping across your TV screen, you know you're in for an animated masterpiece from Pixar. One of my favorite films made by the animation studio is "Up," which begins with the relationship of Carl and Ellie that flashes before the viewer's eyes in a matter of 10 minutes. And while the rest of the movie covers Carl's solo quest (well, plus Russell and Dug) to get to Paradise Falls — where he and Ellie both dreamed of traveling to — their love is strongly present throughout the film, thanks to their living room chairs. 
Follow Topics for more like this
Follow for more stories like this
Carl and Ellie's chairs are more than just two vintage their Victorian home, but the unique designs and shapes lend themselves to something deeper — a reflection of who Carl and Ellie were as individuals and as a couple. (In case you haven't seen the film, there are plot spoilers ahead.)
In the comfort of these chairs, Carl and Ellie read books, listen to music on the record player, and watch the coin jar fill with money for Paradise Falls. As the story moves along, Ellie passes away, and 78-year-old Carl turns into a bit of a curmudgeon who doesn't want to leave his house or have any human interaction. But it's Ellie's chair that still brings Carl to life, which he keeps around as a reminder of the love they once had, the joy that Ellie brought to him, and their home together.
Ellie's wingback chair has a floral pattern, curved sides, and high wings that feel whimsical and full of personality, which Ellie certainly was. Carl's chair might be symbolic of who he is as well — a solid red traditional club chair that's more structured, which ties into his type-A personality and need for routine. 
The chairs' shapes were a reflection of the couple, too, as the Pixar team revealed on their official "Up" page. "Believing that basic visual cues convey much about personality, the filmmakers boiled the characters down to their physical essence," the Pixar team wrote. "Carl was shaped like a brick, weighed down and resistant to change." While there isn't any further explanation about Ellie's curved chair, one might say it's symbolic of the balloons that Carl sells and are also strapped to his home — light, bubbly, and filled with the need to fly away to a new adventure.
Of course, the rest of the movie follows Carl as he sets sail for Paradise Falls in his home carried by helium-filled balloons, with his and Ellie's chairs in tow. But it isn't until Carl reaches his destination, sits in his boxy red chair, and flips through his and Ellie's Adventure Book that he sees Ellie's note, "Thanks for the adventure — now go have a new one!" The scene is a pivotal moment, for both their relationship as well as the chairs: Carl looks to his left at Ellie's yellow chair, understands what Ellie's wanted for him all along, and leaves the two chairs behind with the rest of his furniture to help his house float yet again and start a new adventure. 
The idea of leaving his and Ellie's chair behind is not one that Carl seems to take lightly. He's leaving part of himself there. But he begins to realize that his memories of Ellie are not tethered to the chair like balloons on his house — his memories of Ellie are in his heart. He and Ellie finally made it to Paradise Falls together, even if it was just their chairs as a reflection of themselves. And now, Carl could start a new adventure, just like Ellie wanted.