11 Feel-Good Movies to Watch on Disney+
We independently select these products—if you buy from one of our links, we may earn a commission. All prices were accurate at the time of publishing.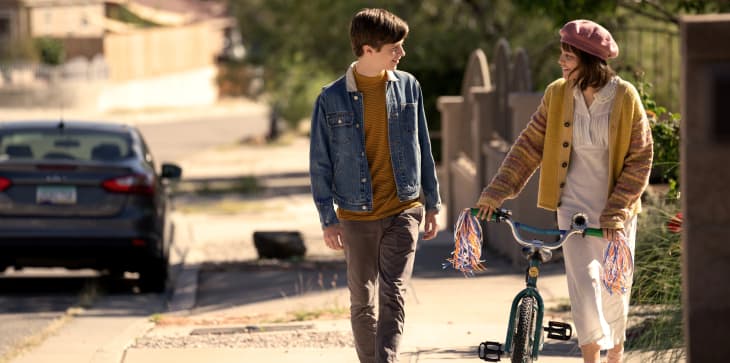 These days, it's hard not to feel discouraged or anxious. With COVID-19 restrictions keeping us at home, that means we have fewer ways to alleviate some of those bad feelings. We can't drive to a friend's house, go on date night, or even hit the gym to de-stress. So what can we do to shake off these seemingly endless Sunday Scaries? 
Follow Topics for more like this
Follow for more stories like this
One way to remedy your blues is press play on a feel-good streaming movie. It's free, it's easy, and it has no idea you haven't washed your hair in four days and have been wearing the same sweatpants all week (honestly, same though). Pop some popcorn, grab whatever leftover Halloween candy that's left in your cabinet (it's totally fine to eat, don't worry), and pretend you're at the movies. And lucky for us, Disney+ has a plethora of movies that will leave you feeling at least a little bit more positive (it is Disney, after all, that's what Disney does best). Check out these currently streaming feel-good (and bonus: family friendly!) flicks.
One of Disney+'s newest originals, "Stargirl" is a must-see, no matter how old/young you are. Leo Borlock (Graham Verchere) is an outsider, a teen boy who wishes to be invisible. But when Stargirl (Grace VanderWaal) appears, his world immediately changes and he's shown that embracing individuality is a gift. Based on Jerry Spinelli's book of the same name, "Stargirl" is a YA coming-of-age movie that reminds us all that it feels so much better to just lean into our own special and wonderful weirdness than pretend to be someone else. 
There's a good chance you probably already saw "Toy Story 4" in theaters, but even if you have, it's worth the rewatch—especially if you grew up with "Toy Story" movies. In the fourth installment, Woody, Buzz, Bonnie, and newcomer Forky embark on a journey and end up running into Woody's lady love, Bo Peep. It has everything you love about "Toy Story:" Tom Hanks and Tim Allen reprising their iconic toy roles and endless adventure. For old time's sake, cuddle up and make yourself some delicious, hot shmoes.
We know that "Finding Nemo" is also on the Disney+ roster, but there's something about "Finding Dory" we find even more enchanting. Maybe it's because Ellen Degeneres (her voice, that is) gets more screen time. Maybe it's because Dory is so dang funny. Or maybe we just need the comfort of Dory's impenetrable optimism as she goes seeking for her real parents.  
In "Zootopia," we meet Judy Hopps (voiced by Ginnifer Goodwin), a very determined rabbit who has always dreamed of being a police officer. But since she's a rabbit, she's underestimated and assigned to parking ticket duties. But that doesn't stop her from taking on crime in Zootopia. She reluctantly befriends a con artist fox named Nick (Jason Bateman), and the two take on the biggest case the animal town has ever seen: For some reason, animals have been turning into their most primal, savage selves. Is there something in the water? Are they getting hypnotized? Judy and Nick embark on a wild mission to find out.
We bet you haven't seen this gem in a few years. Starring Whoopi Goldberg, "Sister Act" is about a singer named Deloris who witnesses a crime. She testifies and gets put into the Witness Protection Program and is settled into the last place anyone would ever find her: a nunnery. Deloris makes the best out of the situation and takes over choir, teaching the other nuns how to rock 'n roll and live their best lives. Disney+ recently stated that they're working on a "Sister Act 3," so be on the lookout.
10 Things I Hate About You (1999)
The '90s version of William Shakespeare's "Taming of the Shrew," Julia Stiles plays said "shrew": Kat, a rebellious senior in high school who was recently accepted to Sarah Lawrence and wants nothing to do with men. This poses as a problem, because her beautiful and popular younger sister Bianca (Larisa Oleynik) is told by their dad that she's only allowed to date if Kat dates. Bianca comes up with a plan to set her up with ~bad boy~ Patrick (RIP, Heath Ledger), who's paid to win her over. 
Obviously, we had to include a motivation sports movie. Instead of being about football or baseball (as most sports movies are), "Cool Runnings" is about bobsledding! Specifically, a group of four Jamaican bobsledders who have never seen snow in their life. If that doesn't give you the motivation to try that in-home workout app you've downloaded, then we don't know what will. 
Maybe what we really need is this silly '80s rom com that stars Tom Hanks as a successful businessman named Allen who just can't seem to find the right lady…until a mermaid named Madison (Daryl Hannah) saves him from drowning one day, as mermaids usually do in fairytales. The mermaid, who has Allen's wallet, is able to locate him and travels to New York to be with him. She can walk on land, but only temporarily. Madison (whose real name is in screech-y mermaid language — she comes up with "Madison" when she sees a sign for Madison Avenue) and Allen fall in love, despite her quirky behavior. When Allen proposes, Madison decides she needs to tell him the truth — but will he still love her for who she is, scales and all?
Released in December 2019, the Disney+ original "Togo" couldn't be more timely. Based on a true story, "Togo" is about a musher named Leonhard Seppala (played by Willem Dafoe)  living in a small Alaskan town who is at wits end with his new Siberian Husky puppy. The puppy, Togo, is small and defiant — definitely not good qualities for a sled dog. However, Seppala soon learns that Togo isn't a sled dog, he's a lead dog. Set in the year 1925, there's a diptheria outbreak that is making children very sick. The town needs medicine, but to get it means someone needs to travel for several days to the next town over, and the conditions are extremely dangerous. Although Togo is 12 years old by this point, Seppala believes that he's the only doggo who is capable of completing the mission. You will laugh. You will happy-cry. You will cry-cry. There is literally nothing better than a hero dog movie if you love dogs. Period.
Another amazing movie based off an amazing book from our childhoods, "A Wrinkle in Time" is a sci-fi story that follows 13-year-old Meg Murry (Storm Reid) who is trying to get on with life after her scientist father disappeared when looking for a new planet. Meg and her brother Charles Wallace (Deric McCabe) join forces with the magical Mrs. Whatsit (Reese Witherspoon), Mrs. Who (Mindy Kaling), and Mrs. Which (Oprah Winfrey) and go on a dangerous journey to find the planet Meg and Charles's father might be on. 
We were thisclose to getting a live-action remake of "Mulan" (it was set to premiere March 27), but the COVID-19 crisis pushed back the release date. Luckily, the original is on Disney+, and if you need to channel a badass Disney princess right now, Mulan should be your top pick. She chooses to enlist into battle in place of her elderly father, trains with a group of rowdy, annoying men (who historically would have been super misogynistic), and she kicks butt. She also manages to score a boyfriend! Basically, we all need Mulan energy to get through these dark times.