There's a Replica of Disney's "Up" House and We'll Happily Float Away in It
We independently select these products—if you buy from one of our links, we may earn a commission. All prices were accurate at the time of publishing.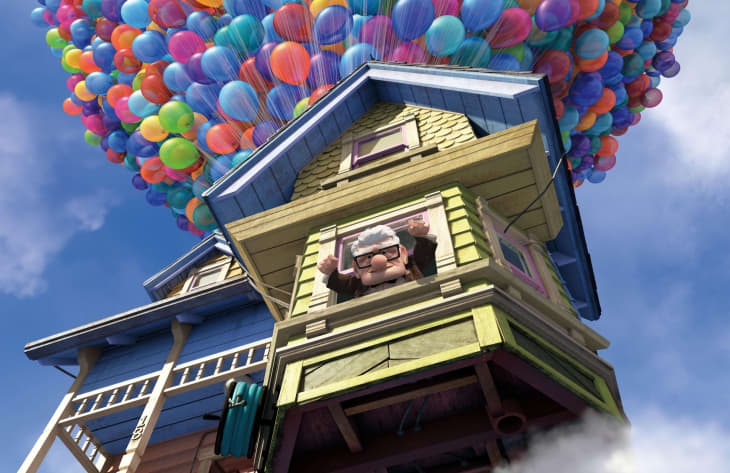 The Disney film "Up" is an emotional roller coaster, to say the least. Well, if you're a fan of the movie, get ready to cry all over again: there's a replica of the multicolored home out there that was recently trending on Reddit.
Follow Topics for more like this
Follow for more stories like this
Back in 2011, homebuilder Blair Bangerter created a livable, life-sized replica of Carl and Ellie Fredricksen's house from the Disney Pixar film. Bangerter wasn't sure he could ever part with it—that is, until he met the Hamblins, a family of four who were looking for a new home and happened to be diehard Disney fans.
Clint and Lynette Hamblin had relocated themselves and their two children, Coral and Gunner, to California after Clint had gotten a new assignment as a member of the armed forces. Clint went visit his grandmother in Salt Lake City, who wasn't doing well health-wise, and while he was there, decided to check out the "Up" house that was all over social media.
The exterior of the house matched the film's version to a tee, with its pastel-colored wooden panels and Victorian-styled shape. Clint fell in love with it immediately, and so family decided to an offer on it to be their new residence. After meeting with the Hamblin family—and recognizing their passion for Disney and the home itself—Bangerter happily consented to sell it.
And now, touches from "Up" are everywhere you look, including framed photos of the movie characters, the mailbox with colorful handprints, the painting depicting Carl and Ellie's dream house on Paradise Falls, their "adventure book," the nursery, and even the coffee grinder that Russell used to steer the house once it became airborne. Gunner even has a stuffed animal bird named Kevin, just like in the 2009 film.
Discover their full story by watching the video above, and be sure to keep a box of tissues close.