The Backyard DIY Project That One Realtor Says You Need to Try This Year
We
independently
select these products—if you buy from one of our links, we may earn a commission. All prices were accurate at the time of publishing.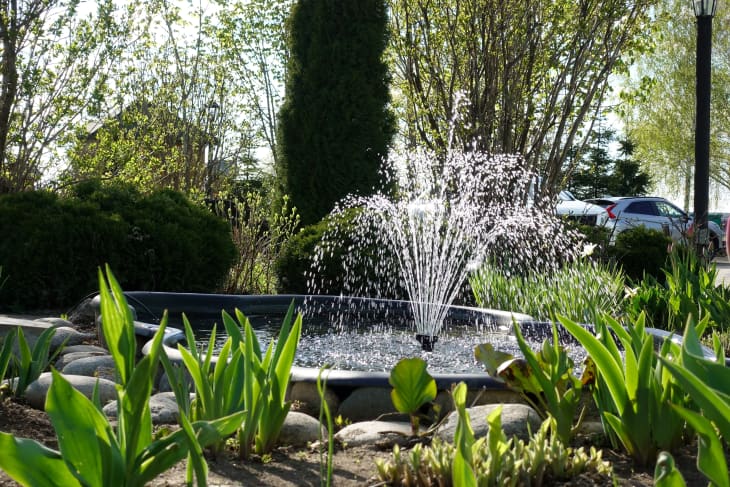 There's a scene in The Sound of Music that, as a kid, I longed to reenact. Desperate "to laugh like a brook when it trips and falls over stones on its way," I'd attempt to recreate Maria's steps along the water, always falling short of perfection not only because I lacked the unparalleled talent of Julie Andrews, but also because of the absence of an Austrian brook in my Midwestern backyard.
Water features soon became a quiet obsession of mine. My mom lovingly granted my request at the local hardware store for an instructional book about fountain landscaping, which I still have to this day. Like the book, my obsession with backyard water features lives on.
Fountains represent calm, nature, and antiquity — not very reminiscent of our backyard full of kids. I imagine that today, as we mark the anniversary of entering the bizarre and chaotic year of lockdown, families are craving serenity, a connection to the earth, and a sense of being rooted in something greater than ourselves. That's why there's a simple home improvement project that genuinely could do a world of wonder. Whether adding the classic elegance of a self-contained stone fountain (Maggie Foster. Why specifically Kansas City, you ask? Because it's the City of Fountains, boasting upwards of 200 fountains, some of which date back to the 1800s! Foster explains the abundance of KCMO's fountains, sharing, "It started as a functionality piece back in the 1800s for people to utilize for horses and animals… and then it kind of became something to make a home look beautiful." 
The pandemic has spurred a home improvement project renaissance throughout the U.S., and folks are reevaluating the purpose of home and what it provides to its dwellers. "With COVID too, right now, more people are working from home so [a fountain] provides an element of outdoors experience," Foster says.
In addition to bringing an element of nature into the backyard, fountains create a tranquil setting with the soothing sound of bubbling water. "It can serve as a functionality to cancel out the noise so you can have a more serene experience," Foster says, benefiting not just the homeowner, but potentially neighbors as well. Fountains are an underutilized resource for drowning out the din of nearby traffic or shielding the neighborhood from the commotion of kids' play.
In terms of resale value, fountains may not make a huge difference. Foster says, "I'm not sure it will dramatically increase the value of one's home, but I do think it will stand out to homebuyers for better or for worse." While showing homes throughout the pandemic, Foster has noticed that a water feature becomes a buzzword for house hunters. "When they see a home with a water feature… it sticks out to them as something memorable," she says.
And you don't have to live in Kansas City to enjoy your own fountain (though, on behalf of my KCMO-born and raised bestie Amy, I am obligated to share it is a wonderful place to live and you should move there). Fountains are surprisingly easy to install, and affordable, too. Kits are widely available for purchase and include multiple reservoirs for levels of cascading water, a pump, a power source, and a filter. Once you have a better idea of how the pieces function together, you can even devise your own creation. No matter what type of fountain you think will fit your backyard's aesthetic, in as little as an afternoon, your yard will be alive with the sound of water.