This "Floating Candle" DIY Is the Most Magical (and Stylish!) Halloween Decoration You'll See This Year — I Promise!
We independently select these products—if you buy from one of our links, we may earn a commission. All prices were accurate at the time of publishing.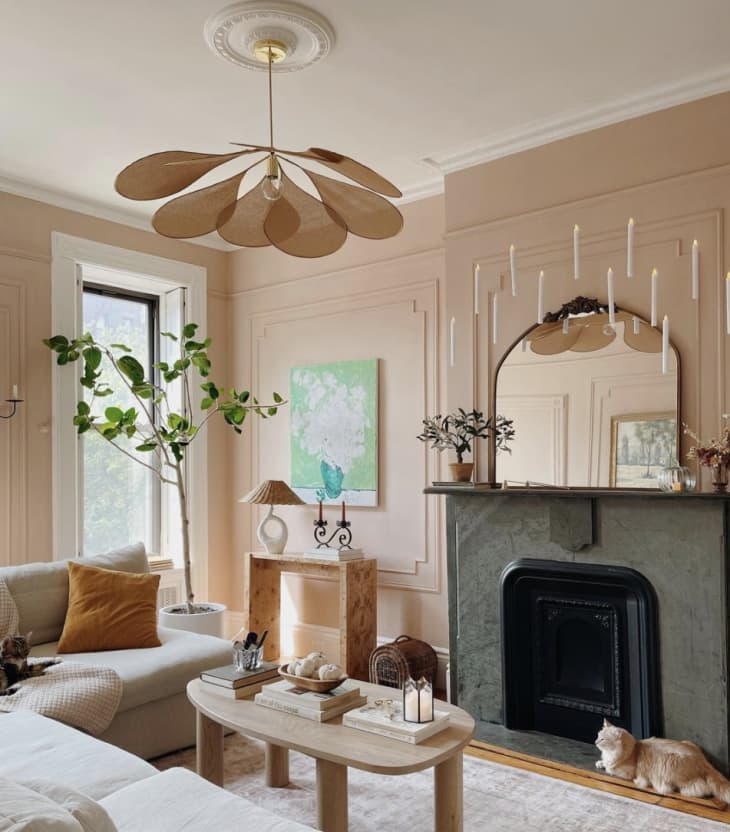 Double, double toil and trouble — Halloween's already (somehow) fast approaching. If you're looking to get into the spooky spirit this year but ghouls and gourds aren't really your thing, Mallory Fletchall has the perfect DIY for your home. Her Instagram account Reserve Home has risen to social media stardom by documenting her immaculately-decorated Brooklyn apartment. The page essentially feels like a free master class in chic styling and renter-friendly tips, among them her genius "Harry Potter"-inspired "floating candle" hack that's perfect for fall and Halloween decorating.
Fletchall debuted this magical mantel setup last fall, which involves a smattering of candles seemingly suspended in midair, and naturally, her ultra-popular project had to make a comeback this year. What kind of sorcery is this, you may ask? Turns out it's just a few battery-operated tapers and clear fishing line… no Hogwarts letter needed here! This idea's easy, affordable, and an absolute must for any design-loving Halloween enthusiasts who like to keep their festive looks subtle. Ready to recreate? Here's the breakdown, courtesy of Fletchall herself.
Pick out your desired floating candle display spot: You can mimic this over-the-mantel look, or cast an enchanting vibe above a dinner table — or even over your bed, if you're so inclined. Determine the amount of candles you want to hang, as well, then start attaching command hooks to the ceiling wherever you want to place each candle.
Decide how low you want each candle to hang. The more varied the heights and depths when placing candles, the better. Next, for your first candle, start cutting a piece of invisible fishing thread that's twice as long as your desired length (i.e. If you're aiming for it to hang 24 inches down from the ceiling, cut a piece that's 48 inches long).
Find the mid point of your cut piece of thread and wrap it around the candlestick, starting from the bottom and working your way up along the sides — basically creating a little "hammock" for the candle (Pro tip: Make sure both sides of the thread look even so the candle hangs straight!) Then, use a few pieces of clear tape to hold the thread in place along the length of the candle.
Knot the remaining thread together at the top to create a large loop. Hang this from the command hook already attached to the ceiling.
Repeat this process for as many candles as you'd like. 13 was the magic number for Fletchall, though the mirror they're placed in front of creates an illusion of even more. DIY as many as your space allows.
When you're finished, control the candle lighting with the included remote, and enjoy your Halloween creation. Who knows — you may even want to keep your installation up for ambiance all year long?