The Dos and Don'ts of Dog Grooming at Home, According to Experts
We
independently
select these products—if you buy from one of our links, we may earn a commission. All prices were accurate at the time of publishing.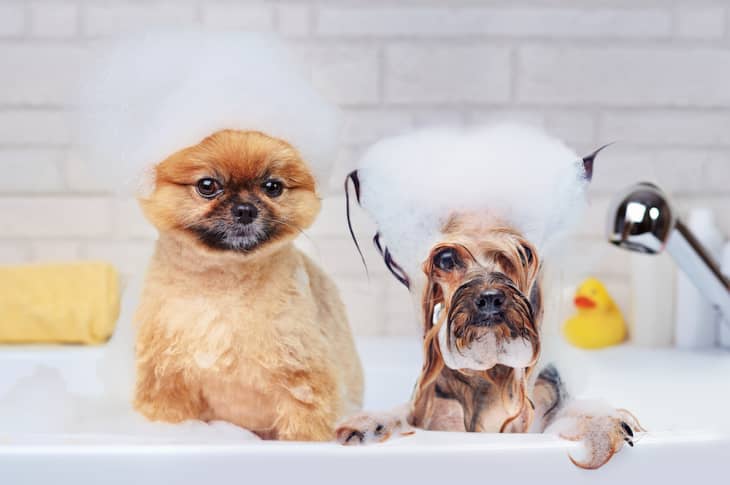 Like their human counterparts, dogs require the occasional pampering, too. With the ongoing COVID-19 pandemic continuing to rage on across the globe, some pet parents are opting out of in-store bathing pet services. As such, Mira Showers, a U.K.-based shower company, looked into these pampered pooch trends to determine how pet parents are caring for their furry companions at home. And with some help from dog grooming experts, the company compiled a trusty list of the dos and don'ts of safely grooming at home. 
Some of the major dos and don'ts? Do use a handheld shower with lukewarm water, and don't bathe your dogs too often. And while experts agree that general bathing could be done at home, they also maintain that it's best to leave some grooming — such as nail and hair clipping and ear plucking — to professionals. "There are certain techniques that need to be followed in order not to harm the dog or yourself," Ness Croft-Taylor, veterinary surgery manager and qualified dog groomer, explains. "For example, if you cut your own nails too short, they are sore, and it's exactly the same for a dog."
One good grooming routine to establish at home? Daily brushings, according to Billy Barlos, senior groomer at Purplebone. "Brushing should be a daily routine for all dogs at home, regardless of coat type," Barlos says. "It gives you an opportunity to check your dog's skin and coat for any foreign bodies." Read on below for the rest of the dos and don'ts. 
The dos of dog grooming at home
Use a handheld shower: a handheld regulates the flow of water and introduces it gradually 
Use lukewarm water: experts suggest dipping your elbow into the water to test the temperature, much like one would when bathing a baby 
Start at the head and work your way backwards to the legs and body
Be careful around your dog's ears, eyes, and paws
Assess for lumps, bumps, skin irritation, and debris
Take your dog to a professional groomer if you're unsure
Reward your dog with treats: "Lots of rewarding, whether it be vocal or treats, really helps," Barlos explains. "Some dogs need help keeping focus during washing and brushing at home, and more anxious dogs can benefit from the naturally calming effects of licking." 
The don'ts of dog grooming at home
Use human shampoo: experts stress the use of certified dog shampoos only; human shampoos have different pH levels and could cause skin issues and harm your dog's eyes
Bathe your dog too often: overwashing can lead to skin irritation 
Use hot water
Get water down your dog's ear canal: this could lead to infection
Rush: your pup certainly wouldn't appreciate shampoo residue 
Get shampoo in your dog's eyes
Attempt hair clipping, ear plucking, anal glands, or nail clipping: experts advise dog owners to leave the clippings and pluckings to professionals.