The Pop Culture Driving Dog Names, From Kobe Bryant to 'Game of Thrones'
We independently select these products—if you buy from one of our links, we may earn a commission. All prices were accurate at the time of publishing.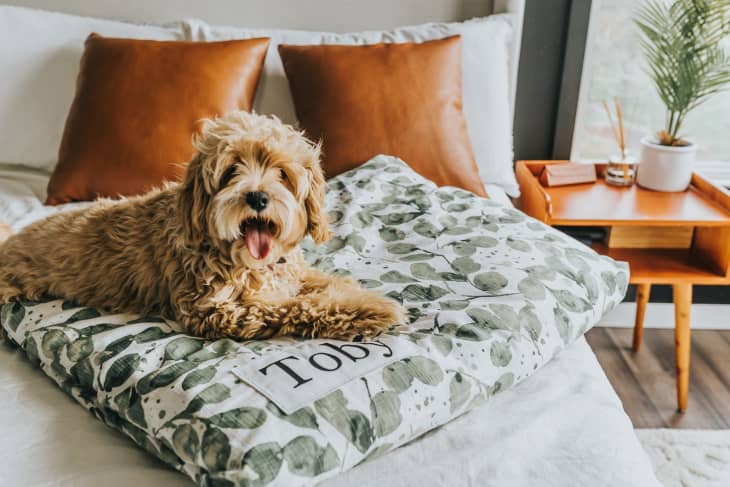 Choosing your dog's name is no easy task. Will the name capture their personality, or make a nod toward their appearance? Will it reflect one of your pop cultural obsessions, or make a nod to your furry friend's breed? The possibilities are endless.
The most popular dog names since 2021 were Max, Bella, and Luna, which also happen to be pretty popular people names. For example, Bella and Luna also made the list of most popular human girls' names that same year.
When it comes to gender, Cowboy was the most popular 2021 male dog name, while Paloma was the most popular 2021 female dog name.
It's also important to note that pet adoptions soared during the COVID-19 pandemic. In May 2021, the ASPCA found that 23 million Americans adopted a pet during the crisis. Therefore, many owners opted to keep the names that their dogs had before they joined their families. BarkBus found that the most common adopted dog names were Penny, Lulu, and Dexter.
While human names dominated dog naming trends overall, research indicates that pop culture still has a big influence on what pet parents name their dogs. For instance, Kobe was one of 2020's most popular dog names, with many owners understandably wanting to pay homage to iconic basketball player Kobe Bryant after his tragic passing. "Game of Thrones" names have also proved popular in recent years: Khaleesi was a top name in 2016, Arya ranked high in 2019, and Snow was a major name in 2019. With the prequel series House of the Dragon in full swing, don't be surprised if the fantasy franchise continues to inspire dog owners for years to come.
You can check out the full Barkbus study here.