I Tried Dolly Parton's "Stampede Soup" and It's the Best Stress-Free Dinner
We
independently
select these products—if you buy from one of our links, we may earn a commission. All prices were accurate at the time of publishing.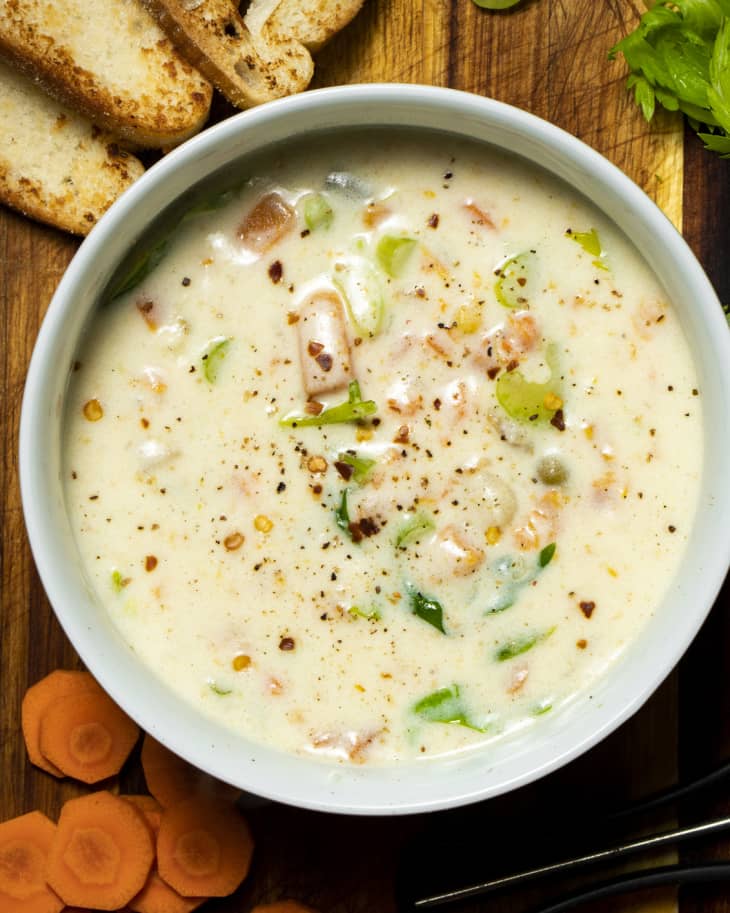 Nothing can compare to the legend that is Dolly Parton. She's the record holder for the most number-one hits by a female country artist (25), as well as the record holder for most top 10 country albums on the Billboard Top Country Albums chart (a whopping 41). In her own right, Parton is a pop-culture icon who has transcended her musical image and starred in numerous Hollywood films, opened a theme park, written multiple books (one of which is coming out next week!), and stood as an example of what it means to be a strong and independent woman. 
As a fan of Dolly's tastes, I've always been interested in visiting her renowned dinner show attraction, Dolly Parton's Stampede. Previously known as Dixie Stampede, the attraction at its core is a Southern four-course feast that is then followed by a show featuring music, comedy, live animals, and (of course) pyrotechnics. Having always heard rave reviews about the venue's "incredible creamy vegetable soup," I felt I owed it to myself to at least find a copycat recipe to tide me over until I could make the trip to Pigeon Forge, Tennessee, or Branson, Missouri, myself. After coming across Laura Ashley's version over at Dinner in 321, I knew it was time to officially see what the fuss was all about. 
How to Make Dolly Parton's Stampede Soup
Start by melting butter in a large saucepan. Add flour, garlic powder, onion powder, white pepper, and salt; stir until well-combined. Allow the mixture to simmer for one minute, then whisk in the chicken broth and mixed vegetables. Let the mixture simmer for five minutes before using a potato masher to mash the vegetables into your desired consistency (I kept things on the chunkier side for my attempt). When ready, stir in the half-and-half and continue to simmer for 5 additional minutes. All that's left to do now is grab a tasting spoon to sample the final product and season as needed before serving with your choice of rolls, cornbread, or biscuits. 
My Honest Opinion of Dolly Parton's Stampede Soup
This recipe hit home for me on many levels. For starters, the first taste test was so good I didn't even bother to season the soup further; It was perfect as it was. Beyond that, I've always been a sucker for a simple recipe that comes together in less than 20 minutes, and Dolly's Stampede Soup is just that. I did choose the more convenient route of using canned mixed vegetables, so I can only imagine how much better it would be had I used fresh vegetables instead.
I would recommend this recipe to anyone looking for a good comfort meal to add to their seasonal rotation, because personally I could eat this year-round and be a happy camper. Although packets of their "Original Creamy Soup Mix" are sold online, I would still encourage you to make the recipe from scratch and reap the benefits of its amazing flavor.
Three Tips for Making Dolly Parton's Stampede Soup
Choose between canned or fresh veggies. This specific copycat recipe calls for a 15-ounce can of drained mixed vegetables, mostly for convenience. The same weight in fresh steamed vegetables, however, is an excellent alternative. 
Experiment with different ingredients. While this is already a hearty recipe as-is, adding a different variety of vegetables and pasta or rice to the mix is a great way to freshen up the recipe and make it more of your own. 
Make ahead and store for later. Once the soup has cooled, you can transfer it into an airtight container and keep in the refrigerator for 4 to 5 days. Alternatively, the soup can be frozen in the same airtight container and stored for up to 3 months.