3 Things You Don't Actually Need on Your Kitchen Counters, According to Home Stagers
We independently select these products—if you buy from one of our links, we may earn a commission. All prices were accurate at the time of publishing.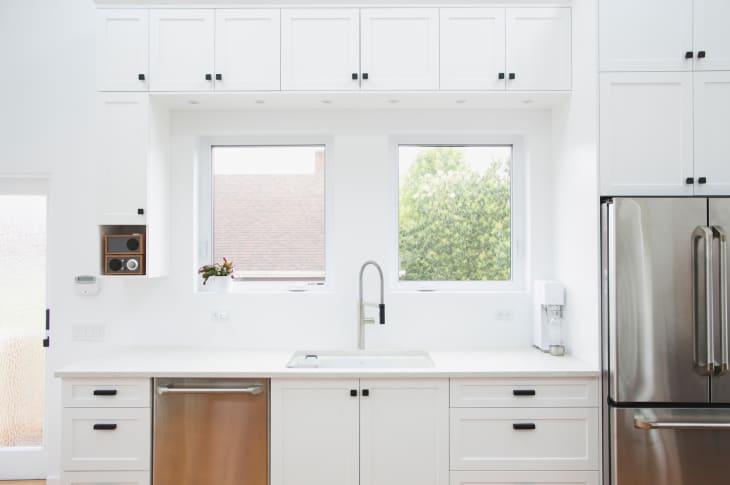 Our kitchen counters often play host to more than just the necessary items used for cooking. It's not uncommon for people to plop their purse or backpack down there after getting home for the day—or the sweater they got too hot wearing, the book they were just reading, their cell phone, their keys, or other miscellaneous items. Kids often do their homework at the kitchen counter after school, and with many people working from home, it's likely that these spaces have been home to laptops, day planners, and other office supplies as of late.
Follow Topics for more like this
Follow for more stories like this
For the most part, your kitchen can be the place where you stash stuff. There are no rules for how you inhabit your spaces! But if you that want to keep your kitchen as tidy as possible, two home stagers suggest that these three things stay off the counters after you're done using them.
It may not be totally possible to keep every kitchen appliance off the counters, especially for those with limited storage in their home or apartment. But according to Atlanta-based home stager Antonio Ferrer-Tancredi, it's best to put these things away when possible. If you don't have space in a designated cabinet or pantry space, try above your cabinets or refrigerator. 
"Items that should stay off your counter are those that are bulky and rarely used," says Lori Sperling, founder of L&A Home Styling & Staging in Marin, Calif. "Blenders, food processors, crock pots, and any other big items that can be easily stored and pulled out of a cabinet or pantry when needed."
"Whether you have a big or small kitchen, your counter space is valuable real estate and you should love walking into your kitchen—not dread it," says the designer. 
Mail, magazines, and paperwork
"I am guilty of this myself," Sperling says. "Walking into your kitchen in the morning, or really any time, and seeing a mound of paperwork does not make anyone smile."
If the kitchen is where you tend to put down all of your things—including the mail and important paperwork—consider getting a mail organizer that you can hang up to keep things off the counters and dining room table, like this one from West Elm. This can be hung near your front door, or even somewhere in the kitchen where wall space is available.
Even though it seems obvious, it's worth mentioning. Dirty dishes can attract fruit flies and cause foul smells to crop up in your kitchen no matter where they are. But isn't it so much better when they're sitting in their own filth inside of the sink or dishwasher rather than right next to the bread box? 
The thing you can keep on your kitchen counters
The two home design experts agreed on the thing that can and should stay on your counter: coffee. 
"A must-have on the counter for me would be a coffee station," Sperling says. "It would drive me crazy to have to pull my Keurig out every morning for a hot cup of coffee, so I've created a coffee station by using a tray to house my Keurig, a cute container to hold the pods, and two coffee cups."
In addition to a coffee maker, Ferrer-Tancredi suggests keeping a fruit bowl or a planter on the counter, which can be both practical and decorative.
"Today's modern kitchen welcomes a sort of minimalist look with the intention to look more organized," says Ferrer-Tancredi. "Let the overall design and style of the kitchen be the focus."