Say Goodbye to Soggy Bath Mats with This Quick Drying Stone
We independently select these products—if you buy from one of our links, we may earn a commission. All prices were accurate at the time of publishing.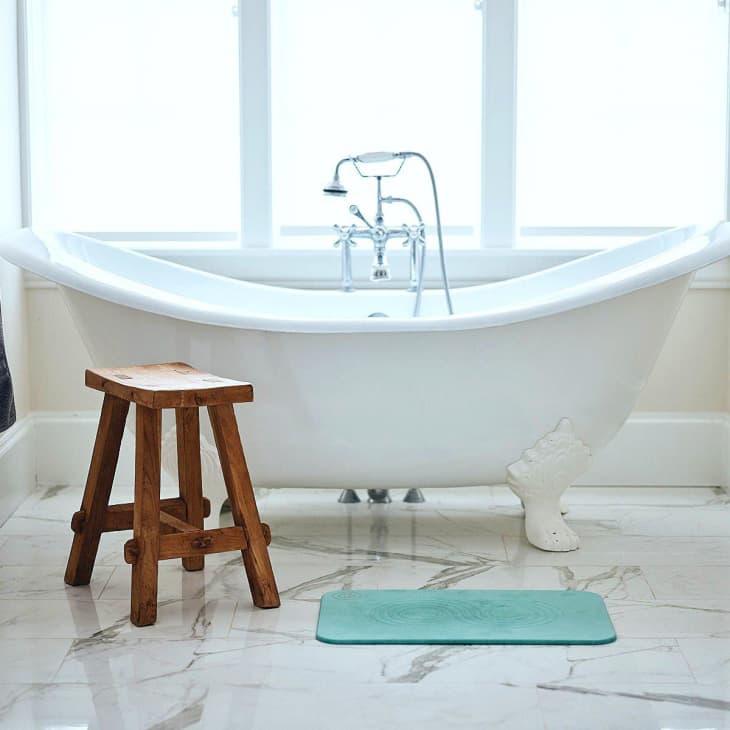 We know that we should all be washing our bath mats more often. If you've ever stepped on it hours later only to find that it's still wet, or even spotted some mold underneath, you might want to invest in this fast-drying bath mat (that is basically magic) from Dorai. It's ultra-absorbent, sustainable, and even resists mold. 
Follow Topics for more like this
Follow for more stories like this
Dorai's Bath Stone ($69.99) isn't actually a mat. It's made from diatomaceous earth, which is akin to ceramic. Its porous texture helps to wick moisture from your feet, but doesn't hold onto wetness like traditional bath mats, thus preventing mold and bacteria from growing. In fact, the Bath Stone dries so quickly, you can actually watch the wetness evaporate.
Because the Bath Stone is made from natural, stone-like material, it will last much longer than a traditional synthetic bath mat. It can be cleaned with small amounts of bleach if stained, and lightly sanded if scuffs or scratches appear.
There are 66 reviews on Dorai's site, 88% of them ranking the Bath Stone five stars. One customer even found a bonus use for it: "I had a small leak in a sky light on my kitchen roof. I had to get to work, so I placed my bath stone under the leak and watched as each drop quickly disappeared. It work great so I left it until I could call a roofer." Seems better than using a bucket!
And if you're thinking, seems great, but I don't want to sacrifice my comfort to stand on a hard stone after showering, fear not. Dorai also offers a Comfort Cover designed to dry just as quickly as the stone underneath it. Truly the best of both worlds.