Drew Barrymore Launched Three New Kitchen Products—Including a Stylish Griddle That's Perfect For Brunch
We
independently
select these products—if you buy from one of our links, we may earn a commission. All prices were accurate at the time of publishing.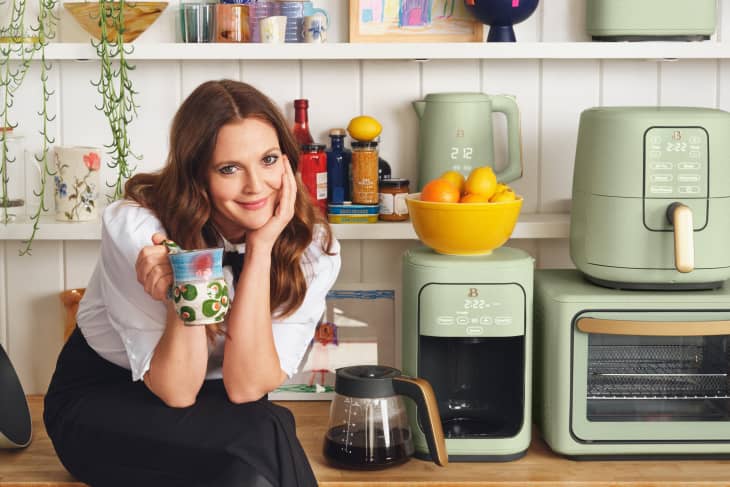 Barrymore first introduced her Beautiful by Drew Barrymore collection in spring, with the sage green air fryer selling out time and time again. She was inspired to create Beautiful after she struggled to find appliances in modern colors she loved, teaming up with Made by Gather Founder and CEO, Shae Hong, to create a high-performance, beautifully-designed kitchen collection that's suitable for any style or aesthetic.
The three new products include a stylish griddle that's perfect for brunching your way through the holiday season, a slow cooker for cooking up your favorite winter warmers, and an all-new air fryer that's almost double the size of the original one. All of the Beautiful items make ideal gifts for your nearest and dearest over the holidays, so be sure to snap them up before they inevitably sell out again.
Below, the newest products to join the Beautiful range:
The Beautiful 9QT TriZone Air Fryer is said to be the most diverse air fryer on the market, allowing you to cook two different foods, two different ways. For foods that need different cooking lengths and have different temperatures, the air fryer allows you to sync them up so they're ready at the same time. You can air fry, roast, reheat, dehydrate, bake or broil your favorite meals, and the large 9qt capacity makes it the perfect appliance for large family meals and holiday gatherings.
Also newly launched is a super stylish griddle that allows you to make up to 15 eggs or pancakes at once—brunch, anyone? The Beautiful 12″ x 22″ Extra Large Griddle has a sleek design for easy cabinet storage and is and equipped with a PFOA/PFOS-free, non-stick coating with a removable drip tray, and detachable stainless-steel backsplash to keep counters clean while cooking. Plus, it comes in Barrymore's signature sage green color.
Finally, the 8QT Slow Cooker is a great gift for those who love to cook up a cold weather comfort dish. Simple and easy to use, there are three cooking settings—high, low, and warm—as well as a lid rest and a dishwasher-safe ceramic insert. With a family-sized capacity that serves 8 or more people, it's perfect for when you're feeding a crowd.