These Drones Have Been Designed To Plant 100,000 Trees Per Day
We independently select these products—if you buy from one of our links, we may earn a commission. All prices were accurate at the time of publishing.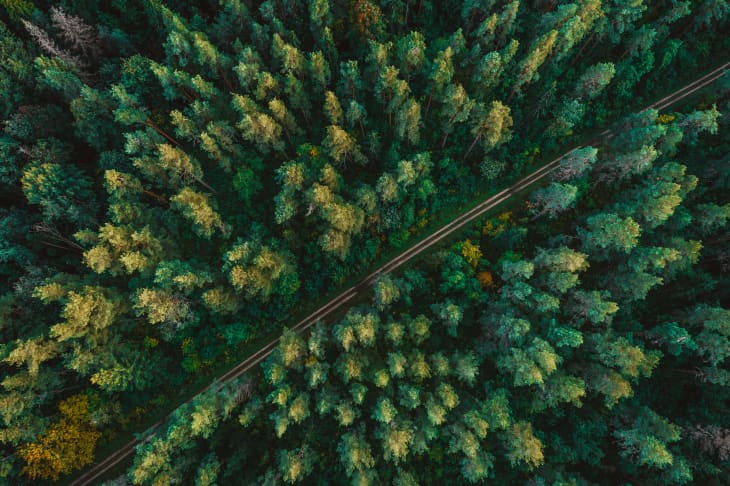 What happens when you put two pilots to work flying a drone that has been designed specifically to plant trees at a rapid pace? You could potentially get up to 100,000 trees planted per day. That's an astounding number compared to an average 11,000 trees that are currently being planted by professional tree planters on a weekly basis.
Follow Topics for more like this
Follow for more stories like this
Although that 100,000 mark has yet to be achieved, Flash Forest, a tree-planting tech startup based in Canada, has its sights set on planting 1 billion trees by 2028, and the projections say it's possible.
According to Fast Company, Flash Forest's technology is currently able to plant 10,000 to 20,000 seed pods in a single day, and they predict that as their technology advances, two pilots will be able to deposit 100,000 seed pods in a single day. The startup believes that in the near future, its technology can help the human population plant a necessary 1 billion hectares of trees to limit global warming to 1.5 degrees Celsius, as the Intergovernmental Panel on Climate Change states needs to happen.
Flash Forest uses a team of mapping drones to stake out the area in question, and using software, the company can identify the best places to plant based on soil and existing vegetation. Then, planting drones place the seed pods, packed in a propriety mix that quickens the speed of germination, in the appropriate areas using a firing device that shoots the pods deep into the soil.
Using native plants from local seed banks, Flash Forest decreases the need for human interaction to keep the seedlings alive and thriving.
"I think that drones are absolutely necessary to hit the kind of targets that we're saying are necessary to achieve some of our carbon sequestration goals as a global society," Flash Forest cofounder and chief strategy officer Angelique Ahlstrom told Fast Company. "When you look at the potential for drones, we plant 10 times faster than humans."