Why You Should Keep a Roll of Duct Tape in the Kitchen, According to Reddit
We independently select these products—if you buy from one of our links, we may earn a commission. All prices were accurate at the time of publishing.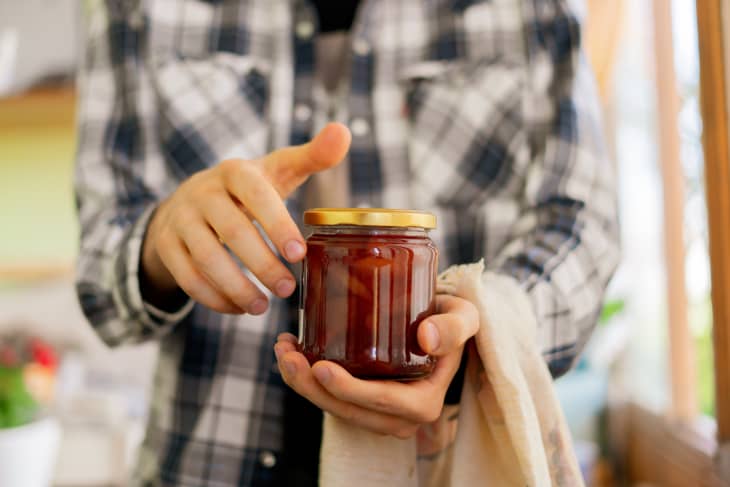 Raise a hand if you've ever gone the distance in a hard-fought battle with a stubborn lid that refused to open on the first (or second or third) try. Congrats on the win, but to avoid minor injuries and bruised egos during future attempts, Reddit found a genius hack for this all-too-common situation.
Follow Topics for more like this
Follow for more stories like this
Most of us have tried some variation of tapping the jar on the bottom, which is said to release water vapor to make the container easier to open. Then there's the obvious approach of wiping your hands off to remove any moisture that could potentially loosen your grip. The last (and oftentimes most desperate) resort is asking for another pair of hands. In the end, none of these methods are foolproof, but supposedly, in a face-off between duct tape and a tight lid, the duct tape gets the job done with ease. 
To start, you'll need several inches of duct tape. Place one end of the piece of tape on top of the disagreeable lid so that it covers three-quarters of one side of the lid. Meanwhile, partially wrap the remaining tape around the side of the lid, folding the edges together to create a makeshift handle. Using one hand to secure the jar, pull the tape handle clockwise to loosen the lid, and voilà, that should do the trick. 
As with any hack, this duct tape quick-fix was met with some resistance from commenters who said it takes too much time and others who claimed using a spoon is way easier. Those skeptics certainly have a right to their opinions, but we think this tip is a pretty useful home hack that everyone deserves to know and should at least try once. Your fingers and wrist will thank you.