This Is the Only Vacuum That Can Stand Up to the Messes Made By My Three Furry Pets
We
independently
select these products—if you buy from one of our links, we may earn a commission. All prices were accurate at the time of publishing.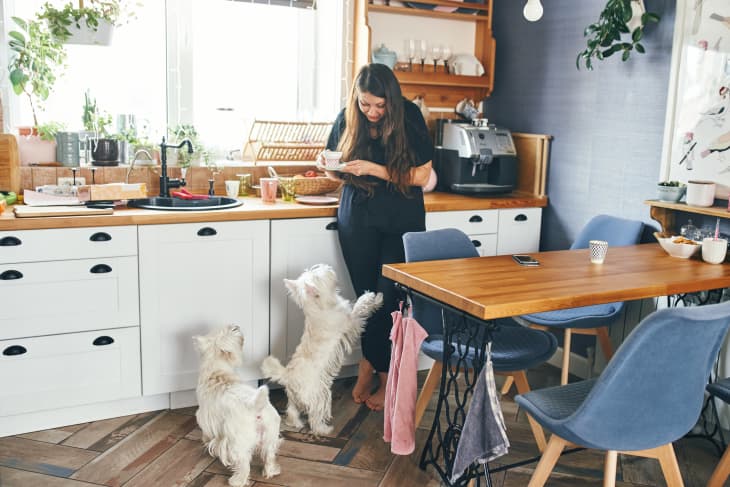 I firmly believe that part of adulting is not being ashamed of loving an appliance. For me, that moment came when I finally upgraded my vacuum to handle my move into a larger space with a newly blended family of five, three of whom are covered in fur. Facing a constant uphill battle to clean up after a dog and two cats, I splurged on a Dyson and can honestly say, I finally get what all the fuss is about. The Dyson Ball Animal 2 tackles all the dust, dirt, and dander better than any vacuum I've ever owned, and even better, it gets every last clump of fur without clogging. So, if you have pets like I do and have struggled to find the best way to clean, listen up because it is truly a game changer.
I didn't immediately buy a Dyson after my move. I actually selected a moderately priced, well-known brand … which promptly died less than three months later from a giant fur clog that burned out the motor. I knew I needed something with super-powerful suction, and the advanced cyclone technology of the Dyson sold me almost immediately. It sucks up everything in one pass — like dirt, fur, and microscopic allergens, which all get trapped inside to make it certified asthma- and allergy-friendly. If you've ever shut off a vacuum and had little particles fall back onto the floor, you know the frustration of being cyclone-less. The Dyson doesn't have that problem, nor does it have the messy cleanup. There's one little button to click, and the dirt releases from the bin into your trash without the dust and dirt flying back out everywhere.
The Dyson also had me sold because it is engineered to clean all floor surfaces automatically. My kitchen tile gets slammed from baking projects, constantly covered in cake crumbs and stray sprinkles. We drag in tons of dirt from the grimy city streets onto my hardwood. And my rugs, my poor, poor rugs. They collect so much fur that they could classified as shag carpeting in under a week. The Dyson cleans all the surfaces without having to flip any switch but "on," and for an upright vacuum, it's remarkably easy to navigate thanks to the pivot ball. From the sharp corners under the cabinets to the weird curvy corners of my couch, it swivels like a champ no matter where it needs to go.
I'd be remiss if I didn't give a shoutout to the high-reach wand that sucks up the tumbleweed-like fur balls that collect on my stairs. It also has quite a few attachments, like a mini turbine tool for furniture, a separate stair tool, and a combination tool perfect for those ceiling cobwebs. Everything gets sucked through a filter that is both washable and reusable, so there's no need to buy anything else beyond what you get with the machine.
I'll admit, the price tag of a Dyson gave me some pause at first. But, when I considered how much money I would be spending on replacements at the rate I was going, I knew it was worth the investment. (The five-year warranty helps, too!) It has never clogged, never lost suction, never died unceremoniously after an extra week's worth of fur clumps. It is the only vacuum that has ever been able to tackle the mess this family of five leaves behind, and I'm proud to be adult enough to say how much I love it out loud.