If You Feel Judged for Putting Up Holiday Decorations Early, You're Not Alone, According to This Survey
We
independently
select these products—if you buy from one of our links, we may earn a commission. All prices were accurate at the time of publishing.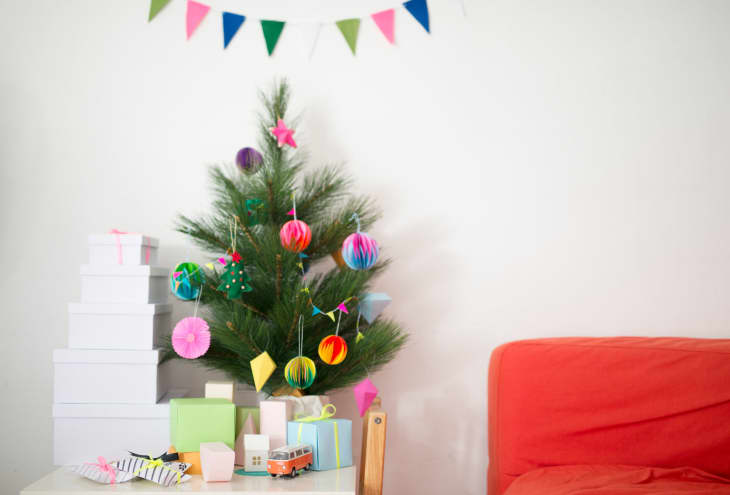 When it comes to decking the halls, some folks tend to put up their Christmas tree as soon as Halloween ends. Whether you're an extreme Christmas enthusiast that is bringing your decorations up from the basement before Thanksgiving or you don't believe in trimming the tree until Christmas Eve, a new survey found that 22 percent of respondents feel judged when they put their Christmas tree up earlier than the norm. 
Treetopia, an artificial tree supplier, asked 3,500 Americans across 47 states to share when they typically put up their Christmas tree and how long they let it dazzle guests in their home. According to the survey, the average American puts up their Christmas tree 4.5 weeks before Christmas, which comes in right after Thanksgiving.
But in some states, folks tend to grab the tinsel and ornaments a little bit earlier. Rhode Island and South Carolina were ranked as the earliest states to celebrate the holiday — over 6.5 weeks before Christmas, on average. That's around the second week of November. The latest tree trimmers live in Oregon, decorating on average 3.3 weeks before Christmas, along with those in Connecticut and Florida. Interestingly enough, it seems the trend doesn't exactly rely on physical location, since these folks are in every corner of the country.  
While decorating is one thing, taking down the decorations is another. After all, it's noticeable when someone's still got their Christmas tree up past January. On average, Americans wait 2.9 weeks after Christmas to take their tree down. But then again, some folks wait a bit longer. Arizona, Georgia, Illinois, Kentucky, Maryland, and Texas all wait the longest to take their trees down after Christmas, averaging 4 weeks after Christmas Day. In fact, Illinois residents wait an average of 4.2 weeks after Christmas to take down their decor — longer than any other state and more than 2 weeks longer than the national average. The quickest folks to take their decor down soonest are those in North Carolina, where they leave their tree up for an average of only 2.1 weeks after Christmas.
For those of you who see a slice of yourself in Clark W. Griswold, the survey found that 2 in 10 American men admit to getting competitive with their neighbors when it comes to Christmas decorations. (It would be interesting to see how women weigh in on that list.) As for what color lights people tend to go with, 42 percent said they prefer white Christmas lights, while 27 percent go colorful. The remaining 31 percent like to go for a fresh combo of colored and white Christmas lights. 
For the tree itself, it seems folks mostly go for trees that measure 6 feet tall. Also, the stats claim 76 percent of respondents go for an artificial tree for the holiday season. (However, keep in mind that it's an artificial tree supplier conducting the survey.) 1 in 3 respondents said they were willing to spend over $100 for a Christmas tree. Price is no object when it comes to jingling those bells!