East Fork Teamed Up With Molly Yeh to Launch the Most Colorful Dinnerware Set
We
independently
select these products—if you buy from one of our links, we may earn a commission. All prices were accurate at the time of publishing.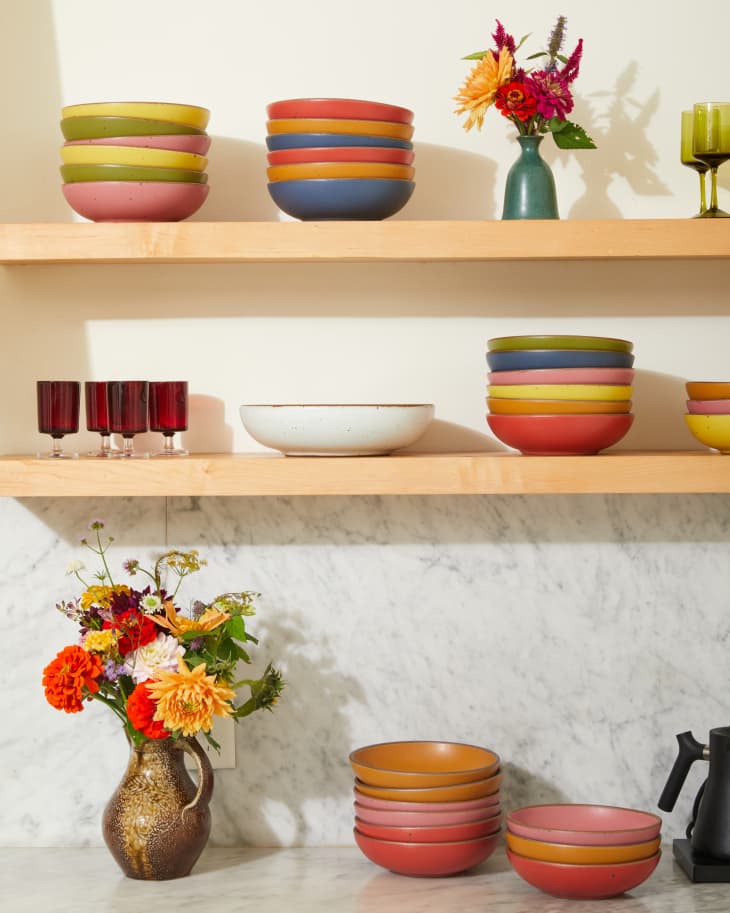 As we're sure you know by now, AT readers and editors alike just can't get enough of Asheville-based pottery studio, East Fork. They're constantly wowing us with dreamy seasonal glazes, including the most recent turquoise Secret Beach, and special launches including the new sizes of their super-popular The Mug. Essentially, East Fork is perfect for anyone slowly growing a pottery collection or who wants to add small touches of color and personality to their everyday dining. Today, East Fork has an exciting announcement that just might be their most colorful one yet.
East Fork has teamed up with Food Network star, Molly Yeh, to create the Molly Yeh Rainbow Set in honor of her new cookbook, Home Is Where the Eggs Are. The six-piece collection features the popular Everyday Bowl in an assortment of rainbow colors, using both retired and never-before-seen glazes, making this set incredibly special.
When it comes to East Fork, we love how intentionally designed each piece is. For instance, The Mug features an ergonomic handle that's meant to feel like an extension of your hand for ultimate comfort. The same functionality goes for the Everyday Bowl, which is designed to a "if-you-had-just-one-bowl-it'd-be-this-one bowl" standard, according to East Fork. It's deep enough to hold soups and stews, but shallow enough for just about any entree, from pasta to salad. And, its wide shape makes it so you can also use it as a serving dish.
Now, you can receive this ultra-chic and versatile bowl in an array of gorgeous rainbow hues thanks to this fun collaboration. It includes retired seasonal glazes like Rococo, Harvest Moon, and Pollen, plus a few new exciting hues to finish out the rainbow. So, not only will it be exciting having these bright colors to set the table, but it's also be super special knowing many are unique glazes you can't get otherwise. Just imagine how charming your table will look the next time you host a dinner party or sit down for a Sunday meal!
You can shop this collection starting today, Sep. 29, or check out the bundle that includes Molly Yeh's new cookbook, too. You'll love taking these bowls out, even when it's cold and dreary outside!