7 Easy Ways to Cut Down on Holiday Gathering Messes and Trash, According to a Plastic-Free Expert
We independently select these products—if you buy from one of our links, we may earn a commission. All prices were accurate at the time of publishing.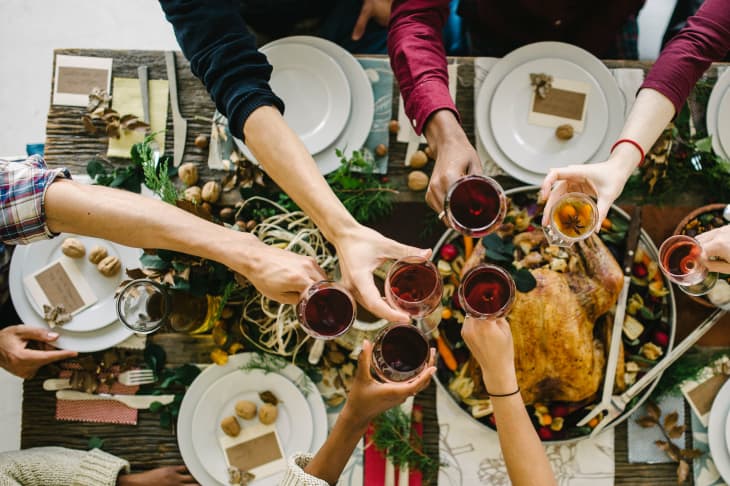 It's estimated that Americans throw away 25 percent more trash — that's about 25 million tons of garbage – between Thanksgiving and New Year's Day than they do any other time of the year. Of course, gift boxes, wrapping paper, and bows make up a big part of that waste — but according to plastic-free expert Marissa Jablonski, the executive director at the Freshwater Collaborative of Wisconsin, all of those merry-making gatherings can also take a toll on the environment. 
Follow Topics for more like this
Follow for more stories like this
To reduce your impact on the environment, start brainstorming waste-free products and activities ahead of your holiday parties and plans. You can do your part to protect the environment with a few intentional swaps, and you and your guests probably won't even notice the difference. No matter which steps you take, do what you can to reduce waste while enjoying yourself and your loved ones. 
"You deserve to gather without stress," Jablonski says. "Instead of focusing on cutting out anything bad, think about how you can create good, whatever that means for you and this gathering."
Here are seven of Jablonski's most creative suggestions for a more sustainable holiday gathering.
Whether you're bringing a dish to someone else's party or you're lucky enough to have leftovers from your own, Jablonski suggests using glass storage containers rather than disposable ones such as paper or styrofoam, which aren't recyclable once food's stored in them. Steer clear of aluminum food trays, too; Jablonski says drilling for metal is energy-intensive (but not as bad as plastic). 
"People tend to shy away from glass because it's heavy and breakable, but it's the most sustainable option for food storage," she says. "It's an investment, but you can use it year after year." If you're hosting, buy a few glass containers to give as gifts, and tell your guests they can keep them long after their leftovers are gone.
The holidays are a great time to embrace local food for a few reasons: It's an opportunity to invest in your community and support local farmers; and buying local food involves a far smaller supply chain and energy resources, so it's more environmentally-conscious. 
So as you can, source your ingredients from a local farmers' market or seek out foods that are specific to your region and season, and encourage guests to bring local foods, too. "The best part is, many holiday foods like sweet potato, squash, and pumpkin are also seasonal, so it will be easier to find local options," Jablonski says.
To go the extra mile, you can also encourage guests who live in the same area to carpool to your home if you're hosting a gathering. "Try incentivizing it by offering a prize to the people who come with the most people in their vehicle," Jablonski says. As a bonus, parking will be a lot easier with fewer cars.
A simple but high-impact way to prevent waste at your party: Use cloth napkins and towels instead of paper towels. If you usually keep paper towels around, Jablonski suggests putting it away and making cloth options easy to access. "People will gravitate toward paper towels because it's more convenient, so do your best to make it easy for people to use real towels," she says.
You may think paper plates aren't such a big deal, since you don't have to use water to wash dishes. But Jablonski says paper plate production uses a lot of water, and the plates are usually covered in a lining that makes them not recyclable (plus, they're covered in food and can contaminate other recyclables if you do try to dispose of them in the indicated bin). Plan to use your normal dinnerware when you host instead of one-time use options. 
Make recycling easy for everyone. 
To make sure glass bottles and cans end up in the recycling, clearly label your recycling bin with what can go in it. "Not everybody knows what's recyclable, and it differs by area, so clarity is key," Jablonski says. Keep an eye, too, on the recycling bin throughout the gathering and empty it as needed. If it gets too full, people might end up tossing recyclables in the trash instead. 
Wash your dishes strategically.
If you're using glasses and dishes, you'll need to wash them after the party — so it's important to be mindful of your water use. The most environmentally-conscious way to wash dishes, Jablonski says, is in the dishwasher (especially if your dishwasher is Energy Star-certified). If you don't have a dishwasher, pay attention to how much water you use. Jablonski usually fills a pot with hot water for dish-washing rather than filling up the entire sink, which uses more water. "Plus, if you cooked in that pot, you'll need to soak and wash it anyway," she says.