The Mind-Blowingly Simple, $0 Hack You Need to Know if You're Gardening This Summer
We independently select these products—if you buy from one of our links, we may earn a commission. All prices were accurate at the time of publishing.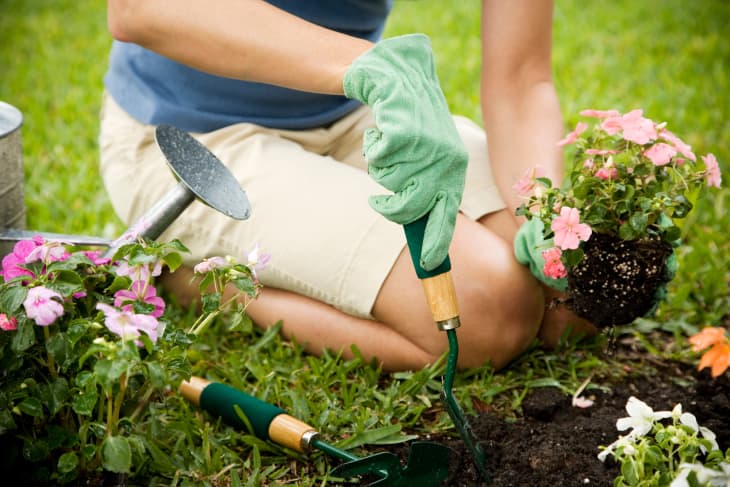 I spent most of my adult years living in a small New York City apartment, so moving out of state a couple years ago and into a house that has an actual yard has been an exciting new adventure for me. While some parts of having a yard are equal parts exhausting and soul crushing (ahem, raking leaves), others have been exciting. Like our first fall in the house, when I planted 30 daffodil bulbs that all came up the following spring, or our first full summer here, when I built and planted my own veggie garden. Then, there are all the things that fall somewhere in between, like filling the holes in the yard that my dogs have dug while trying to chase chipmunks, or removing and replacing plants that didn't survive the winter (or the aforementioned dogs).
Follow Topics for more like this
Follow for more stories like this
Many parts of gardening and yard work involve giant heavy bags — of soil, compost, mulch, or rocks — and over the past couple of years I've opened those bags the way I open any bag: by slicing open the top and grabbing onto the bottom of the bag to hold it upside down and shake the contents out. This has worked just fine for the lighter stuff, like potting mix; not so much for compost and topsoil, which have been a struggle to both turn upside down and get fully out of the bag.
But not too long ago, I saw a TikTok video from Loren of @doublecloverfarm that absolutely wowed me with its simplicity and also its genius. In it, Loren, who posts lots of gardening tips from her small-scale farm, shows the way she opens big bags of soil, mulch, and more: by using her utility knife to slice an X-shape on the front of the bag before tipping it over and letting the contents fall out all at once. The method saves you both time and heavy lifting, since you're no longer shaking a giant bag to try to free everything inside. It was… so easy. So basic. So cheap. So obvious that I couldn't believe I hadn't been doing it all along. (And judging by the comments, I wasn't alone in that regard.)
I had a utility knife, and I had four giant bags of compost I needed to mix into my veggie garden bed. So I tried Loren's method, and let me tell you — it really did save half the time and effort. Maybe that doesn't matter if you're working on a small scale, but as anyone who's filled a raised garden bed or spread mulch over an entire berm can tell you, that little bit of time and energy adds up in a big way.
If you're planning on any garden projects that involve huge bags of material, it's time to steal this expert gardener's method. I promise: You'll feel like a total pro, and you'll never be able to go back to your old ways again.