This Easy Procrastinator-Friendly Halloween DIY Is Made From a Surprising Summer Staple
We
independently
select these products—if you buy from one of our links, we may earn a commission. All prices were accurate at the time of publishing.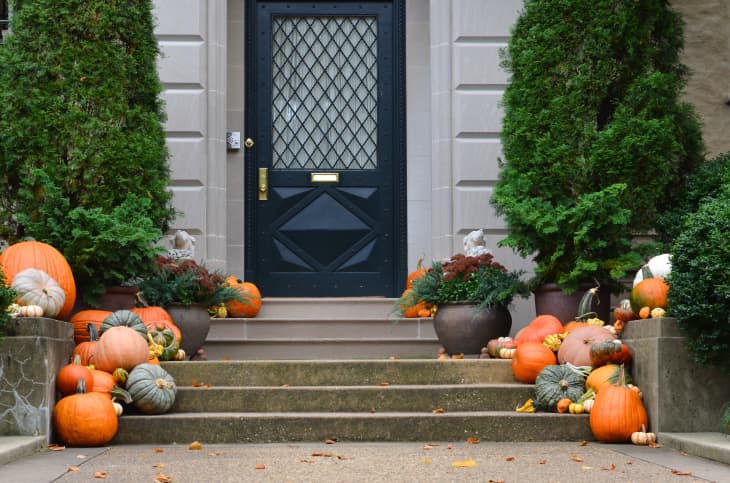 When it comes to setting a scene worthy of the year's spookiest holiday, it's no wonder that two design details are used again and again: black finishes and flickering candles. But as great as this combination looks, the truth is that most high-impact candles are expensive — and their hefty price tags can haunt your bank account all autumn long. 
That's why this TikTok decorating hack is so appealing. Lydia of @_cemetery_gates created an ultra-spooky faux candle collection in her fireplace, and she used items that are cost-effective and probably already hanging around your house.
To build her display, she upcycled the summer staple of pool noodles into variously sized tapers, slicing them down with a butcher knife and cutting the tops off at an angle. Using a hot glue gun, Lydia then adhered the candles together — placing taller ones in the back and shorter ones toward the front — to make a centerpiece. As she glued the noodles together, she also dripped the glue down the tops and sides of the cylinders to give the illusion of melting wax.
Once the glue dried, Lydia used a can of spray paint to cover the neon pool noodles in a moody shade of black, and did the same to several battery-powered candles. For the finishing touches, she placed the candles inside individual noodles, and centered the entire project inside her fireplace. The end result is decidedly gothic, with black candles that glow in an eerie light. In other words, it's the perfect budget-friendly decor piece for celebrating Halloween. 
If you plan on doing this project yourself, you'll have an easier time if you use something stronger than a butcher knife to slice through your pool noodles — try a utility knife or a hand saw if you have one. It's also a good idea to spray paint objects with cardboard or newspaper underneath (it looks like she did this step on a leather base, which is fine and maybe a bit fancy, but not too common). Nevertheless, this black candle decoration is sure to set a memorable scene this Halloween, and it'll probably cost you less than a few bags of candy.