​​Here's Everything a Plastic-Free Expert Wants You to Take Out of Your Bathroom
We independently select these products—if you buy from one of our links, we may earn a commission. All prices were accurate at the time of publishing.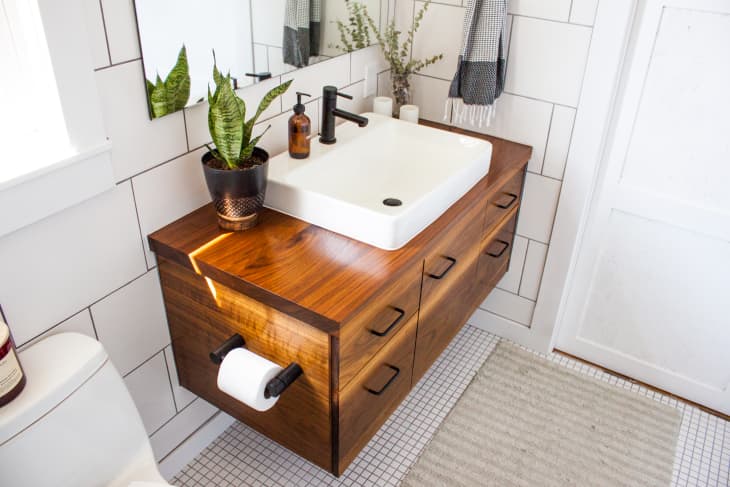 Thinking about cutting down on plastic use, but not sure where to start? Reducing the amount of single-use plastic you buy is one way to protect the earth from carbon emissions that contribute to climate change and keep the material out of landfills. According to plastic-free expert Marissa Jablonski, the executive director at the Freshwater Collaborative of Wisconsin, the bathroom may be a great place to begin, given that it's potentially one of the most plastic-ridden areas of your home. 
Whatever you choose to swap, make sure you wait until you're done with the product you're using, or you'll only contribute to waste. And don't feel like you need to do all the changes at once — even little swaps make a difference. "Make the tiny changes that feel good to you," Jablonski says. "Real change comes from habits, and habits need to feel life-giving to be consistent."
Follow Topics for more like this
Follow for more stories like this
Here are her tried-and-true suggestions for sustainable swaps that reduce plastic use and overall waste. 
Standard Shampoo and Conditioner 
The average hair product comes in a plastic bottle that's pretty tough to reuse for a separate purpose. Once your bottles are empty, Jablonski suggests making the switch to solid shampoo and conditioner bars, which are typically wrapped in compostable paper. If bar shampoo isn't appealing, she says many hair salons sell economy-sized refills of shampoo and conditioner. "They have huge, gallon-sized containers, so if you ask, you can often pay to have your smaller bottle refilled," she says.
Another simple swap: Rather than using body wash that comes in a hard-to-reuse bottle, Jablonski suggests switching to bar soap that comes in a paper box. Just make sure you choose a dedicated body soap, as your standard hand soap might be harsh and dry out your skin. 
Disposable plastic razors, or even plastic razors with replaceable cartridges, will probably end up in the landfill indefinitely. Instead of a plastic option, Jablonski suggests investing in a metal razor. If you choose one that allows you to swap out blades, aim for replacements that don't come individually wrapped in plastic packaging, like this.
Toilet paper itself isn't just inherently wasteful; it also typically comes wrapped in plastic. If you can swing it, Jablonski says a bidet you can attach to your toilet is a great solution — she uses the bidet to clean off, then a washcloth to dry off. If not a bidet, search for a more sustainable toilet paper option. Who Gives a Crap sells bamboo toilet paper that's individually wrapped in paper, which is easy to compost at home. (Jablonski uses the paper to wrap gifts.)
Jablonski ditched standard tampons and pads long ago. For one thing, they're almost always wrapped in plastic; plus, she says, tampons often have a plastic-based cartridge and outer coating. If you're comfortable and able, Jablonski encourages trying out a waste-free option, such as a rubber or silicone menstrual cup or absorbent pad underwear you can wear each cycle. 
Plastic-Packaged Deodorant 
Another type of plastic container that's hard to reuse: your deodorant. This is a harder swap, Jablonski says, because even "natural" deodorants come in plastic containers. She uses a deodorant crystal from Walgreens — it's made of a material called allum that repels odor-causing bacteria from the armpits. (Just make sure to shower before applying it, as Jablonski says it won't work on already-dirty pits.) 
Some toothpaste comes in fully metal containers, which you can recycle when you're done (as long as you properly clean them out, which could be as easy as cutting the tube open and washing the inside). Jablonski personally uses toothpaste tablets from Bite, which come in a refillable glass jar. 
Toothbrushes, Jablonski says, are a tough swap. Even if you buy a compostable bamboo toothbrush, the bristles are likely plastic and not compostable. She personally prefers bamboo options to fully plastic ones, because they use less plastic in manufacturing. "It's not perfect, but it tells me that as an industry, they're working on it," she says. 
While you may be stuck with a bit of plastic on your toothbrush, you can buy totally plastic-free floss. Jablonski uses silk floss that comes in a reusable dispenser. If you're vegan, then this plastic-free option from Bite could be a good option.