I Asked an HGTV Host for Her Best Real Estate Advice — Here's What She Said
We independently select these products—if you buy from one of our links, we may earn a commission. All prices were accurate at the time of publishing.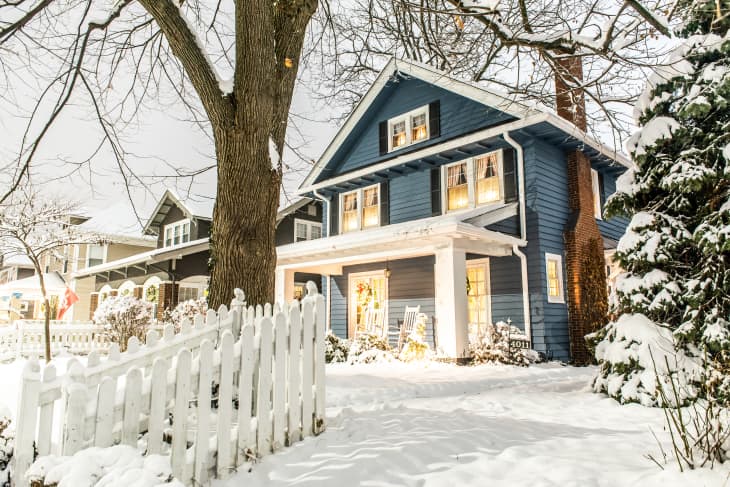 In an age of endless entertainment options — I'm talking about streaming services and all those cable TV packages offering hundreds of channels — it says a lot that HGTV is at the top of my lineup. I tune in regularly for my dose of home design education, not to mention thrilling entertainment. (Yes, I have been known to yell at the screen like I'm watching sports.)
Follow Topics for more like this
Follow for more stories like this
So imagine my delight when I got the chance to ask Egypt Sherrod, star of HGTV's "Married to Real Estate," a few questions about homebuying and selling. Here's some of her best advice.
On Starting Your Home Search
"It's often tempting to jump right in and start looking for a house," Sherrod says. "Buyers will often go online and search for eye candy. The challenge with that is you really don't have an idea of your buying power."
There's nothing wrong with starting your search online; in fact, many do. But before you start planning your open house schedule, Sherrod says, "The very first thing you should do is sit down with a lender to determine how much you can actually afford and what your comfortable monthly output is going to be."
On Managing Your Expectations as a Buyer
Sherrod says there never seems to be a happy medium when it comes to buyers' expectations on their home search; they're either wildly overestimating or underestimating what they can get for their money. 
"You have those [buyers] who are a little more sheepish, so they look at a room that's painted a color they don't like and assume it's a $10,000 fix versus just a can of paint," she says. "Then you have those who watch so much of our wonderful network HGTV that they feel empowered with a sledgehammer and assume that they can take on a kitchen renovation themselves. They underestimate the need for professionals, and don't have an understanding of true hard-line costs." (Writer's note: Both scenarios are what have led me to scream at the TV.)
Sherrod says to avoid the risk of underestimating or overestimating your own renovation costs. Instead, break it down by square footage and the finishes you're looking to apply.
"What you want to do is find out what the construction cost per square foot is currently, because the average changes with the costs of goods," Sherrod explains. "As far as estimation, if you're just doing aesthetic improvements such as wallpaper or changing lighting, then you may be able to DIY."
Then, follow Sherrod's rule of three: "Get three quotes for everything so you can comparatively shop. It will put you in a position of strength, causing vendors to compete against one other," she explains. "This will ensure that you get the best bargain for your buck for any renovation."
On What "Move-In Ready" Really Means
Many buyers are disappointed when a home billed as "move-in ready" in the listing does, in fact, need some work. That's because move-in ready means exactly that — you can move in and begin living there. It does NOT, however, mean that everything is brand-new or even updated in the last few years. 
"The terms 'new construction' and 'move-in ready' are two totally different things," says Sherrod. "New construction is often move-in ready for everyone. However, a resale home is subjective because "move-in ready" depends on your personal taste and desires." 
Paint and hardware can be changed, Sherrod says. So can other cosmetic fixes — and they can all be done over time. 
"For me, move-in ready means that you have electrical, you have plumbing, you've got flooring, and your walls are closed off, and everything functions," she says. Aesthetics, however, are another story. "Truthfully, if you talk to most homeowners who have lived in their homes for a while, they may say their home is still not where they want it to be. That's because turning a house into a home is an ongoing process," Sherrod says.
On Purchasing an As-Is Home 
Now let's look at the flipside of buying a move-in ready home — buying a home as-is. This is exactly what it sounds like: The buyer purchases the home with the understanding that the seller has done nothing to fix or otherwise update the home. If that sounds like it could go south really quickly, you'd be right. But it doesn't mean you should pass up an as-is home in your search. Here's Sherrod's advice:
"The first thing you want to do is have an inspector come out and inspect it from top to bottom, because they are trained to see things that you and I may not see," she says. The inspection is a non-negotiable step for Sherrod, who also suggests getting an air quality test to detect any mold. A radon test is a good idea, too, especially if you're purchasing a home in the South, where radon gas has been detected in the soil. A general inspection won't do this, she explains.
"Whenever it says 'as-is,' immediately I start looking for the reason why something is marketed 'as-is,'" she says. "Once you can identify it, then you can assess the true cost of accepting a house 'as-is.' And guess what? There's nothing wrong with this as long as you know what you're getting into and it's not going to be a money pit."
There's no doubt the HGTV universe is a proponent of curb appeal (See: 26 seasons of "Curb Appeal" and now "Curb Appeal Xtreme"). Still, it can be a hard sell to some sellers.
"Curb appeal is often underrated," Sherrod says. "The value of adding curb appeal is often something that is overlooked, but it is probably one of the top three most important things when it comes to a sale." The reason is simple: first impressions matter. 
'Often people will drive up, and if they don't like the way the home looks from the curb, they'll keep on rolling," she says. "I've experienced it as a real estate broker where I set appointments and clients pull up and they don't even want to go in because they don't like the way the house looks from the exterior."
Yikes. To avoid that fate for your house, here's what Sherrod says to do before listing:
For "instant aesthetic value," take care of your yard. Trim shrubs, get rid of dead trees, and add some flowers.
Update the pavers or walkway, especially if anything is in disrepair.
Powerwash the exterior and paint it, if necessary; Sherrod says every seven years is a good rule of thumb for a fresh coat.
Softwash the roof if necessary. Sherrod says in some areas, the dampness or surrounding trees can lead to fungus growth on your roof. It happens on her roof, so she gets it softwashed every year. "It's probably the best investment I make because my roof looks pristine," she says. "That too will help add to the curb appeal value of your home."
On Staging a Home for Sale
HGTV didn't invent home staging, but many of its shows have certainly driven home (no pun intended) the importance of it for sellers.
"Staging is super important for a home if you're marketing to sell," says Sherrod. "Perhaps the house has too much furniture in it or the wrong scale of furniture, or perhaps you're blocking areas that are big attributes of the house. That's really going to affect how your home is perceived on the market." 
For example, do you have a huge sofa blocking a beautiful but unused fireplace? Time to move it. It's all about showcasing your home to enhance its attributes and show it in its best light — quite literally, according to Sherrod.
"I say always open up your drapes. Open up your blinds!' she says. "That's a huge part of staging and it's something that costs you absolutely nothing. Why? Because natural light adds value. It's proven statistically that people are drawn to spaces that give them tons of natural light and make them feel good. It can also give the perception that the space is larger than it is."
Another way to make your space seem larger than it is? Declutter. "Get started on packing and thin out your books, clothing, and other items by half," Sherrod says.
Want more of Egypt Sherrod's advice? Tune in to Season Two of "Married to Real Estate," which premieres Thursday, Jan. 12, at 9 p.m. ET/PT on HGTV (also available to stream the same day on Discovery+).