Why Elevator Review Videos Are Strangely Fascinating Right Now
We
independently
select these products—if you buy from one of our links, we may earn a commission. All prices were accurate at the time of publishing.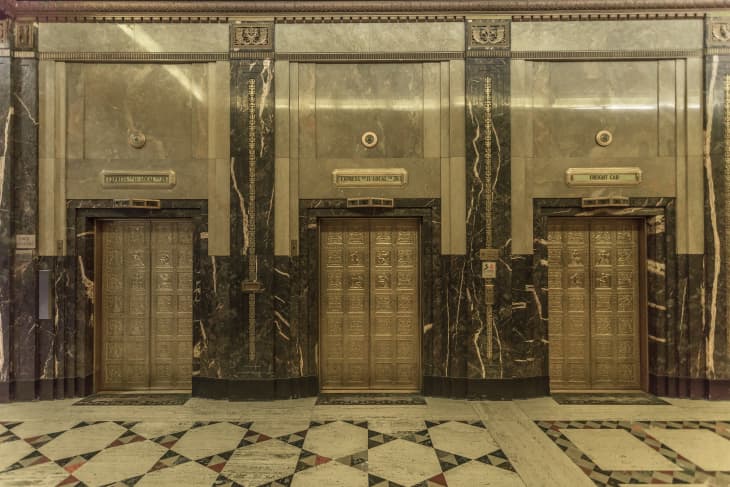 These days it's hard to see elevators as anything but vectors for disease: Compact, non-ventilated rooms, filled with germ-coated buttons and stale air—the exact kind of environment where each breath could be sprinkled with contagion, like a pandemic-themed game of Million Dollar Sticky from "Matilda". If you have to leave your apartment right now, your best chance at staying COVID-negative is taking the stairs. 
But for whatever reason, at a time when many people are going nowhere in particular and are desperate for quarantine diversions, I find myself revisiting one of my favorite niche online subcultures: Guys who review elevators on YouTube.
For those who haven't come across this vibrant online community, there are currently dozens of YouTubers, with millions of views among them, who have spent the past several years posting videos of themselves touring, describing, and above all admiring these small marvels of engineering. Buttons are pressed, door-closing mechanisms are ogled, and dimensions and decorations are painstakingly recorded. They're sort of like spelunking videos without the sense of danger—gentle adventures in the urban landscape. And watching them was a tranquil pastime of mine before all this.
But it's especially so now, at a time when even stepping outside your apartment, let alone standing in a little room with your neighbors, is a significant hazard. It's soothing to watch this small army of YouTubers gush over these spaces, and hard not to share in their wonderment at the ones deemed cream of the crop: like those with rare or antique accents, those that are exceptionally big and powerful, or go exceptionally high, or have outstanding views, or whose designers were so kind as to leave components visible behind glass panels. I find myself longing for a time when you could wander strange buildings at will—apartment complexes, hotels, historic high rises, hospitals—and ride enclosed spaces up and down without a shred of fear. In a way it's a reminder of how much of the pre-coronavirus world we took for granted.
It's safe to say Justin Jow, a 20-year-old YouTuber in Sacramento who goes by Jowevator 3219, has never taken an elevator for granted. By his telling he's been obsessed with the machines since he was a toddler. In five years he's posted more than 1,400 clips of his voyages to them, mostly from elevators in California and the Southwest but also in Hong Kong. These were near-constant filming expeditions, until like so many of our hobbies and pastimes they came to an abrupt halt in mid-March.
"Some days I would just dedicate the whole day to going around the city and exploring all these buildings and elevators," he says. "I wish I could do that again. There's still a lot of elevators to explore, but I don't even dare step on an elevator right now."
You could spend hours making your way through Jow's deep catalogue of roughly three-minute clips, which together add up to nearly four straight days' worth of content. And many of his fans do, especially now that their passion for observing gears, pulleys, buttons, doors, and lights has been significantly curtailed. It is not an ideal time to be obsessed with riding elevators. 
Which is not to say that no one is going out to film them. Elsewhere in the elevator YouTube universe, some are opting to take their chances. Andrew Reams, widely considered the granddaddy of the subculture, has posted a few videos of himself carefully exploring elevators in his native Virginia during the lockdown. In one, he delivers a semi-serious PSA about how to properly sanitize a freight elevator. In another one, a livestream filmed last week, he takes a trip to the elevator in a five-story parking garage, carefully applying spritzes of disinfectant to the buttons before pressing them, then stops by his storage container full of parts and doo-dads, a sanctum he calls the Elevator Museum.
The good news for Jow, and many other elevator content creators like him, is that he's still currently sitting on a backlog of unedited clips, and has been slowly making his way through the pile, posting new installments to his channel daily. He sees it as his duty to keep pumping out his videos, especially for the subscribers for whom this is more than just a quirky hobby."I don't really rely on elevators, I guess you could say. Some people in the community have forms of autism and Asperger's, and they can't live without elevators. I don't," he says. Still, the process has offered him and his peers something of a quarantine lifeline. "There are people I've talked to [in the YouTuber community] who say their videos are a way for them to cope with not going out. They remember those videos so they can rewatch it and relive it—to relive that experience of going out. It sucks, but it's for the better."
There's a lot to be said for filling these idle hours with Jackbox parties, home workout videos, and prestige big cat docudramas. Me, though, I'll be hanging out in virtual elevators, watching them ascend and descend in infinite, perfect loops, filmed back when public spaces were still public, and things worked like they're supposed to.