Emily & Andrew's Colorful Uptown New Orleans House
We
independently
select these products—if you buy from one of our links, we may earn a commission. All prices were accurate at the time of publishing.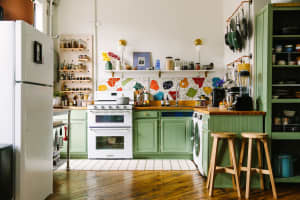 Can't-Miss House Tours Straight to Your Inbox
Keep up with our latest house tours each weekday with our House Tour of the Day newsletter
Name: Emily Rosenzweig & Andrew Hunter
Location: Uptown, New Orleans, Louisiana
Size: 2,000 square feet
Years lived in: 9 months; owned
All it took was one weekend for Emily to fall in love. It happened during a girls' getaway to New Orleans with her best friend last January. When she returned to her home in rural upstate New York, she handed a New Orleans real estate magazine to her husband and said, "Andrew, it is incredible. It is an old-house-lover's paradise. We have to live there someday!"
From there, the story unfolded like a whirlwind romance. About a month later, Emily saw a posting for a job at Tulane that had her name written all over it. Fast forward to September, and the couple was moving into their new home in the Crescent City. "It feels like a wild stroke of good fortune that I actually did (get the job)," she explains, "though, of course, the irony is that we bought a new house in this old-house-lover's paradise."
The rush to get settled before the start of the school year and lack of real estate options that fit their budget and needs led the couple to buy a newly constructed home. One of the first steps to making the generic structure their own was to add color to the boring beige walls. Their extensive collection of modern and folk art pops against paint colors like yellow, purple and turquoise. Bold rugs, floor-to-ceiling drapes and lots of fun textiles — including quilts handmade by Emily — make the house feel lively and joyful, giving it the unique character they felt it was lacking.

After living in a Gothic Victorian for eight years, moving into a house with an open floor plan was a big adjustment. Although they quickly came to appreciate the amazing light that pours into their new home all day long, the lack of walls in the kitchen and living rooms posed a design challenge. Emily and Andrew turned to interior designer Valorie Hart to help them with this hurdle. Under the guidance of Hart's expert eye, they were able to carve out defined spaces that add intimacy and warmth without impeding the flow of the wide open space. The couple also credit Hart with teaching them how to take their decorating that last critical mile by adding pillows and throws and helping them organize their built-in bookcase with style.

Foregoing an old fixer-upper for a brand new home has afforded Emily and Andrew the time to immerse themselves in the culture of the city. The couple didn't waste any time making friends and joining in the revelry of Carnival this year. After a neighbor learned of Emily's beading skills, she recruited her to join the all-ladies Mardi Gras marching krewe Dames de Perlage. In honor of the New Orleans tradition of perlage — French for beadwork — the women march in parades wearing corsets and headdresses handcrafted annually to coincide with a theme. Emily's gold-beaded costume, an homage to the famous restaurant Brennan's, which is now closed, is proudly displayed on a dress form in their eat-in kitchen. With all the exciting cultural possibilities the Crescent City has to offer, who knows what future creations will appear in this fun-loving couple's colorful new home.
Apartment Therapy Survey:
My Style: Lots of color, lots of art, and lots of antiques.

Inspiration: I get a lot of inspiration from art, and from the feeling you get when you are in a place that has history and grit.

Favorite Element: The turquoise houndstooth barrel chairs and our crazy enormous Eastlake bed. Both of them are pieces that we saw and just knew we had to have. And the same went for the houndstooth upholstery fabric — I saw it and gasped and knew it was the one.

Biggest Challenge: The open concept has been a big one — neither of us really like it, and it has been a challenge figuring out how to create a feeling of separate spaces without closing the room in. And we were surprised by how big a challenge it would be to find antique furniture we liked in New Orleans. The style here is very European (and very expensive), but coming from the Northeast we both prefer American and more farm-house style pieces. We've had to order things from all over the country and have them shipped.

What Friends Say: They are amazed at how quickly we've put the house together (given that we arrived with so little furniture), and how much it 'looks like us'.

Biggest Embarrassment: Andrew doesn't have any embarrassments about the house, but Emily has New House Shame. (As an old house lover, I can't believe I came to New Orleans and bought one of the only brand new houses in the neighborhood. But we had so little time to find a place, and this was the best of the options available when we were looking.)

Proudest DIY: The kitchen island originally had false fronts under the stovetop, because the gas and wiring ran down through the island. Andrew custom built and installed drawers that would maximize the space that was still in the island (the mechanicals were mostly at the back of the island). This gives us a lot of great space right where we need it most.

Biggest Indulgence: There hasn't been any one indulgence, but the process of furnishing a house nearly from scratch in nine months has been one long process of gritting our teeth and handing over our credit card. With our house in upstate New York we furnished it very slowly over time. Because it was so important to us to make this feel like a home quickly, the whole process felt pretty indulgent.

Best Advice: Wait for the pieces that really speak to you — the ones you keep thinking of and coming back to. And don't be afraid to return things, even if it costs you in shipping — it is better than being stuck with a piece you don't love. For chandeliers, watch out for how much visual space they take up, rather than strict measurements. When we tried to replace our dining room fixture with a different sputnik-style chandelier, it totally didn't work, even though the measurements were the same, because you saw through the wires of the more modern fixture and it looked way too small.
Dream Sources: Anthropologie (I want to live in their catalog), 1st Dibs.

Living Room – Sherwin Williams Nervy Hue (we used Sherwin Williams here, but found their paint had awful coverage – never again! Just get it color matched in Behr or Valspar)
Dining Room – Behr Atlantic Tulip
Halls – Valspar Voyager
Master Bedroom – Sherwin Williams Mariner color matched in Behr paint
Guest Room – Sherwin Williams Brittlebrush, color matched in Behr
Mooseheads – AquaXpressions on Etsy
Small geometric mirrors – West Elm
Rattan Coffee Table – PalmBeachRegency.com
Swivel Chairs – PalmBeachRegency.com
Turquoise Houndstooth fabric – Robert Allen "Space Age" in Peacock
Pillows on swivel chairs – Bought in Thailand during the around-the-world trip Emily took with her parents when she was 9.
Sofa: Ebay
Pillows on sofa – Emily made the houndstooth ones. The other two are from Steinmart.
Arching black lamp – Ballard
Chaise – Bought years ago at an antique store in Providence
Floor lamp beside chaise – Lamp from eBay; shade from Anthropologie
Two chairs in sitting area – Auction in upstate NY
Small round table – Etsy
Tree-stump end table – DOP Antiques in New Orleans
NYC transit map print – Kevin Marcell from D.Dojo studio; he used to sell in Chelsea Market in NYC

Paper mache devils – Mexico
Colorful wood boxes – Emily's mom got them in Cuba
Sparkly hand-decorated high-heel – Coveted catch from Emily's friend Denise, who rides in the all-female Mardi Gras parade Muses
Vase and misc. sculptures – Inherited from Emily's mom
Table – Auction
Chairs – Auction
Floral Plates – Anthropologie
Napkins – Cost Plus World Market
Mirrored mantle piece – UpCycle (in the French Quarter)
Wall Sconces – eBay
Artwork – The big piece is by Karl Mullen. Smaller pieces are unknown artists.
Glasses – Collected here and there, many from the RISD annual art and Christmas sales
Round pedestal table and chairs – Ballard
Light fixture table – Came with the house; we spray painted it turquoise.
Antique bed – eBay
Quilt – Handmade by Emily
Pillows on bed – Steinmart
White nightstands – Pier1
Nightstand lamps – Overstock
Sock Monkeys – Not sure; had them for a very long time!
Big dresser – Inherited from Emily's mom
Folk art display on dresser: Mostly inherited from Emily's mom
Chevron shower curtain: Urban Outfitters
All rugs and drapes came from Overstock – their prices on both are incredible!
Bed and nightstand – eBay
Cartography of Kitchenware – popartlab
Chair – Antique store in Ithaca
Chair pillows – Big one made by Emily, small one from Marshalls
Footstool – Ebay
Brass floor lamp – eBay
Lampshade: Anthropologie
Painting above chair: Emily's mom
Rugs: Inherited from Emily's mom
Banners above the bed: Antique stores in upstate NY
Sock Monkeys – Had them a long time; not sure where they came from.
Quilt: Handmade by Emily
• HOUSE TOUR ARCHIVE: Check out past house tours here.
• Interested in sharing your home with Apartment Therapy? Contact the editors through our House Tour Submission Form.
• Are you a designer/architect/decorator interested in sharing a residential project with Apartment Therapy readers? Contact the editors through our Professional Submission Form.
Updated daily with fresh tours full of photos for you to pin & enjoy!