Emily & Ian's Mod and Musical Space
We independently select these products—if you buy from one of our links, we may earn a commission. All prices were accurate at the time of publishing.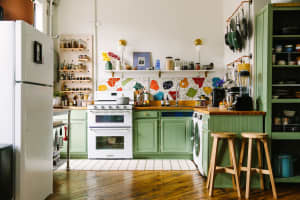 Can't-Miss House Tours Straight to Your Inbox
Keep up with our latest house tours each weekday with our House Tour of the Day newsletter
Name: Emily (co-owner of Prototype Vintage Design) and Ian (awesome musician Orthy) with kitties Monty and Marmie.
Location: Cherrywood Neighborhood; Austin, Texas
Size: 1300 square feet
Years lived in: Rented; Ian 8 years, Emily 3 years
Want to see the home of a couple that's perfectly paired in both romance and style? Vintage clothing store owner Emily and musician Ian both have vibrant personalities and great taste in design, and when they got married and Emily moved into Ian's apartment in East Austin, their styles combined to create one seriously mod and beautiful space.
The space is a complete collaboration between the two of them. Ian makes music out of a bold and compact home studio that they both brainstormed the ideal layout for. Emily adores their calming, serene, all-white bedroom, where the windows let in lots of light (and the kitties love lounging).
Both have been rocking their awesome, complementary styles for years, making the space full of elements rich with story and meaning. Some of these items Emily has toted from rental to rental, like the vintage garden screen hanging in the kitchen, which has hung on a wall in every place Emily's lived in for a decade. The collection of insects, bones and other natural delights on a shelf in the living room comes mostly from an ongoing collection of items Ian began as a boy. The art, the vintage finds, the bold color palette — all combine to make this couple's style just perfect!
Our Style: 70's Mod meets Desert Dreamin'.
Inspiration: 1970's Good Decorating & Home Improvement Encyclopedia Books, Films from the 60's & 70's, House and Garden Magazine… I think I cried when they stopped printing in 2007. Even though our color palette is mostly muted, we find inspiration in designers like David Hicks, who always mixed antique style with modern decor in an effortless and distinctive way. His striking patterns and bold use of color are unparalleled.
Favorite Element: Our bedroom. Keeping everything all white makes it feel like an airy, serene retreat. It also has the best light in the house, with four large windows. Every day we get to wake up to a beautiful desert landscape oil painting that I inherited from my grandparents.
Biggest Challenge: The low sunlight has always been an issue. We wish we could have a wider variety of plants in the house, but we still enjoy our low light loving flora! We also wish we could update the kitchen, but alas we're renters.
What Friends Say: "Wow, I love your place!" is a common one, usually followed by, "You're in such an amazing location."
Biggest Embarrassment: We can never have enough Swiffer sheets and lint rollers. We love our cats but they shed.
Proudest DIY: My 70's mod terrarium! I really wanted to plant it up, but sunlight was an issue, so I found some lovely faux succulents and voila! They never need care and always look great.
Biggest Indulgence: Having fresh flowers on the regular. Overall, we have a very budget-living approach to life and decorating. Everything we have we pretty much found along the way at vintage and thrift stores.
Best Advice: A lot of people tend to hang their art too high. Lower is better and keeps things interesting!
Dream Sources: A shopping spree at Room Service and Uptown Modern!
Other Inspiration: Prototype opened in 2005 mainly as a vintage home decor store devoted to Mid-Century and 70's mod. Co-owning Prototype has really helped me hone my skills and grow as a decorator and merchandiser. Our business has grown and changed over the years, and although we now focus on offering well-edited vintage fashion for men and women, we are still rooted in furniture and design through our event staging services. We provide set styling for special events, music festivals, music videos, television, and film. I love having the opportunity to create spaces and atmosphere. It provides endless inspiration for me as a decorator.

I think for Ian, who spends most of his time around the house either planning Learning Secrets parties or locked up in his studio working on new Orthy material, he finds that the overall vibe of the house helps him to escape the hassles of the day and live in an environment that's conducive to being creative. My favorite times at home are when I can hear him working out his new songs in his room, and he comes out, excited to show me what he's been working on. It's pretty awesome being his test subject. Ian's creative inspiration comes from the home we made together.
Living room: Custom made after many tries to get the perfect Light Tiffany Blue – Glidden
Kitchen: Belizean Blue by Glidden (fitting we actually ended up honeymooning in Belize!)
Bedroom: After trying 3 different shades of "white", straight up flat white did the trick – Glidden
Hallway: (Lost the chip) Rich Chocolate Brown by Glidden
1970's Large Bird Fabric Print – Uptown Modern
1970's Maruska Tree Fabric Print -Thrift store find
1970's White Tree Painting – Retro Rubbish
Mid-Century Sofas – Room Service Vintage
1970's Wood Block Table -Thrift Store find
1970's Brown & Chrome Easy Chair – Handed Down from a resident in Emily's Apartment Manager days before opening Prototype
1960's Tile Side Table – Prototype Vintage Design
1970's Chrome, Glass,Wood Shelf – Room Service Vintage (Treasures-Thrifted, Travel, Nature)
Lucite Corner Shelf – Room Service Vintage
White Tulip Dining Table – Ikea (by way of Craigslist)
Wood & Chrome David Rowland 40/4 Chairs – Prototype Vintage Design (Ian bought them before we were dating)
1970's Jukebox – Indefinitely Holding on to it for a friend. No complaints!
Record Shelf – Ikea
White Media Cabinet – Ikea
1970's Mod Terrarium – Estate Sale
Porcelain Greyhound – Austin Antique Mall
1970's Large Gold Planters – Room Service Vintage
Mid Century Repro Starburst Clock – Prototype Vintage Design
Globe Table Lamp – Ikea
Grey Shag Rug – Ikea
Various desert landscape photo prints – Collected at thrift stores
3D Horse photo print – thrift store find
Hieronymus Bosch, Garden of Earthly Delights print – purchased from a picker
1960's Yellow Floral Print – Thrift store find
Desk Ian hand-built and designed with his dad
1980's Op Art Print – Prototype Vintage Design
1970's Blue & white office chair – TOPS Warehouse
Record Shelf – Ikea
Vintage Red & Black Southwest Rug – Estate Sale
Cactus Wall Mural – By Artist Steve Keene It was the stage backdrop for the first Learning Secrets music festival when Ian was in college at Rutgers
Show Poster – from the last Voxtrot show
Space photo print – Prototype Vintage Design
Prince and the Revolution poster from Purple Rain record insert
Teal Bentwood Thonet Chairs – Austin Antique Mall 1930's
Antique White Metal Top Hospital Table – An antique warehouse
1940's Crane – Room Service Vintage
Vintage Ceramic Doves – Gift
White Ceramic Vase – Room Service
Maruska Sailboat Fabric Print-Prototype Vintage Design1975 Garache Print – Thrift store find
1960's Bubble Lattice panels – New Bohemia
Vintage Austrian Lipizzaner Stallions photo prints (actually coasters) – Gift from Ian's grandmother
1970's Pastel Op Art Prints – Thrift store find
Shower Curtain – Target
Original mint green & peach tile
White Mod Nightstands – Discontinued "vintage" Ikea 15 years old 1970s
Mod White U Shape Console Table – Room Service Vintage
Lucite & Chrome Tulip Chair- Prototype Vintage DesignMalm Dresser – Ikea
White Mid-Century Bullet Planter – Gift
1960's Rococo Mirror – Thrift Store
Vintage Homco White Ceramic Kitty – Stanley Theater Collectables in Luling, TX
Taxidermied Bunny – Rescued from a thrift store toy bin!
1970's White & Brass Metal Shade Table Lamps – Room Service Vintage
Hanging White Capiz Shell Lamp – Gift
White Sheepskin Rug – Wedding Gift
Bed – Malm Ikea
1969 Desert Landscape, oil painting – Inherited form Emily's grandparents1960's Seascape Print – The Gild Shop, in Houston TX
1970's Brass Sea Gulls – The Cornucopia, in Aransas Pass, TX
(Images: Adrienne Breaux)
• HOUSE TOUR ARCHIVE: Check out past house tours here.
• Interested in sharing your home with Apartment Therapy? Contact the editors through our House Tour Submission Form.
• Are you a designer/architect/decorator interested in sharing a residential project with Apartment Therapy readers? Contact the editors through our Professional Submission Form.
Re-edited from a tour originally published March 2013 — AB