You Can Visit the French Chateau Where "Emily In Paris" Filmed
We independently select these products—if you buy from one of our links, we may earn a commission. All prices were accurate at the time of publishing.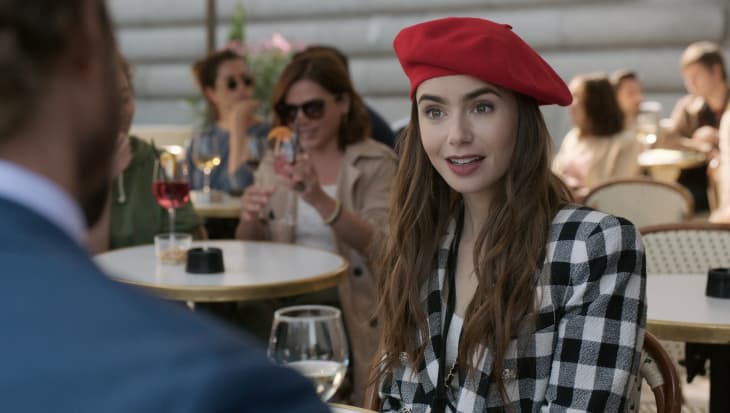 For those of you who binged Netflix's "Emily in Paris" recently, bringing up the visit to Camille's family chateau will probably induce an embarrassed groan—something to do with Emily and Camille's high-school-aged brother (yikes). Although the visit caused chaos, the winery and family home itself, which the show calls Château de Lalisse, was breathtaking, and it's a real-life place you can actually visit if you decide to take an "Emily in Paris"-inspired trip post-COVID.
The fictional Château de Lalisse is actually the nonfictional Le Château de Sonnay in Chinon. The castle is, in fact, a winery that's been operating as such since the mid-1800s. The chateau itself dates back to the 1260s when it first acted as a stronghold during the Crusades. 
The show's production designer, Anne Seibel, is good friends with the chateau's current owner, Frédéric de Foucaud, who offered up his home to the team. Paired with another location, Le Château de Sonnay ended up being the perfect place to shoot Camille, Emily, and Gabriel's vacation.
"The chateau is very charming and [show creator] Darren Star just fell in love with it, which I did not expect as the number of rooms I needed was not enough and there was no pool." Seibel told House Beautiful. But the chateau's "beautiful wine cellar, as Frédéric makes Chinon wine," was the true kicker.
The chateau sits about three hours outside of Paris, and it appears as though tours of the grounds and wine cellar are permitted. You can also purchase your very own Chinon wine from Le Château de Sonnay through the winery's webshop.
If you do decide to give Le Château de Sonnay a visit, let's hope your stay is not as awkward as Emily's was.