A Grad Student's Cozy 400 Square Foot Studio Apartment
We
independently
select these products—if you buy from one of our links, we may earn a commission. All prices were accurate at the time of publishing.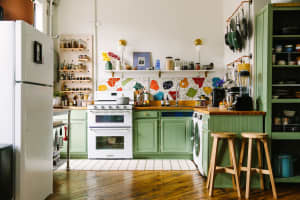 Can't-Miss House Tours Straight to Your Inbox
Keep up with our latest house tours each weekday with our House Tour of the Day newsletter
Name: Emily Ardoin and Basha the cat
Location: North University; Austin, Texas
Size: 400 square feet
Years lived in: Rented; 1 year
This isn't Emily's forever home. It's not even her few years home. This tiny studio Emily Ardoin is renting is only her home while she attends graduate school at the University of Texas for Historic Preservation. But, as an interior design graduate from Louisiana State University, she's got to have a place she can live and work that's functional, stylish and comfortable. Her affordable solutions and smart space planning have made this tiny studio livable and lovely.
Emily moved to Austin from New Orleans a year ago to attend grad school. Knowing she'd only be in town for two years, she wasn't looking to spend a lot of money or time looking for a place to live. Her priorities were only to live alone and be able to walk to campus. She found them both easily in this tiny studio just off of campus. Much of the furniture in her space was brought from previous apartments, and the first and biggest challenge was how to fit it all in only 400 square feet. Emily lucked out in that her sofa, a small loveseat, was already a good fit for the space, and she added a divider screen to give some privacy to her bedroom area.
Two glass shelving units (old store fixtures from a Pottery Barn) have become some of the most useful pieces in a studio with almost no counter space. The shelves allow her to store small appliances, spices and wine and still have some extra counter space to work on. And she's resourceful as well as stylish — though we didn't photograph it, Emily keeps a small fold-out cot stored in the closet that she pulls out for guests in the spot between the sofa and the kitchen!
Apartment Therapy Survey:
My Style: I'm attracted to old things, but I don't want to live in an antique shop. I tend to buy (usually old) things I love and make them work together as best I can, adding in simple newer pieces to balance everything out.
Inspiration: Nostalgia. Home, friends, color, light, Basha the cat.
Favorite Element: My prized Mardi Gras throws (and other Louisiana mementos). It was a difficult decision to move away from New Orleans for grad school, but those little things remind me of home. I also love how peaceful it is here, especially the bedroom area.
Biggest Challenge: The litter box! It's hard to find space for it and to escape smells in this place. I tried and failed at toilet training the cat. For now I just keep a covered litter box shoved in a tight corner in the bathroom and scoop constantly.
What Friends Say: It's cozy and cute.
Biggest Embarrassment: My inability to get beyond good intentions for the balcony. I'd really like to have a container garden out there, but so far all I've managed are two empty pots and a broken chair. The litterbox also could count for this one.
Proudest DIY: Does space planning count as DIY? Really, there are only two projects in here: My mom spray painted the drawer fronts on the desk, and I covered the C table with copper contact paper (poorly). Most of my DIY efforts are reserved for costumes.
Biggest Indulgence: Once I'm out of school and my budget (hopefully) grows a little, it will be art. I think I'll always get a thrill out of finding beautiful furniture for cheap, but art feels more like an investment.
Best Advice: Focus on floor space in a small apartment. Combine circulation paths so you can easily and freely move from one space to another. Here I have a continuous open space from one end of the space to the other that combines the circulation for the kitchen, desk, and bathroom entrance. I also tried to keep things off the floor as much as possible. I opted for a tiny kitchen trash can that fits under the sink, put the cat food bowl up on a low shelf, and bought a C table that can slide up against the couch. All this goes a long way to help the place feel more spacious. Of course, it doesn't hurt to have a walk-in closet and lots of bathroom storage to stash extra things.
Dream Sources: I like to imagine there's an old forgotten Knoll warehouse somewhere that's full of dead stock. I'd like to have the run of that place.
Came with the apartment (not allowed to change, but they're ok).
Sofa: Bridge House Thrift Store, New Orleans, LA
Sofa pillows: Ikea
Orange side chair: A thrift shop in New Orleans that's closed now
Floor lamp: Pier 1
Dresser: Meredew, from a flea market
Stacked side tables: Target
C table: Target
Mosaic "Not-So-Lazy Susan": M. Fontenot Glassworks
Sparkly shoes: Krewe of Muses
Rolling glass shelves: Pottery Barn store fixtures from a location that was closing
Stool: West Elm outlet
Baskets: Marshalls
Mirror: Marshalls
Louisiana Sunshine print: Jamie Hayes
Enamel pot, blue jars, salt/pepper shakers, percolator: Antique shops
Bar stuff: Antique shops, Target, Pat O'Brien's
Room divider: Craigslist
Bed: Hand-me-down
Comforter: JC Penney
Quilt: TJ Maxx
Nightstand: Target clearance
Lamp: Marshalls
Print (Baryshnikov/Martins): Estate sale
Tiny house: Heather Mattingly (bought at Magazine Metals in New Orleans but also available at: Nola Salvage)
Desk: Steelcase, Here Today Gone Tomorrow, Baton Rouge, LA
Desk chair: Knoll Pollack chair, St. Vincent de Paul, Baton Rouge, LA
Desk lamp: Garage sale
Fan: Walmart
Blue bottles: Gift from my friend Amanda. They surfaced in her backyard when a deck was being built, and she painted them.
Metal shelf: Target
Galvanized metal boxes: TJ Maxx
Big baskets: CB2
Man in the Moon mosaic: M. Fontenot Glassworks
Chair painting: Genny Jock
Cajun musician print: George Rodrigue (Lucky leftover from a long-ago exhibit at LSU. Got it for free!)
Cat portrait tray: ibride
Shower curtain: Target
• HOUSE TOUR ARCHIVE: Check out past house tours here.
• Interested in sharing your home with Apartment Therapy? Contact the editors through our House Tour Submission Form.