Emma & Mike's Whimsical Home in Brooklyn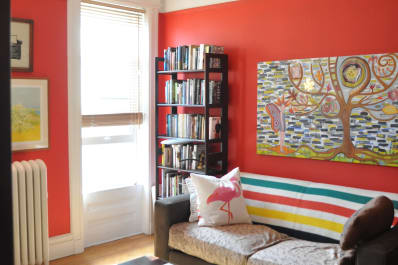 Name: Emma, Mike, and baby River Fusco-Straub
Location: Prospect Lefferts Garden, Brooklyn, New York
Size: Three-story limestone house
Years lived in: 4 years; owned
Emma Straub and Mike Fusco are quite a dynamic duo. Emma is an acclaimed novelist, and Mike creates stunning graphic design. Emma, Mike, and their Brooklyn home are creative, warm, and down to earth. The couple just had their first baby, River, who is equally pleasant at only seven weeks old, and their adorable cat Killer (who is anything but) will greet and welcome you right as you walk in.
This 100 year old three-story house is located in Prospect Lefferts Garden; the finished basement serves as their design area, which is generally Mike's office, but the couple also shares this communal art space when creating posters for their side company M+E. Their creative touches are everywhere, from bold colored walls to little framed surprises at every turn.
When you enter, the paper mâché tiger head and red zebra wallpaper will be the first thing to catch your eye, especially if you're a fan of Wes Anderson's quirky movies. The open living room is painted in cool blue tones, yet is warm and inviting. Art is hung everywhere, and there is plenty of space to sit, eat or get your creative juices flowing – including two big tables in the dining room and basement studio. Emma's writing area is feminine and fun, and the library is a fiery red and home to a collection of books to satiate a writer's curious mind, while the bedroom is serene and relaxing, with a DIY fabric headboard and a cute cat, Gravyboat, who basks in the afternoon sunlight. The nursery is whimsical and refreshing, with intelligent toys and crafted mobiles ready to be enjoyed by little River.
Thanks so much for sharing your beautiful home with us! For further inspiration, you can visit Emma on her website emmastraub.net, and Mike at mplusedesign.com. For more photos and video, especially of the backyard, their house has also been featured on Design*Sponge as well.
Apartment Therapy Survey:
My Style: Colorful and eclectic. Slightly goofy.
Inspiration: Nowadays inspiration is everywhere — magazines, movies, Instagram, Design*Sponge, Apartment Therapy!
Favorite Element: Our Scalamandre wallpaper, paper mâché mobile in the nursery, the baby.
Biggest Challenge: Getting the wallpaper installed. So many zebras had to die.
Biggest Embarrassment: At 33, I am still unable to put my clothes away, and they live in a huge pile in our bedroom.
Proudest DIY: Our headboard, made with IKEA fabric. Also, this doesn't really count as a DIY, but we hired an amazing architect to redo our basement, and to turn it into a proper studio for Mike. We worked with Wythe Studios, run by Jeni Erbes-Chan right here in Brooklyn (in fact, she lives on our block). I wish we could hire Jeni to redo our whole lives. She was terrific.
Biggest Indulgence: We're good at the sales — John Robshaw sample sales for all our sheets, Ebay for the wallpaper and vintage fabric, garage sales, my parents' basement. I guess our biggest ticket item was probably our couch, but totally worth it, as we sit on it every day. Oh, and our dining room table, which seats 12. Shane Deary of Deary Construction made it for us, and did such a gorgeous job. He burned our initials into the side. When our baby is old enough, I want Shane to build us a super cool bunkbed. And built-in bookshelves.
Best Advice: Sample sales. Garage sales. Sales of any kind, really. Ebay. Etsy. Craigslist. Apartment Therapy classifieds!
Dream Sources: I would love to be able to afford to recover all of our upholstered furniture with amazing fabric. If anyone has a line on someone who can do that inexpensively, please let me know. If every piece of furniture was a different print, I think I could die happy.
Resources of Note:
ENTRY
Coatrack: Urban Outfitters
Eames Hat rack: DWR
Shoe rack: Ikea
Rug: John Robshaw
Wallpaper-Scalamandre- Ebay
LIVING ROOM
Rug: Anthropologie
Sofa: Gus
Coffee table: garage sale
Gold chairs: Flea market—fabric on Ebay
Curtains- Urban Outfitters
Paint- Benjamin Moore Wedgewood gray
Alex Katz print of Kenneth Koch- Ebay
DINING ROOM
Table: custom made by Shane Deary
Yellow and wood veneer chairs: Room and Board
Orange chairs: Eames, Room and Board
Platters: various, mostly vintage, some new
BEDROOM
Chest- parents' basement
Chair—vintage store, Ikea fabric
Bedside tables- Craigslist
Lighting fixture- Ikea
Bed- Gothic Cabinet Craft
Bedspread- John Robshaw
Sheets-John Robshaw
Bookshelves- DWR
Paint color—Benjamin Moore Pale Oat
BATHROOM
Girl head- Steve Keene
Shower curtain- Anthropologie
NURSERY
Crib- Stokke
Changing table-Room and Board, knobs from Anthropologie
Curtain- Urban Outfitters
Rocking Chair- classifieds
Mobiles- Etsy
Pouf- Chelsea Market
Pennants-Ebay
Thanks, Emma & Mike!
(Images: Andrea Sparacio)
• HOUSE TOUR ARCHIVE: Check out past house tours here.
• Interested in sharing your home with Apartment Therapy? Contact the editors through our House Tour Submission Form.
• Are you a designer/architect/decorator interested in sharing a residential project with Apartment Therapy readers? Contact the editors through our Professional Submission Form.
→ This is a previously published tour