See How a Stager Took an Empty Space and Made It into a Welcoming Family Room
We
independently
select these products—if you buy from one of our links, we may earn a commission. All prices were accurate at the time of publishing.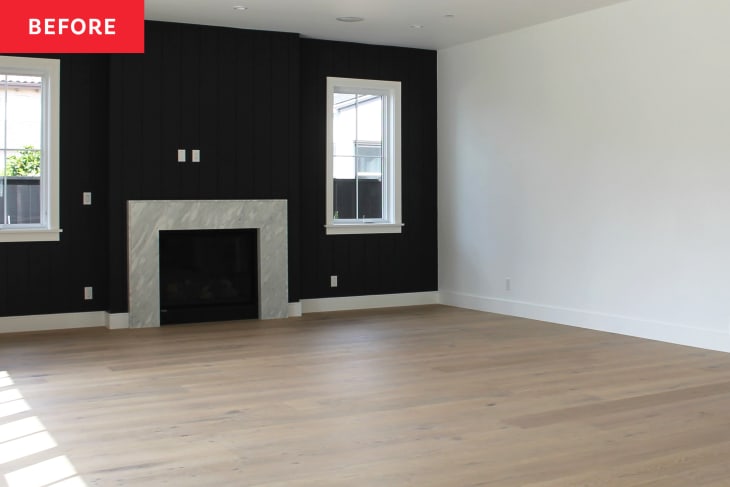 When home stager Robin DeCapua of Madison Modern Home teamed up with real estate pros Megan Blu and Alison White to renovate and stage a California ranch, they hoped to design a property that would sell. What they didn't realize is that they'd design a property that would end up being featured on interior designer Kathy Kuo's Instagram. But that's exactly what happened when they took on the project of turning a small, simple home into a space that would work for today's buyers. 
The home's family room was part of a multi-use space added on to the house to serve as the heart of the home. With an open-concept kitchen/breakfast nook/family room that flows from one space to the next, it was designed to serve families who want everyone in one area — or those who need to watch over little ones.
"This arrangement allows for seating for six and accommodates a family gathering, having friends over for a football game, or holiday fun with extended family," DeCapua explains. "With the kitchen on full view, kids can pull up counter stools to do homework or help with chopping veggies for dinner."
DeCapua shows that you don't have to resort to a sectional to create a welcoming family room — and that there's actually something to be said for the way you can move throughout a room that isn't split up by a giant sofa. Instead, they brought in a large, sleek sofa and arranged three chairs across from and next to the sofa. There's still the benefit of added seating, but without the visual weight of a sectional. Small side tables add functional surface area for guests to set down a drink or a book.
Part of the reason the room flows so seamlessly is that, with two designers on staff who have interior design degrees, the team isn't just approaching a space with an eye towards what looks nice. They want it to make sense from a technical perspective. "We consider balance, composition, flow, color, texture and contrast when approaching any project," DeCapua says. "We are design-forward and tackle stagings as if they're interior-design-on-demand projects."
The warm tones, crisp contrast between the white linen sofa and gray chairs, and the layers of neutrals against the black fireplace wall give this place a feeling that's both bold and approachable.
"We like to mix things up when it comes to trends. Blu and White made strong design choices in materials like the black shiplap wall in the family room, which opened the door to bring in rich textural layering like a cowhide over a seagrass rug and an African Tonga basket wall," DeCapua adds.
Side tables and baskets added a sculptural accent, while the styling items, like an oversized wooden bowl, a spiky brass centerpiece, and a warm ceramic lamp, add touches of organic texture. The result feels cozy, modern, and light — and perfect for a buyer looking to make the house a home.
DeCapua always has a potential buyer persona in mind when staging and says that the Westchester neighborhood of Westside Los Angeles, where this home is located, is ideal for families. Plus, with five bedrooms, it was likely the future buyer would have children, extended family, and others gathering in the space. "We specifically staged for full family coziness, utility, and convenience," she says. "We created an open floor plan where the kitchen, family room, and breakfast nook all flow together for one really useful — yet still stylish — space."