The Entryway Layout on Its Way Out, According to Real Estate Pros
We
independently
select these products—if you buy from one of our links, we may earn a commission. All prices were accurate at the time of publishing.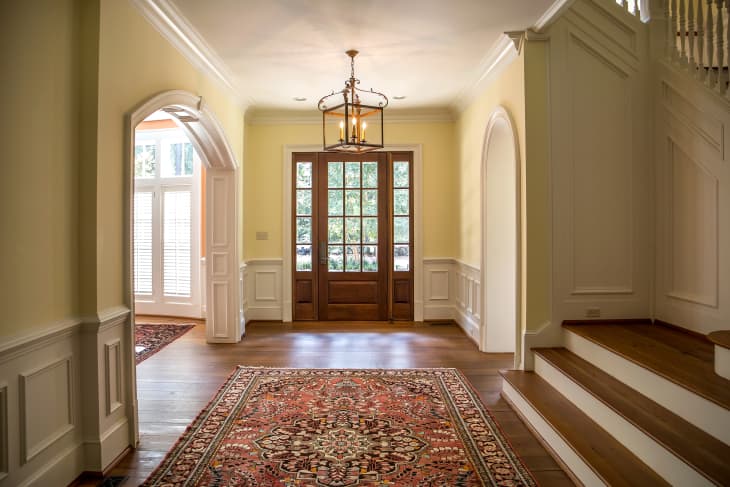 Entryway layouts can vary tremendously based on where you live. Some homes have small corridors, with just enough room to throw down a teeny entryway rug and maybe a hook to hang a jacket or dog leash. Others have double doors with vaulted ceilings, creating enough square footage for a table and a full-on gallery wall. 
Determining what's in and out of style in entryways isn't as simple as it is for, say, living room or kitchen layouts. It can really come down to how much space you're working with. But in general, real estate agents say it's time to shut the door on the super-formal entryway, as the vibe of this preview room is evolving from stuffy to streamlined.
"One entryway layout that is no longer popular is the traditional formal entryway, which was often characterized by a grand staircase, chandelier, and intricate moldings," says Matthew Martinez, real estate agent and CEO of Diamond Real Estate Group. 
Now, homeowners and buyers are opting for more modern spaces that feel less like they're inspired by a grand hotel or the setting of a Keeping Up With the Kardashians episode and more like a "natural extension of the home's living spaces," Martinez says.
"This trend is all about creating a space that is both beautiful and practical," he says. (Think: clean lines, neutral colors, and natural materials that seamlessly blend with the rest of the home rather than feeling like a separate entry.)
Speaking of formal, ornate and embellished doors are losing their appeal, too, says Martinez. When done right they can add a touch of elegance, he says, but more often than not, they end up feeling heavy and outdated.
"Many homeowners are opting for simple and streamlined doors that feature clean lines and minimal detailing," he says. "This allows the door to act as a subtle backdrop for the rest of the entryway design, rather than dominating the space."
Celeb Realtor Gio Helou, star of the Netflix reality show Selling the OC, agrees that the formal entryway or traditional foyer feels passé. Instead, people want an immediate "wow factor." On his show, that might be something like a stunning ocean view, but could also be more a relatable feature, like a statement kitchen island or beautiful fireplace in the great room. 
Modern entryways, Helou says, are being designed to allow those elements to visually be a part of the first moments experienced upon entering the home. And separate entryways of the past are being replaced by floor plans that transport you to the main living space within steps of entering the front door, Helou says.
Also, square footage is valuable in many markets, which means "buyers and builders no longer want it wasted on a meaningless standing area," Helou says. 
It comes down to people wanting their entryways to be efficient and practical without sacrificing design, says Carmelo Carrasco, a Realtor and co-founder of Axel Property Management. Simply put, they want an entryway that gets to the point!
"They don't want multiple doorways, long hallways, and stairs that slow down the process of entering their home," he says. "As such, builders are now opting for more open and streamlined entryways that emphasize convenience over formality."