The Front Door Style That Instantly Dates Your Home, According to Real Estate Experts
We independently select these products—if you buy from one of our links, we may earn a commission. All prices were accurate at the time of publishing.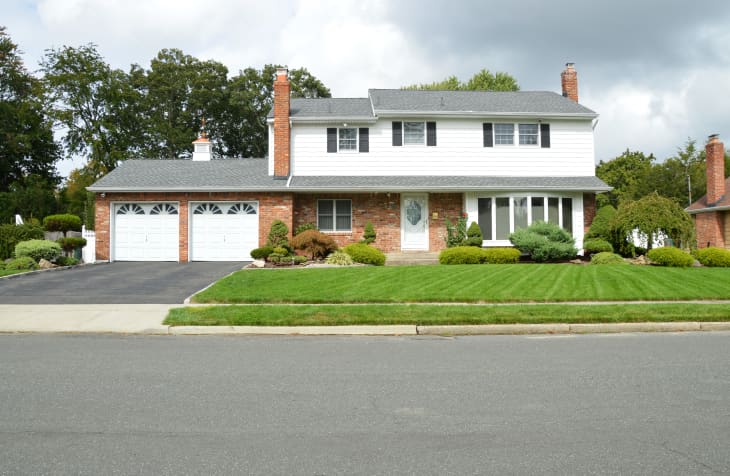 The '90s have made a major comeback, returning espresso martinis to cocktail menus and making bucket hats cool again. But when it comes to curb appeal and home design, as if, don't even go there with those ornate, oval lite front doors.  
One of the most loathed front door types by designers and real estate agents alike, these styles are typically fiberglass with oval inserts that cover half to three quarters of the door, explains Jodi Terrell, owner and broker of JNG Real Estate. Oftentimes, the doors have ornate scrollwork between two panes of glass. And while they could potentially be lauded for letting in natural light, many of them have frosted glass, which blocks the sunshine and dates the doors even more. 
Follow Topics for more like this
Follow for more stories like this
Ornate iron and ornamental glass are among the front door design elements that can instantly deter buyers, and oftentimes the oval lite doors have both.
"Oval lite doors are definitely dated and bring down the curb appeal and initial attraction of a home," says Marcia Socas with Castro Realty Group Real Estate.
Oval lite doors rose in popularity three decades ago when decorative details were more in favor, says Kristen Reyes, an interior designer and CEO of Sey Interiors located in Dallas, Texas. Technology emerged that allowed manufacturers to churn out custom shapes en masse.
But in recent times, people have gravitated away from ornate, etched and frosted to more simple and streamlined, Reyes says. 
"Long and skinny ovals are not a shape that many are drawn to," she says. "That may sound strange, but the human eye naturally gravitates towards symmetry and balance. The skinny round shape feels out of balance in a rectangular door."
Of course, the style of our home comes into play when you're looking to swap doors. 
If you have a modern home, a steel and glass door is a statement-making option, Reyes says. However, it would look too stark on a cottage or ranch. In a traditional style home, a door with a divided grid is a great option. Similarly, doors with horizontal glass work great on a mid-century modern home, but out of place on most styles outside of that. 
"Usually, I like to suggest a half-lite door — meaning, only glass on the top half of the door — for added privacy and a balanced look," Reyes says. 
The difficulty and expense that comes with switching this out can fluctuate from door to door, says designer Alex Sallenger. Believe it or not, door sizes are not as standardized as one might think, so you will probably need to have a door cut to fit or custom made, she says.
Once you have the correct door, the actual job of switching it isn't difficult. If a new door is out of your budget, you should look into having the glass changed out (to lose that metal scroll) and adding a fresh coat of paint, Sallenger says.