The WFH-Friendly Desk Chair That Gave Me My Goldilocks Moment
We independently select these products—if you buy from one of our links, we may earn a commission. All prices were accurate at the time of publishing.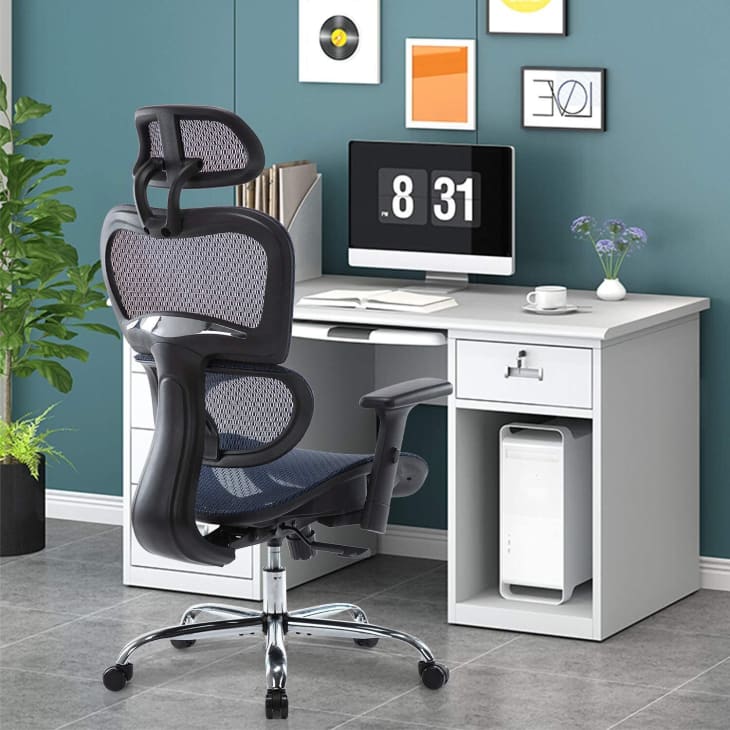 Up until last year, I rarely worked from home. It was something usually saved for days when I was fighting a cold, or maybe days when I needed to be present to let in a cable tech or plumber. For occasions that happened only every once in a while, my couch or kitchen table worked just fine.
Follow Topics for more like this
Follow for more stories like this
Of course, March 2020 changed everything. I learned quickly that a 40-hour workweek from a flat IKEA chair was brutal; the couch wasn't much better, leaving me with back aches from hunching over. When I thought that pandemic restrictions would be limited to a few weeks, I invested in a cheap seat cushion that made those hard wooden kitchen chairs way more bearable. And when it started to look like a long-haul journey, I bought a cheap office chair to see me through.
Now, 365 days later, I'm permanently remote. That flimsy first chair broke. A second one was fine but I constantly felt as if I was sliding forward off the front of it. I found myself fidgeting all day trying to find a comfortable position. I needed something better. So when Ergoal reached out to let me try their desk chair, I was game.
The chair arrived unassembled (typical for desk chairs) but only took me about 20 minutes to put together by myself. The second I finished it, I plopped down to give it a test run. After two previous chairs, and one removable cushion, it felt like a Goldilocks moment. This chair was just right.
There are a couple things that made this chair a standout for me. First, the fabric seat feels supportive but not stiff, so it has a little give to it — kind of like a hammock. Second, it has balance. I can lean all the way back in this chair — without pulling any levers or hitting any knobs, which I appreciate — and still feel perfectly stable. And third (and most important), it feels like it actually fits me. Where my other cheapie desk chairs had a straight back, this one features a gentle curve with flexible lumbar support that's designed to help hold your spine in a natural, feel-good S shape.
At first the lumbar support felt odd to me, since I wasn't used to having anything supporting my lower back. But it didn't take long for me to get so used to it, and after I did, I immediately noticed the difference when sitting in any other chairs.
I'm a person who struggles to maintain good posture when I'm working. It's hard to pay attention when you're focused on, you know, everything else. Unsurprisingly, that can lead to soreness at the end of the day (or even during it). This chair, though, helped keep me in alignment so that at the end of eight-ish hours in this it, I still felt good. So good, actually, that I've taken to sitting in it to watch Netflix, Facetime with friends, knit, and practice my watercolor painting. It's now stretched beyond work from home into just… living from home.
If you are looking for a style-first design piece for your home office, this is not the chair for you. While it looks pretty sleek for an office chair, it still looks 100 percent like an office chair. But now that I'm actively working in my office on a daily basis, I'd rather sacrifice cute in the name of comfy. And really, in classic black (one of four colors offered), it kind of just blends in.
OK, elephant in the room: Is this a lot to pay for a desk chair? Yes. But if you're working from home for good (and not just for now), it's a worthy investment. The only piece of furniture you'll spend as much time with is your bed, and you likely took a lot more care in choosing that than your desk chair. For those settled into the permanent WFH life, it's worth the splurge to spend your 40+ hours a week in comfort.

Buy: Ergoal One Desk Chair, $397 (normally $1,199)