Erin Napier's Farmhouse Bathroom Shows Off This Classic Pattern
We
independently
select these products—if you buy from one of our links, we may earn a commission. All prices were accurate at the time of publishing.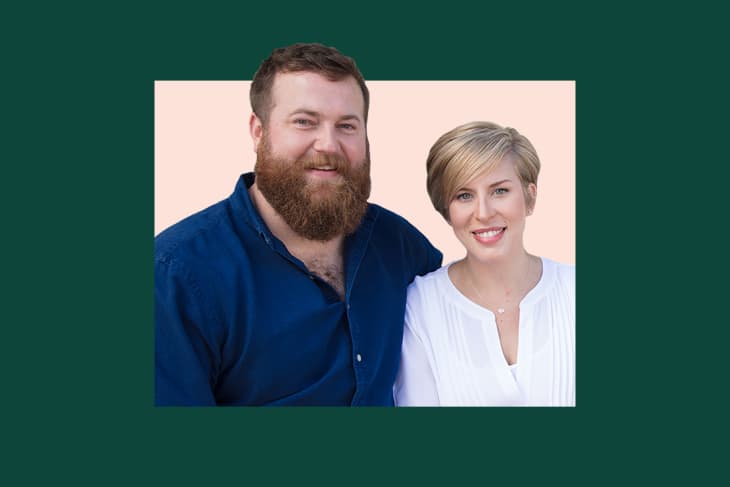 Since renovations on the Napier's 1930s Tudor-style farmhouse have been completed, Erin has been showing snippets from cozy corners around the house. And most recently, she posted a few photos from inside her bathroom, which is bedecked with a beautiful diamond motif that adds a bit of whimsy to the overall traditional style.
"One room that I haven't shared much of from the farm, but I love it SO much: our bathroom," Napier wrote in the caption of her January 5 post. "We got to use slabs of calacatta gold marble thanks to our friends at @premier_countertops who sourced the stone for us."
She continued, "I couldn't decide what would be the most appropriate surfaces for our 1930 Tudor, and I kept returning to the design of the Wakulla Springs Lodge and its marble slab ice cream bar and baths from that same era. Bless David who took the time to meticulously lay the shower floor mosaic tiles in the bistro diamond pattern that echoes the wood floor."
The diamond-patterned hardwood tile in the Napier's primary bathroom is from one of Erin's favorite flooring companies, Mirth Studios. Mirth specializes in printed hardwood tiling that comes pre-finished and are engineered to not warp, buckle, or fade over time. They're even customizable — you can work directly with Mirth Studios to create your one-of-a-kind flooring. 
The brand is also the one behind the beautiful tiles in Helen and Mae's country house bathroom, too. They look like ceramic tiles but have the warmth and homeyness of hardwood.
And Erin even carried the diamond pattern into her shower with those gorgeous bistro tiles, too. The entire thing comes together to create a cohesive masterpiece that is just a touch more playful than what you'd expect from a traditional bathroom, and therefore, this design perfectly fits into the rest of the Napier's new home.