Etsy Just Launched a Wedding Registry
We independently select these products—if you buy from one of our links, we may earn a commission. All prices were accurate at the time of publishing.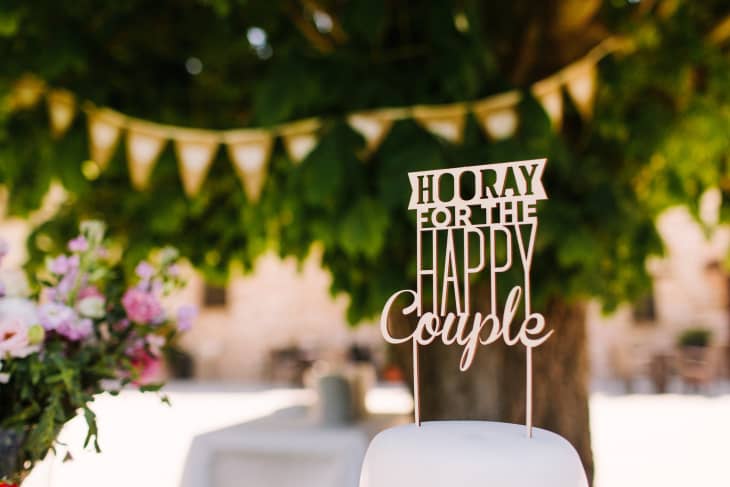 As wedding season approaches, Etsy is launching their personal wedding registry experience, Etsy Registry, to provide couples with an opportunity to receive one-of-a-kind gifts from their loved ones. Instead of tucking gift cards away in an envelope, you can join a registry to purchase the gift that'll make the bride or groom feel loved on their special day.
After Etsy noticed an 872% increase in searches for handmade gifts, they knew that the ideal personalized present for couples is usually memorable and from a small business. Fortunately, Etsy's wedding registry service is easy to manage and share with friends and family, so couples can begin registering for their event and even relay specific information for their guests. And you don't have to stop at gifts — bridal party decor, bachelorette party items, and invitations are also available on Etsy.
Follow Topics for more like this
Follow for more stories like this
In order to leave couples with a little inspiration, Etsy has partnered with "Queer Eye" star Antoni Porowski and his fiancé, Kevin Harrington, to create an Etsy wishlist with makers and artists from around the world.
"One of the best parts about registering with Etsy is that you can choose custom, personalized gifts that never feel cookie cutter," shares Porowski.  "We had a lot of fun curating a list of one-of-a-kind pieces and mementos to take into this new chapter of our life together."
Along with launching the registry, Etsy is revealing their wedding trend guide with seven themes that prioritize fun and creative twists on originally traditional weddings. With TikTok introducing the "core" trend to any aesthetic, the dreamy lovecore style is bringing heart-themed invitations, pink menus, and even pink morganite or moissanite engagement rings to social media. While you're spotting pink and red for the lovecore trend, you'll potentially notice the trend of oversized florals and rosettes that are making their way onto wedding dresses, veils, and chokers. Of course, the flowers can remain in the ground, on the guests' chairs, or embellish the table, but the added fun of accessorizing them brings more creativity to wedding planning.
Thanks to the coastal cowgirl trend with a little bit of uptick in elopements in Vegas, Western-themed weddings are happening outside of the Wild Wild West and encouraging couples to embrace their inner cowboy. With disco cowgirl hats, light-up cowboy hats, and all the fringe you could imagine on clothing, wedding guests are encouraged to relax their style and get their yeehaw on. 
Other statement accessories similar to the cowboy hat are bringing more attention to the bride's dress, such as dramatic drop earrings, wedding gloves, or a cathedral-length embroidered gown. And brides are turning to Etsy for custom and embroidered veils that can remain family keepsakes and include more sentimental value into the big day. However, the biggest accessory that a bride could rock on her wedding day is arguably the ring, and cookie-cutter engagement rings and classic wedding bands are beginning to be tossed to the side. On Etsy, handmade engagement rings, alternative gemstones (think: sapphires, emeralds, and black diamonds), and rings that incorporate historical value have seen an increase in searches on the website.
As if the design and decorations at the wedding aren't detailed enough, couples are ensuring that their big day will be meaningful by providing guests with gifts associated with their love story and creative programs tailored to their wedding. Porowski and Harrington have an interest in gifting their favorite shared recipe with guests, but these popularized gifts by Etsy makers include presents that incorporate their favorite song or a custom couple portrait. Before the guests receive their departing gifts, couples invite them to an interactive itinerary for the wedding day that may include searches in newspapers, magazines, or books. There's no time for a bachelorette party when you've got a treasure hunt to complete!
Now that couples and guests can be prepared for what's in season for weddings this year, it's time to visit Etsy.com/registry to build a personalized list that'll support their big day.