Everything You Need to Know about Target's New Home Brand, Project 62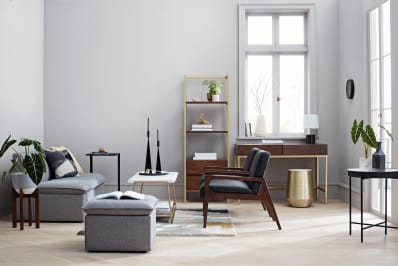 (Image credit: Target)
Back in July, Target announced that they're introducing a new home line this fall called Project 62. This week, the retailer released the look book for the new brand, and we are seriously swooning over its mid-century vibes. We're giving you a closer look at your new favorite temptation at the bullseye, below.
Project 62 takes its name from the year 1962—when modernist design took over homes across the country (it also happens to be the year Target was born in Minnesota). The collection includes more than 1,200 pieces ranging in price from $2.99 to $99.99 for items such as decor, tabletop and throw pillows and $16.99 to $699.99 for items like bedding and furniture.
The design takes a clear mid-century slant and adds in luxe textures and accents. The pieces are meant to be versatile and small space friendly. "We spend a lot of time getting to know our guests, and one thing we continue to hear from them is that they prefer to mix-and-match styles within their homes," Mark Tritton, Target's executive vice president and chief merchandising officer told Architectural Digest.
Target is going through a bit of an overhaul lately—from redesigning stores to discontinuing old brands and adding new ones. Tritton also mentioned that three additional new home brands are in the pipeline, to debut after Project 62. All in all, the retailer is planning twelve new brands across home and apparel in the next year.
"When we took a close look at our existing assortment with this in mind, we saw a disconnect. We knew we'd need to refresh our offerings—and define new ones—so our guests continue to love what they're discovering at Target and want to keep coming back, again and again," he said during the July announcement.
Check out some of the pieces from Project 62 in the gallery below (prices included when known).
Project 62 will be available online on September 16 and in all Target stores on September 19.