A Renter's Room in a Shared Home Is Like a Mini Apartment
We independently select these products—if you buy from one of our links, we may earn a commission. All prices were accurate at the time of publishing.
About this tour
Location
Logan Circle, Washington, D.C., Washington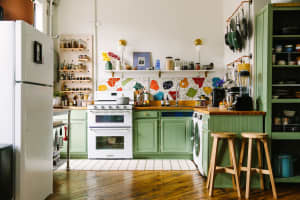 Can't-Miss House Tours Straight to Your Inbox
Keep up with our latest house tours each weekday with our House Tour of the Day newsletter
Name: Sarah Lyon and a roommate
Location: The Dupont Circle/Logan Circle neighborhoods of Washington, D.C.
Size: 950 square feet
Years lived in: 11 months, renting
I absolutely love my current apartment. It took awhile for my roommate and me to find this space, but without sounding too cliché, it was truly worth the wait. We had been looking for about three weeks at the end of last summer, and we were starting to get a little worried after stumbling upon a couple of places that were gorgeous but not in the most convenient location or architecturally amazing but just too expensive, and the like. But with this place, we really lucked out in terms of space, location, and character. It can be difficult to find an apartment that works well for two separate adults living together, as opposed to a couple, but this unit allows each of us to have plenty of space to ourselves.
The apartment itself is quite old and was built in the late 1890s or early 1900s. It used to be a single family home but now contains eight different units, all of which are studios or one bedrooms except for ours. My guess is that my room, which is on the attic level, used to be maids' quarters or something like that!
Our physical setup is the best of both worlds, because our rooms are spacious enough to actually be enjoyable to spend time in, and they're on separate floors, which allows for a bit of quiet and privacy, but we also have some fun common spaces that are perfect for entertaining or just catching up.
I love having people over, and since we live in a centrally located neighborhood, it's easy to entice friends to come over my way for a drink before heading out to another spot nearby. Despite all of the foot traffic from nearby bars and restaurants, our building is a few blocks back from all of the commotion, which makes us feel safe and secure. Safety should always be a top priority when apartment hunting!
While I do love spending time in the neighborhood, I'm definitely a homebody at heart and am happiest making little decor updates to my space, reading in my room or on the roof, or having small groups of friends over to catch up.
Apartment Therapy Survey:
My Style: My style is kind of changing all the time, but I'm drawn to a mix of classic and eclectic pieces—I'm a fan of cane chairs and peacock chairs alike! I like rooms where not everything looks brand new or super matchy-matchy but is still artfully arranged and cohesive. I definitely prefer a look that's more collected rather than flashy and brand new, and I prefer old over modern, although I think mixing the two can look really nice. As someone who is very impatient when it comes to decorating, I've tried to achieve that collected look without actually waiting years and years by browsing Craigslist, thrift stores, and flea markets for more one-of-a-kind pieces that still work well together. I much prefer this look to your classic West Elm/Pottery Barn apartment, and it's a whole lot cheaper to decorate this way, too! I don't believe I'll ever feel like my apartment is "done," which isn't always a good thing, since I keep bringing in new pieces month after month! But I just can't resist!
Inspiration: I'm constantly inspired by designs I see on Instagram, in ads, on Pinterest (I'm always pinning; you can follow me @sar891!), and in TV shows and movies—Reese Witherspoon's bedroom in Home Again was a dream! Since moving to my current apartment, I've definitely looked to loft-like spaces or anywhere with exposed brick as inspiration. My old place in Georgetown was much more traditional in terms of architectural features, so I've had a lot of fun incorporating my new space's quirks into the way I decorate. Exposed brick had been on my wish list for a long time, and I'm so thrilled that it's present in several places in my current apartment. In terms of specific individuals I follow, two of my favorite home Instagram accounts at the moment are @livingbylo and @_thegrandapartment. Their spaces have physical elements that remind me a bit of my own, so it's fun to see how the homeowners have worked with features like fireplaces and exposed brick to create gorgeous designs.
Favorite Element: The exposed brick is my favorite element of our home, hands down. I first realized exposed brick was a "thing" when I was in college and looking online for my first apartment in New York City. I kept seeing exposed brick everywhere and thought it was the strangest thing, until a friend who was a Manhattan native told me that exposed brick in the city is "classy"—and after that, I never turned back! Of course not everyone is a fan of this style, but I've become very drawn to more of an industrial, older look. If I ever bought a condo or moved apartments down the line, I would love for it to have both exposed brick and exposed ductwork. A girl can dream! I also love the exposed beams in my bedroom and nook area; they're such a neat feature and aren't something you'd expect to see in a city apartment.
What is your favorite room and why? I love living in my lofted bedroom. At first, I was a bit nervous about a potential lack of sunlight—spending a semester in Edinburgh during college taught me that I don't do super well without a ton of light! However, it actually gets VERY bright upstairs, and I love the cozy, cabin-chic feel. The ceilings aren't too low for me (though I'm 5'7″, and anyone more than three or so inches taller will have to duck from time to time!). Having a little nook outside of my bedroom has made me very happy decorating-wise, because more space equals more room for creativity. I've loved setting up a seating area and gallery wall in that spot and have been using it as an excuse to design my heart out.
Is there anything that embarrasses you about your home? Our building was built in the late 19th/early 20th century, and some of the older elements—like the built-in wooden mirror in my bedroom—could definitely be seen as a little weird, but I've tried to incorporate them into my decor, so I'm not too bothered by them anymore. My bathroom—especially the shower—is pretty small, so I sometimes feel bad when guests have to navigate it, but most of the time I'm just grateful to have my own bathroom upstairs, so it isn't too big of a deal! I also don't know whether to be embarrassed or proud about how much of my furniture came from Craigslist. I think Craigslist can definitely have a bit of a stigma for being full of only undesirable or dirty items, but trust me, there are some serious gems out there! Every time I snag a new piece at a great price, I get so many questions about how I found it among all of the chaos on there, and my advice is always to look frequently and act quickly!
What do friends say? They ask us how we found such a gem! My roommate and I are really lucky—we're paying a very reasonable price to live downtown in a spacious apartment that has two bathrooms and its very own roof deck! Our space is definitely a contrast to the more modern high-rises in the city, so I think people are also surprised to find that apartments like this still exist, especially in more built-up areas like Dupont. Going along with this, walk-up buildings are a little less common here than they are in cities like New York (going up two flights of stairs is not a big deal to me!), so we do occasionally get complaints from friends about the "hike" up to our unit!
Biggest Challenge: Easily the biggest challenge is our wrought-iron spiral staircase. Of course, it adds an amazing visual element, but moving furniture up and down was—and continues to be—difficult. Moving in definitely required the help of professionals and was expensive, but everything that I wanted to go upstairs made it there in the end, so it was completely worth it. How the movers managed to get my queen mattress and box spring up there is beyond me! (A lot of hoisting was involved). My furniture-buying—and selling—habit hasn't slowed down at all since moving in, so I've had to get creative with lifting items upstairs and carrying them down by myself. I also worry about guests who are less familiar with the staircase falling or tripping when they come over, particularly at night (it can get dark up there!), but so far that hasn't happened to anyone (knock on wood!).
Proudest DIY: I do a lot of spray painting on our roof, since we're fortunate enough to have the space to get creative. I love being able to bring home thrift store finds that need a little TLC. My most recent DIY was super easy, but I love how it turned out. I took a cane chair that I'd scored on Craigslist—it has gorgeous bamboo detailing and fretwork, swoon—and painted it white. I love how fresh it looks—the wood was just a bit too old-looking and was fading in some areas. I definitely was conflicted about painting it, because I generally lean toward keeping the original wood intact on furniture when possible, but I love how the white looks and works in my bedroom.
Biggest Indulgence: I'm obsessed with Craigslist and thrift stores and love finding good deals, so I never spend a ton of money on a single piece of furniture or decor (it's rare that I'll even spend over $100!). Even if there is something a bit pricier that I like, I try to find a way to bump down the cost a bit. For example, buying a cheap frame off of Amazon for my Schoolhouse "Work Hard and Be Nice to People" print saved me over $100.
My most recent indulgence was my peacock chair—though I found it on Craigslist, it was still fairly pricy, but I'd done enough browsing to realize that these chairs are pretty expensive at the moment and I may as well just take the plunge or risk it getting snapped up by someone else. While it may not be the most practical piece of furniture, I absolutely love it and have received tons of compliments! I'm also a sucker for a good Diptyque candle.
Best Advice: Visit tons of apartments in many different neighborhoods when looking for a place; this will help you get a better sense of where you'd be most happy living and what great (and not-so-great) options there are in each area. My roommate and I had focused our search on a totally different neighborhood in D.C. before stumbling upon this apartment's Craigslist listing. And going along with that—you CAN find great, non-scam apartments on Craigslist! People are always shocked when we tell them we found our place this way, but if you're interested in older units, you're going to have more luck on a site like Craigslist where tenants or landlords are making the postings, versus a large corporation selling different units within a condo. When it comes to decorating, don't forget about places like rummage sales and flea markets. They may require a bit of patience, but I live for the thrill of the hunt. I found cane chairs for $6 at a church sale and snagged my orange cane settee for $55 at the Georgetown Flea. There are incredible deals out there if you venture beyond the normal chain stores and sites!
SHARED LIVING ROOM
Gold bamboo bar cart — Miss Pixie's (a local vintage boutique in D.C.)
Gin & Tonic print — Society 6
BEDROOM
Dresser, mirror, lamp, cane chair, and rattan chair with throw — All Craigslist
Mirrored nightstands — Craigslist
Rattan mirror on blue desk/vanity table —Miss Pixie's
Bed throw pillow covers — Amazon
Print above nightstand — Etsy
White cane chair —Craigslist
Blue vanity table — Secondhand (It was brown and I did an easy DIY with spray paint)
Wooden end of bed bench — Amazon
Rattan headboard —Craigslist
Shelf over bed — Target
Rug — Rugs USA, discontinued
Sconce — Target
NOOK SEATING AREA OUTSIDE OF BEDROOM
Cane settee — $55 at the Georgetown Flea
Cane chairs —$15 each via Craigslist
Gold trunk — Craigslist
Lucite end tables — $50 total from Craigslist
Turkish rug — Etsy
Gold cantilever lamp — Target
Gold table lamp — Target
Peacock chair — Craigslist
"Work Hard & Be Nice to People" print — Schoolhouse