How Families Are Keeping Busy at Home in Quarantine, According to a Study
We
independently
select these products—if you buy from one of our links, we may earn a commission. All prices were accurate at the time of publishing.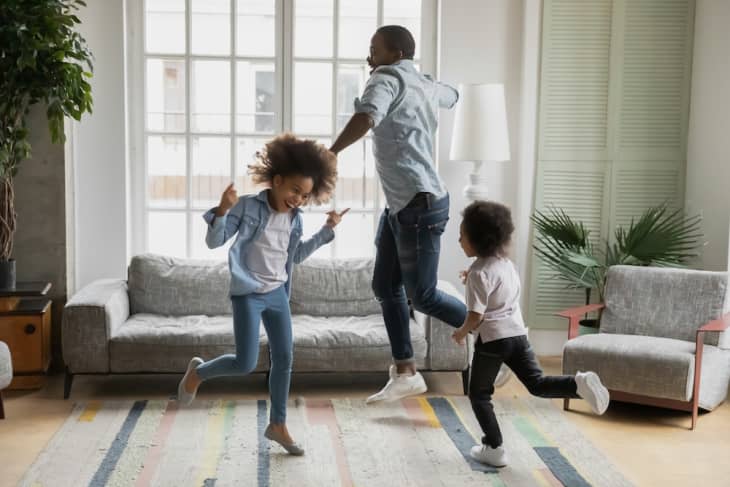 Are Doja Cat and The Weeknd now in the music repertoire of the older generation? A new pandemic study would suggest so. OnePoll conducted a survey on behalf of athletic brand Eastbay to determine how families have kept busy amid the ongoing coronavirus pandemic—and the results are pretty glorious. With fitness a recurrent trend, the study found that 53% of parents have learned a TikTok dance in quarantine in an effort to bond with their Gen Z children and stay active in lockdown.
OnePoll reached out to 2,000 census-balanced Americans to determine the results. TikTok bonding turned out to be pretty exhausting, too—one in two parents reported that learning the choreographed routines was a lot more difficult than expected. Along with viral dances, 67% of parents have watched TV or movies, 56% played a card or board game, and 54% cooked to pass the time at home with their children.
About 55% of parents have also turned to their Gen Z children for fitness advice, according to the research. This can be attributed to the fact that the pandemic has drastically impacted many workout routines, resulting in a rise of virtual workout classes, dance-inspired exercise routines, and new fitness equipment purchases. "The data shows how everyone is trying to find new ways to stay active and maintain a routine," an Eastbay spokesperson said.
"It's been great to see high schoolers and students remain eager to stay active, and many have gotten creative when it comes to training from home. This study showed just how encouraging parents have been about making the most of this difficult year." And as it turns out, about 50% of Americans surveyed also said they felt out of touch with the trends of the younger generation. In any case, the very act of learning a TikTok dance feels like the opposite of out of touch. The new research even calls to mind Laura Dern's viral TikTok dance with her daughter—and, well, if it's good enough for Laura Dern, it's good enough for anyone.
Keep on dancing, parents!