Here's How 4 Families Transformed Their Ideas of Traditional Housing
We independently select these products—if you buy from one of our links, we may earn a commission. All prices were accurate at the time of publishing.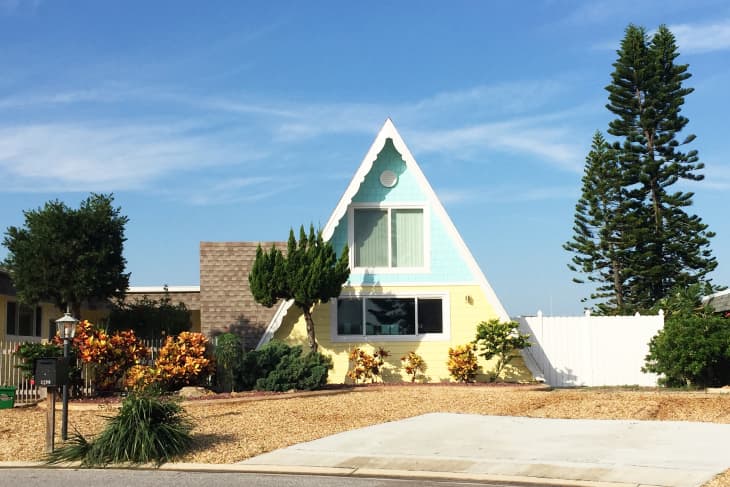 Housing in America takes many forms: apartments, condos, single-family homes, multi-family developments, multi-generational living, tiny homes, mobile homes, RVs, and more.
But traditional housing in America typically focuses on owning a single family home. As someone who has personally taken a different approach to housing — our family of five lives in an 1,100-square-foot mobile home — I wanted to see how others were transforming their ideas of housing in today's market. I talked with four people who rethought the traditional model in favor of focusing on what works for their family's unique situation.
They saw downsizing as a challenge — and a way to rethink their habits.
Brandi Berg and her family have progressively downsized over the last few years. At the same time, the size of her family has grown. "We sold our home in the country with five acres and moved into our 1,100-square-foot apartment to pursue my husband's business a year before buying our little home," she says. "So we were at a great point to 'try it out,' especially while our two kiddos were young."
After this stint of apartment living, they bought a 650-square-foot one-bedroom house and added a second bedroom — and two more kids — making their home 750 square feet total. This shift has helped Berg focus on being intentional with what comes into the home. "Straying from the traditional home allowed our family to prioritize our time," she says. "With owning two businesses, we were swamped and constantly running, and then when home we were weighed down with all the home tasks. We had a chance to reset our thinking and create new habits."
Berg found that the biggest change she experienced "really came down to what we bring into our home." This extended from her children's clothes — each child has one drawer — to the groceries they buy. "Living small, you are limited to cabinet space, and I'm not one who likes having dry goods on the counter or top of the fridge, therefore I had to be strategic about what we brought into our home, really thinking about what would be consumed until our next grocery pick up."
As a designer, this experience showed Berg a different way to look at housing. "I realized through living small that we build large houses here and we need to start rethinking how we construct our new buildings," she says. "The footprint on earth we use doesn't need to be wide. Maybe we just go taller, or maybe we spend more time planning how we use our spaces and create a home that fits our lifestyles, while eliminating unused space. I am not saying we all need to live small by any means, but I do think we need to build our spaces with intention." 
Thinking about the past has helped Berg look forward to the future as she designs her home. "Through the years, our ancestors lived differently," she says, "and when we take a moment to understand why they created homes the way they did, we can incorporate what works for our families, while adding in modern ways of living." Soon, the Berg family will begin another housing journey: renovating a larger Victorian house that will fit their needs in their next phase of life. 
They took advantage of the housing market and downsized to an apartment.
Ashley Calderwood and her husband sold their home last year and decided to downsize while they waited for building prices to come down to build on their lot. They live in a two bedroom, 1,400-square-foot apartment along with their eight year-old daughter.
When they decided to sell their home and build new, they considered staying in their house until the new one was built, but "in the end, we took advantage of the housing market and the appreciation of the value of our home and decided to sell prior to building," Calderwood says. "This also was a crucial step as we needed the money from our current home to put into the new home build."
Calderwood explains that apartment living hasn't been ideal. With an eight-year-old who loves to play outside, "we've had to rely solely on traveling to parks in order to enjoy time outdoors." And downsizing from a 3,300-square-foot house to a 1,400-square-foot apartment meant "we had to sell a lot of our larger furniture and we currently rent a monthly storage unit." She also says that while renting is less than the cost of their mortgage and home upkeep, "our monthly housing payment is now a  'bill' instead of an equity investment."
Renting also has its advantages. "It is a relief to know that if something in our apartment needs repair, it's not our responsibility," she says. They also enjoy the building's amenities like "heated underground parking which is a lifesaver in the cold winter months." That plus a private movie theater and large community room for large gatherings help balance the negatives.
After nine months in the apartment, Calderwood says, "despite its benefits, apartment living has not been ideal for us as a family, and I am looking forward to having additional space, privacy, home equity, and a yard again."
They moved in with family while they built their new home — and rode out part of the pandemic.
"Not many people willingly move back in with their parents in their 30s," says Kat Boogaard, a freelance writer in Wisconsin. And it wasn't just her — she brought her husband, four-month-old son, and two dogs. "It was a lot of living creatures under one roof," she adds.
At the start of the pandemic, they knew they wanted to build in the near future, and the housing market was getting really hot. So, they decided to sell their home, but needed somewhere to go while they waited for their new home to be finished. 
"My parents had plenty of space and were kind and gracious enough to welcome us in without a second thought," she says. "I know not everybody has that option or privilege, so I felt really lucky that we had such a comfortable place to crash."
Their timeline partially lined up with the COVID-19 pandemic and stay-at-home orders, which gave them extra help and a sense of community when the world seemed like it was turned upside down.
Among the benefits, which she says far outweighed any downsides, were that her parents got to spend lots of time with their grandson. "They still share such a special bond with him, and I think a lot of that is because they had near-constant exposure to him during the first year or so of his life," Boogaard says. She now firmly believes that "four adults to one child is the ideal child-raising ratio!" 
In addition to help with their son, they all pitched in to help around the house. "There are more people to take the dog out," she points out, "or unload the dishwasher. Or run an errand. In all honesty, life felt a lot less stressful."
"As for the drawbacks," she says, "there weren't too many." Even though most people groan when she tells them they lived with her parents, they "seriously enjoyed it and look back at that time fondly — almost with a sense of homesickness." But privacy and alone time were at a premium, and getting used to other people's habits took some adjustment.
They had always planned on multi-generational living.
Dr. Sid Khurana, a psychiatrist in Las Vegas, Nevada, had always planned on his parents living with his family as they got older. While this setup is considered non-traditional in Western cultures, he says "in many other cultures, it is quite common for housing to be multi-generational." In fact, multi-generational households are on the rise, and "especially since the COVID pandemic, more and more people are choosing this option, considering the ultra high cost of living and housing." 
Khurana valued his upbringing and saw the sacrifices his parents made so he and his siblings could have the best possible life and education. His wife had a similar experience growing up and "thus completely saw the value of multi-generational living for the support, the companionship, and the aspect of giving back."
He notes the various benefits he sees for his children, and thinks back to when his son was four and was asked to draw his family for a school assignment. "It was interesting to see that he drew our nuclear family as well as my parents," he says, "so he had internalized the concept that paternal grandparents are part of his own family, and not just extended family visiting us." The kids also get to learn about their family's food, culture, and traditions, and get closer to their roots.
As with Boogaard, the benefits of living with extended family far outweigh any drawbacks. But they are conscious of managing boundaries, and "we all remain committed to making it work, and thus maintain communication and stay solution focused." They are all aware of the value of the right set up and space so that boundaries can be maintained.
Making decisions that benefit you and your family can look different from what others are doing. While "traditional" housing has its place, there are lots of other options that can allow you the space to change the way you live. The bottom line? Do what works for you.