I Live in a Mobile Home — And It's Great. Here Are the Pros and Cons of Mobile Home Life
We independently select these products—if you buy from one of our links, we may earn a commission. All prices were accurate at the time of publishing.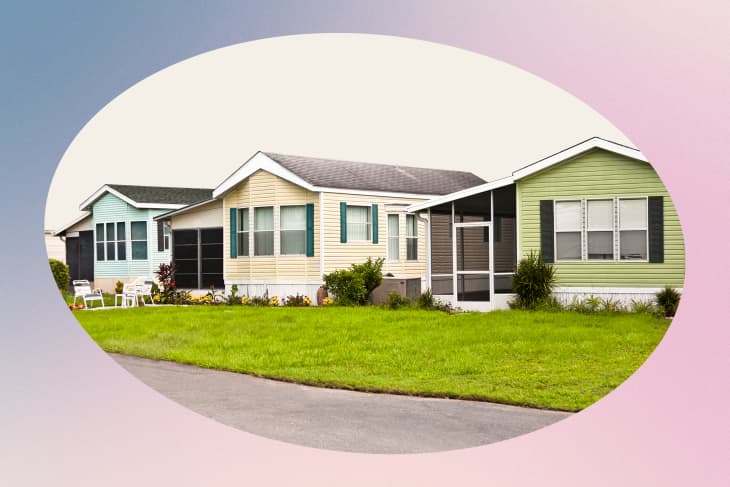 When my husband and I moved to Wisconsin, my in-laws owned a mobile home that they graciously offered to us rent-free. We were in the midst of paying off our debt, so the plan went like this: Work like crazy to pay off the debt, save like crazy to build up our emergency fund, save up for a down payment, buy a house. 
After building our emergency fund, we found out we were pregnant and decided that my husband would stay home after our son was born while I continued to teach. That meant going down to one income, so we put our home buying plans on hold (while continuing to save at a snail's pace), and decided to stay where we were. Skip ahead nine years, two more kids, and a few job changes later, and we're still here — and still saving for a house, though at a much faster pace now. 
Quick Overview
The Pros and Cons of Living in a Mobile Home
Pros:
Buying a mobile home is cheaper than buying a single-family home.
Mobile homes can be quite roomy.
If you want to (or have to) live somewhere expensive, this may be your way in.
Cons:
Living in a mobile home comes with a stigma.
Your mobile home may go down in value.
You have to pay rent on the land.
For many, living in a mobile home is not a choice, but a necessity. An estimated 20 million Americans live in mobile homes, and they make up the largest source of unsubsidized affordable housing in the country. We feel lucky to have had the option to choose to live in one, because they can offer a lot in the way of reaching future goals. So if you're considering mobile home life, I've rounded up a few pros and cons based on my experience. 
The Pros of Living in a Mobile Home
Buying a mobile home is cheaper than buying a single-family home. The average sale price of a home in December 2020 was $394,900 while the average price of a new mobile home was $88,200 in August of 2020. 
Mobile homes can be quite roomy. Speaking of pricing, living in a mobile home could allow you to have amenities you might not otherwise be able to afford. In my case, I'm living in a spacious three-bedroom, two-bathroom mobile home with an attached garage and an acre of land — for a great price. Moving into a single-family home or a condo might mean giving up some of those things because of cost.
If you want to (or have to) live somewhere expensive, this may be your way in. In Missoula, Montana — where I frequently look for real estate even though we're not moving there — you can buy this mobile home for $250,000, or a traditional home with less square footage for $415,000.
It can be a transition space. If you buy land and want to build, or are in between moves, a mobile home can provide an affordable transition space.
The Cons of Living in a Mobile Home
Things To Consider If You're Thinking of Buying a Mobile Home
If you've weighed all the pros and cons and still aren't sure, here are a few other things to consider as you make your decision.
What are your long-term goals? We found ourselves choosing a mobile home intentionally to begin with and accidentally stayed longer than we had planned, and now we're leveraging our position to save up a large down payment while we wait for the right place. But we've always had our long-term goals in mind and knew this was moving us forward. Knowing why you're choosing a mobile home over a traditional home is key to making it work for you.
Do your research. Once you've nailed down your long-term goals and know that a mobile home will help you reach them, it's time to do your research. Check the market in your area and see how mobile home sales compare to traditional home sales. Look into how much it will cost to remodel, redecorate, or upgrade.
Can you get financing? If you need to finance the home, just know that the process may look different than for a traditional mortgage.