Fanis's Sanctuary in the City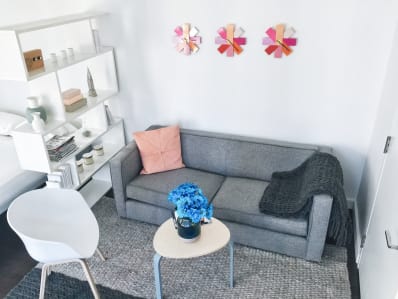 (Image credit: Submitted by Fanis)
Name: Fanis
Location: Financial District, Manhattan, New York
This is my sanctuary...a studio in the heart of the Financial District, in New York city, about two blocks away from the new Freedom Tower.
(Image credit: Submitted by Fanis)
I moved to the Big Apple, 2 years ago, after a remarkable career for my age on TV & Digital in Europe. Sometimes when everything goes right, you have to go left. When you reach your own high peak, you certainly have to recalculate. And that's exactly what I did.
(Image credit: Submitted by Fanis)

Trying to find ways to exercise my creative muscle and creating a place will feel home in New York lead me into decorating this studio. It wasn't a one day process and certainly took my time to enjoy and feel the space. I wanted to create a room, that would make me happy on a daily basis, will be easy to make changes (choosing the white color palette helps with that) and also fit my needs.
(Image credit: Submitted by Fanis)

I'm heavily influenced by the Scandinavian design as I love to live in simplicity. Simple lines, pal colors and a light accesories space create an easier life both spiritually and practically. I mixed many different brands, from Hay and Muuto to Norman Copenhagen and CB2. I accommodated all my needs in one single room. From a dining table, to a sofa, an office area and my bed. I spend my days going from on corner to the other and I really enjoy looking at the room every time from a different perspective. The incredible views, on the 25th floor, certainly help.
(Image credit: Submitted by Fanis)
Thanks, Fanis!
• Interested in sharing your home with Apartment Therapy? Contact the editors through our House Tour & House Call Submission Form.